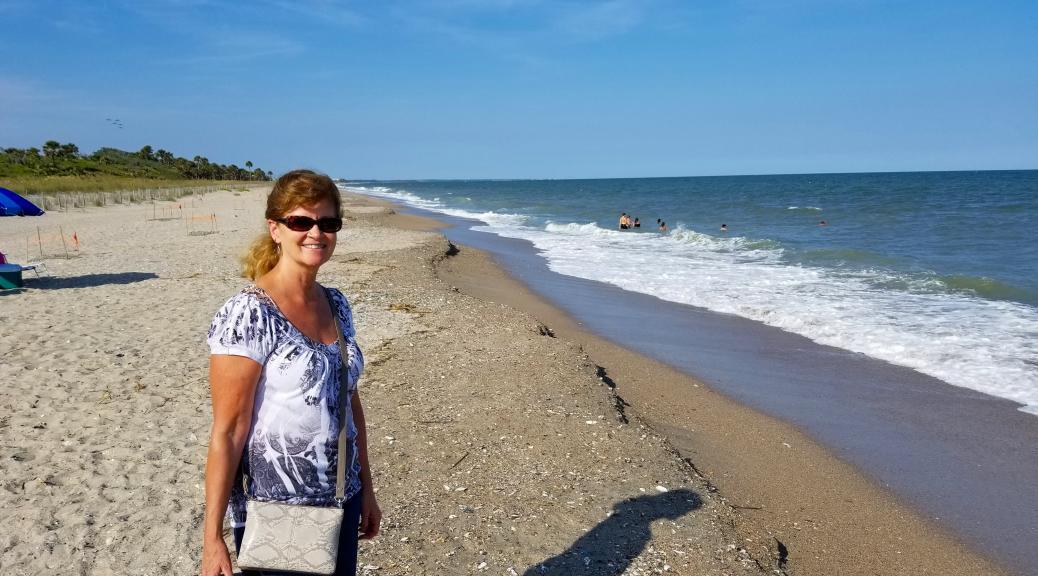 Edisto Beach State Park, Edisto Island, SC
Edisto Beach State Park, Edisto Island, SC
Live Oak Campground is one of two that make up Edisto Beach State Park. The Beachfront Campground was full when we made reservations so we stayed in Live Oak instead. The Beachfront Campground is about a mile away from the Live Oak Campground. We didn't find out too much about the Beachfront Campground although we had coastal flooding all week due to high tides and have heard that some of the campsites on the beach are subject to flooding. Of course, on the beach you would be able to hear the ocean so there are tradeoffs to being safe from the flooding. There are nearly 4 miles of nice soft trails throughout the park winding through the salt marsh area.
Edisto Beach State Park is just outside the town of Edisto Beach on Edisto Island. This is a small town of about 400 permanent residents and numerous tourists. Most houses within the town seem to be vacation rental properties. There are no stoplights, and very few stop signs but there are several great seafood restaurants including the Sea Cow and local favorite (as well as our's) Whaley's. There is a small grocery and a few other shops as well as a few non-seafood restaurants there too.
A bit over an hours drive away is historic Charleston, South Carolina. There are numerous sites of significance to our country as well as plantations and other places to see. There were far too many for us to see during our short stay particularly during the summer when daytime temperatures and humidities make life miserable for hiking around the city so we didn't stop for a lot of the sites. Older cities like Charleston are particularly difficult to navigate with a big truck like ours. We decided that we need to rethink how we get around in larger cities, particularly ones further east which have narrower roads.
One stop we did make was a tour of nearby Fort Sumter. On April 12, 1861 the fort was under to command of Major Robert Anderson with 128 men when Confederate forces fired on the fort opening the Civil War, which redefined American freedom. We only had an hour at the fort to see what remains and the exhibits telling about the start of the war and the history of the fort as a confederate stronghold throughout the war. Only the lower level of the fort remains today. In 1861 the fort was huge at 50′ tall and three stories high. It was built to protect Charleston from the British and would have been quite an imposing fortress in it's day.
Rating: ⭐⭐⭐1/2
Site Quality: Compact shell sand roads and pads. The area surrounding the sites are basically jungle – rustic and somewhat overgrown but that provides seclusion from your neighbors.
Type: State Park
Access: Since we were coming from the north, we exited Interstate 95 onto SC-64 and traveled through Walterboro. There were lots of low hanging trees and limbs in the town and one likely caught our cellular antenna and broke the coax leading in. We were lucky to find the antenna still on the roof and I have since added a safety chain. It's a good thing I used magnets to hold the antenna to the roof or we would likely have had some damage to repair. Any future trips here should exit I-95 at US-17 and then turning onto SC-174 to get to the Edisto Beach area. Once in the park, it probably would have been easier to take the campsite loop to the right to our site rather than the path straight through the middle of the park. That path had some narrow areas defined by large trees and would have been quite difficult to navigate if cars had parked badly along the path as they did some days.
Staff: The staff were friendly and helpful although I wish they had mentioned the easier path to our site.
Amenities: All back-in sites with some longer ones like ours (#86) and many shorter ones. I believe all campsites in the Live Oak Campground are 50A with water. There is no sewer connections but there is a dump station about a quarter mile up SC-174 – had to pull our grey water tote on the main road. Each site had a picnic table and fire ring. There were restrooms with showers that looked well kept but we did not use them.
Cellular/WiFi: Verizon and AT&T were both somewhat marginal at less than 2 Mbps.
What we liked: 4 miles of nice walking trails. There were some very good restaurants in town including The Sea Cow and Whaley's. Both were very good but Whaley's was our favorite as well as a local favorite. It caters to locals as opposed to the tourist crowd. Nice small town atmosphere with no stop lights but there was a small grocery store as well as other shops.
What we didn't like: Lots of Banana spiders with huge webs for you to walk into. Sand gets on and in everything. The water was potable in the park but it was very salty. You really couldn't drink much of it.
Verdict: Lots of low trees on area roads make it impossible to get here without hitting some smaller branches. Outside of that and the water, Edisto Island is a nice place to relax and to eat some good seafood. We would stay here again!