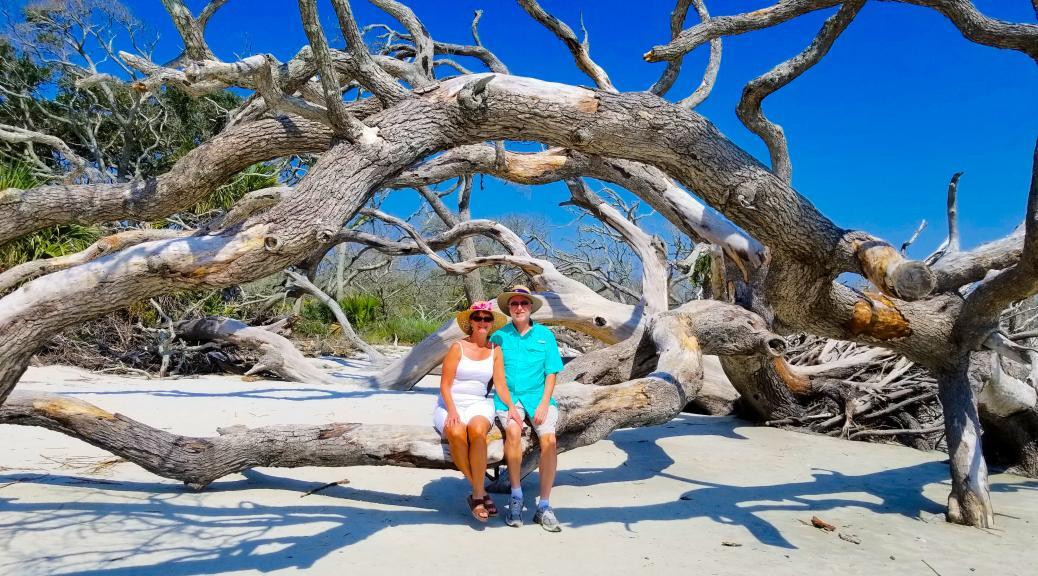 Crooked River State Park, St. Marys, GA
Crooked River State Park, St. Marys, GA
Once again, another beautiful park in Georgia. Extra large sites, full hook-ups, shade and miles of trails. Lots of wildlife, nesting turtles and alligators! It was a bit startling to see so many signs about the alligators along trails, ponds and the river! We had daily turtle visits to our site but no alligators (except one on the side of the road which had been hit by a car) and we didn't allow Purdy out of the trailer, just in case. There were tons of short palmetto palms growing as a thick shrubbery and taller palms along with live oaks providing lots of shade. Just like in the South Carolina, the live oaks and palms have lots of Spanish Moss hanging in them which is a sight we are not used to seeing.
St. Mary's is a quaint historic town along the banks of St. Mary's River which is the state line to Florida. This is historic deep water river that used to have as many as 300 ships in the port including pirates and British ships from the Battle of 1812. The National Park Service manages the national seashore here, a museum, and a ferry to historic Cumberland Island. We enjoyed touring the island and learning the history but goodness it was so hot and humid so we spent more time inside the air conditioned museum!
Near our campground was a hidden little county park and Tabby Ruins so we had to check it out. Massive live oak trees and a 19th-century sugar mill. The ruins are the hand made walls of crushed oyster shells. They melted the oyster shells to create lime, then mix with sand, water and more broken shells to create a kind of concrete and unique to this coastal area. Kind of fascinating and we have not heard or seen anything like this before!
We made a day trip to Jekyll Island. Our first stop was Driftwood Beach. We arrived at low tide so we were able to walk quite a ways among huge driftwood trees. So cool. We also saw many historic sights of Horton House (an 18th-century tabby ruins) and the cemetery of the du Bignon family who owned island in 1800 to 1947 till the State of Georgia bought it. The family had built the Jekyll Island Club for the extremely wealthy. The historic inn and club which still operates, beautiful hundred years old live oak trees, and many of the historic wealthy homes still remain as museums or B&B's. Along with all the history of the wealthy of the island is the awful history here too. The slave ship, The Wanderer landed here. The slaves were kept here in hiding until they were sold. As Jerry and I walked along the path of this exhibit we read the history and the stories of the survivors. So sad and really showed us the sad dichotomy of the history here. Before we left the island we had a yummy dinner at the historic Wharf Restaurant.
Rating: ⭐⭐⭐⭐
Site Quality: Asphalt roads and gravel pads. The area surrounding the sites consists of Pine trees, Oak trees and Palmetto palms. As compared to Edisto Beach, the sites were much more "manicured" looking. You still had a feeling of being in the jungle but not the overgrown feeling.
Type: State Park
Access: From Interstate 95 take St Marys road if travelling north or GA-40 then left on Kings Bay Rd if travelling south. Turn left on Charlie Smith Hwy (GA-40 spur) and on to the park. There were no concerns from low trees along either route.
Staff: The staff were friendly and helpful.
Amenities: Many long sites with seclusion (area 2) or without (area 1). Picnic table, fire pit and lantern post at each site. There is a restroom/shower/laundry facility in each camping area. There are cabins available for rent adjacent to the campground. There are also playgrounds for the kids and numerous trails for hiking.
Cellular/WiFi: Verizon and AT&T were both decent at about 6 Mbps.
What we liked: Full hookups, stores and restaurants nearby. Lots of things to do although the right time to be here would be spring or fall (maybe even winter) before the temperatures get too hot. Seclusion and tree cover although we got satellite on site 55. Next time it would be possible that we wouldn't get it on the same site and other sites are a toss up due to trees.
What we didn't like: We didn't do as much as we would have liked because of the daytime temperatures – with feels like temps approaching 110. When the park filled up on the weekend we started having low voltage shutdowns due to low voltage on one power leg. Part of the problem was our monitor which needed to be adjusted but we were still seeing voltages as low as 105 volts. The monitor shuts off power to the RV at 104 volts.
Verdict: Many nice long spots, with most in area #2 being very secluded. This is probably one of the top two or three places we have stayed up to this point. Without the power issues we would have rated it 1/2 to 1 star higher. We would definitely stay here again in cooler weather.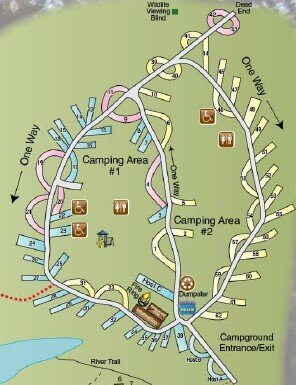 Camping Area #1 has some trees but it is much more open than Camping Area #2. Choose area 1 if you want to interact more with your neighbors and do not want sewer. Many of those sites may also only have 30A. Choose area 2 if you want more seclusion with 50A FHU. We camped in site #55 which was plenty long for the trailer and our truck with the picnic table and fire pit behind the trailer. Several other sites in both areas are also very long. The pull through sites in area 2 also offer good seclusion although many may not exactly be pull through with a rig our size due to sharp bends on one side of the loop. It should be possible to back into these.