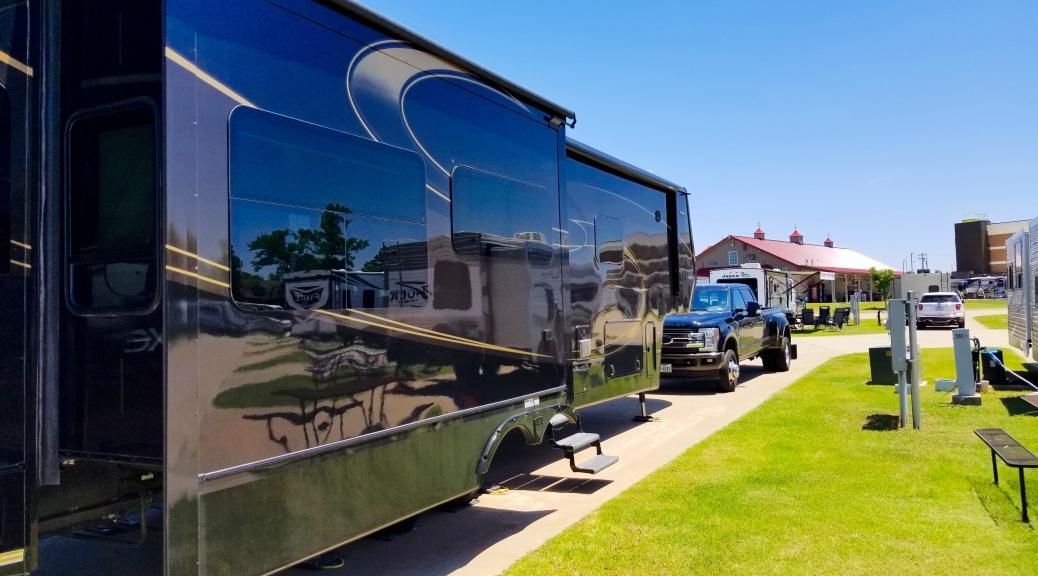 Mustang Run RV Park, Yukon, OK
Rating: ⭐⭐⭐
Site Quality: Concrete roads and pads. Most sites are pull through although perimeter sites were back in. These sites seemed to be occupied by more long term visitors although they were kept clean and in good order.
Type: Commercial
Access: Easy access from Interstate 40 in southwest Oklahoma City. Easy access to the Kilpatrick Turnpike to go north to visit relatives.
Staff: We had minimal interaction but everyone was cordial and helpful.
Amenities: 50A power with full hookups. Picnic table at each site. There were 3 storm shelters within the park which could be helpful since this area of the country frequently gets bad weather. In fact, we were under tornado watches and warnings the first night we were here. There are restroom/shower facilities as well as a laundry in the clubhouse although we didn't use any of them. The office area was clean and well maintained so the other facilities likely were as well. There is a playground, dog run and a swimming pool.
Cellular/WiFi: Verizon and AT&T were decent (2-3 bars) without amplification. Data speeds were somewhat slow at times and usually below 10 Mbps.
What we liked: Newer park surrounded by retail options for shopping and eating. The park was well maintained. Trash pickup daily at your site.
What we didn't like: Some highway noise from Interstate 40 but not enough at night to keep us awake.
Verdict: Although a bit far from our relatives, this is one of only a few decent parks in the OKC area. This is not a destination stop but is a good, safe place for short stays when travelling through the area or visiting relatives. We would stay here again.