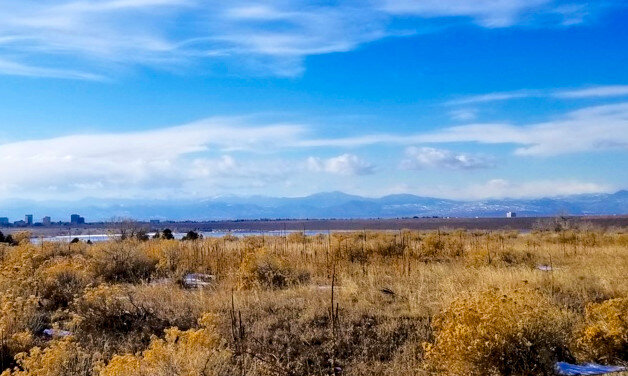 Cherry Creek State Park, Aurora, CO
Rating: ⭐⭐⭐1/2
Site Quality: Concrete pads with asphalt roads. Our site was long enough for our rig and truck.
Type: State Park
Access: Easy access from Interstate 225 a few miles east of Interstate 70.
Staff: We visited the park in the winter and only one loop with 16 sites was open (although we found out that normally two of the sites were not available). During the summer there are 6 loops with about 140 campsites. With a confirmed reservation you could skip the office and go straight to your site. Unfortunately, when we arrived someone was still in our reserved site and they were two hours away. We agreed to take one of the two "unavailable" sites and were happy with that.
Amenities: Restrooms with showers, laundry facilities, dump station (closed in winter). There are numerous hiking trails in the park but we didn't use any of them due to the winter weather.
Cellular/WiFi: Verizon service was weak and only 1 bar on our phones. Our data rate was between 2 and 20 Mbps depending on the day. AT&T through our wireless setup was fast at about 30 Mbps. The park had WiFi but we did not use it.
What we liked: Ease of access along I-225. Full hookups during the winter. Nice views of the lake and some of the Denver skyline and mountains west of the park.
What we didn't like: Sites are expensive for a state park and on top of that you need a daily or yearly vehicle pass which just adds to the cost. Since they weren't expecting to use the site we were in, they had not cleared snow from a major storm about two weeks prior from the site. There was still quite a bit of snow left right in our pathway from our truck to the RV.
Verdict: Cherry Creek is a very nice park with a lot to offer with camping, hiking, boating and fishing to name a few. For us, we would stay here again but it is about 40 minutes away from family in the area so it is a bit far. In the winter while Chatfield State Park is much closer, it does not offer water and sewer so it is a trade off between being close and having full hookups.
…