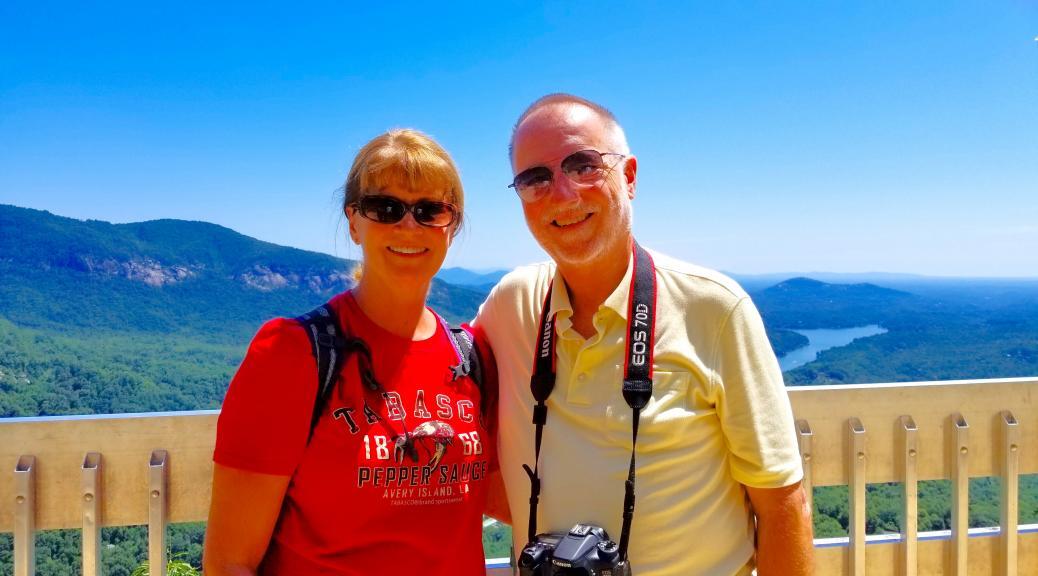 Lakewood RV Resort, Flat Rock, NC
Lakewood RV Resort, Flat Rock, NC
The next stop on our trek to cover the southeast corner of the US was the Flat Rock/Hendersonville/Asheville area. We picked a great time to stay due to the higher elevation and an unseasonably strong cold front we had cooler weather and no rain. Daytime temperatures stayed in the low 80's and nighttime temperatures were in the upper 50's – not bad for the middle of July.
We first ventured out into the nearby town of Hendersonville with a population of about 14000. It was a great little town nestled in the foothills of the mountains and with a vibrant downtown area with lots of shops and restaurants. We stopped by the visitor center and had some lunch at a nice Japanese restaurant but we didn't end up doing much more than just driving down Main street. With our big truck, the streets were uncomfortably narrow and parking was an issue as well so we just moved on.
On another day we went into East Flat Rock and ate at Hubba Hubba BBQ at the recommendation of one of our neighbors in the RV park. There were several highly rated small restaurants right there together and they all shared the same parking lot which was on hilly ground behind all of them. That too was a mess for our big truck but we managed to get out unscathed and we found a nearby shopping area with a nice empty parking lot. We were glad we did, the BBQ was great and the vibe was a lot like something you might see in Austin with outdoor seating and lots of people with their dogs.
Another tip from a neighbor was that we should see Looking Glass Falls west of Flat Rock. We also wanted to drive some of the Blue Ridge Parkway and US 276 which goes right by the falls also connected to the parkway so it was perfect for a long day trip. The falls were gorgeous and one of the few that you can easily see from the side of the road. Whenever we return, we have decided we need to stay for several months to see all the great places around this area. There are many more waterfalls and other scenic attractions nearby and a few hours are just not enough time to take it all in.
Moving on from Looking Glass Falls, we connected with the Blue Ridge Parkway and drove north toward Asheville. The entire parkway has a maximum speed of 45 MPH with some slower areas in places. There are scenic turnouts about every 5 to 10 miles all with gorgeous views of the mountains. The parkway is 469 miles long and includes 26 tunnels through the mountains – 1 in Virginia and 25 in North Carolina. We traveled a total of 62 miles and went through 12 of them before we turned around at the Mount Mitchell overlook. Mt. Mitchell is the highest peak of the Appalachian Mountains and the highest peak in eastern North America at 6684′. At 3:00 in the afternoon it was about 58 degrees at the Mt. Mitchell overlook.
Another day trip was to Chimney Rock, a rock formation east of Flat Rock. Chimney Rock is considered one of the most iconic sites in North Carolina and from its top, you can see 75-mile panoramic views of Hickory Nut Gorge and Lake Lure. You can hike up to the top or take an elevator, we decided the latter, and then hiked down to the Hickory Nut Falls trail and about a mile over to the 404′ tall Hickory Nut Falls. These falls are another of the spectacular sights around the area. The movie The Last of the Mohicans was filmed in part at Chimney Rock including the final 17 minutes. After seeing Chimney Rock we drove over the the Old Cider Mill store to get some Apple Cider. The Cider was great but unfortunately it wasn't the right time of year for them to actually be making it so we didn't get to see that. We then headed over to nearby Lake Lure. Lake Lure is known as one of the most beautiful man-made lakes in the country. The town of Lake Lure is around 1200 in population and is a popular tourist destination for relaxing getaways. It was also a filming location for scenes from the movies Thunder Road, Dirty Dancing, A Breed Apart, The Last of the Mohicans and Firestarter.
Rating: ⭐⭐⭐1/2
Site Quality: Asphalt roads and gravel pads.
Type: Commercial
Access: Easy access from Interstate 26 near Hendersonville, NC.
Staff: The staff were friendly and helpful.
Amenities: Long pull through sites (we were on site 238) with some tree coverand 50A electrical with water and sewer. Each site had a picnic table and concrete patio. There were restrooms and laundry facilities in the office that seemed to be clean and in good repair but we did not use them. There was also a pool, shuffleboard, horseshoes and a pond. 55+ park. Propane on site.
Cellular/WiFi: Verizon was ok at 4.4 Mbps and AT&T was marginal at 1.4 Mbps with amplification.
What we liked: Other people staying in the park were very friendly. Mostly these seem to be people who stay here year around or at least through the summer season. Finally after about 5 weeks without satellite we were able to receive it here! Close to numerous area attractions as well as shopping and restaurants.
What we didn't like: There is a small creek behind the park that is subject to occasional flooding of the area where we were parked. Sites are somewhat close together although not as bad as other places we have stayed.
Verdict: This could be a good option for a longer term stay in this area due to its proximity to both local attractions and to shopping and restaurants. A Sam's and a Walmart is within 5 miles.