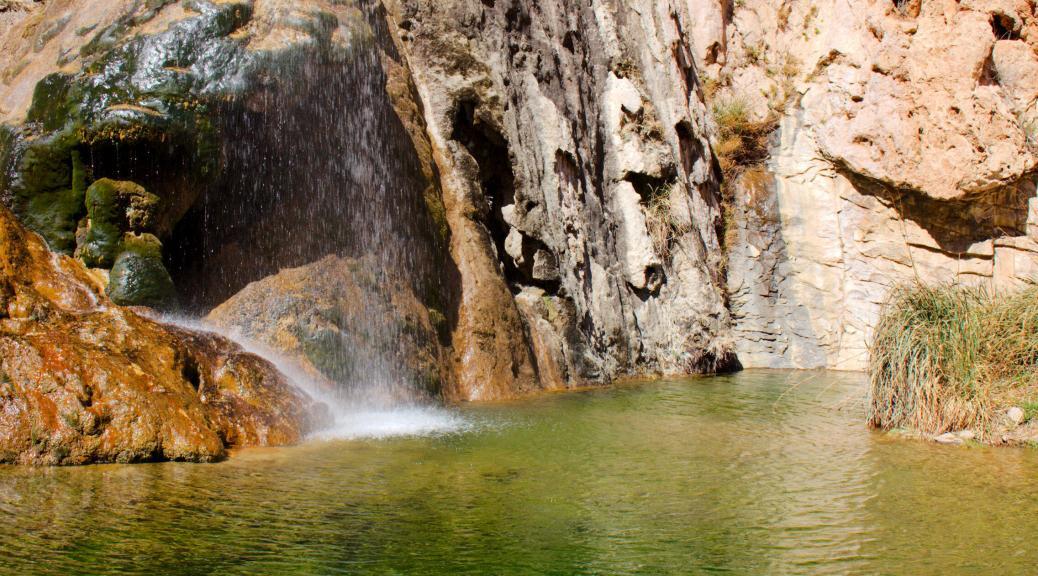 Carlsbad, NM
Carlsbad, NM
As we started planning our trip back eastward, we looked at Lajitas near Big Bend. The problem we ran into was that the week we planned to be there was in the middle of spring break and we could only get a few consecutive days. That area was a bit out of the way to only have a few days so we decided to go to Carlsbad, NM instead. This turned out to be a good idea because March is a slow time for area activities including Carlsbad Caverns. In fact, crowds there are only 1/3 what they would be in the summer at about 2000 per day. We were told those numbers can be as low as 200 per day in January and February.
When we arrived at the Cavern, they offered two self-guided options both for the same price. On the web site it wasn't clear but it looked like you had to pick one and then not see the other area. Actually, you can do both for the same price. We decided to start on the Natural Entrance Trail – an approximately a 1.25 mile hike down sometimes steep trails to 750 feet below the surface. An alternative to this is to take the elevator down but you would miss so much if you did. At the end of the trail you end up at the snack bar and elevator area where you can join the Big Room Trail which is another 1.25 miles. Where the first trail was a bit more confining than the big room, it's all relative as the Natural Entrance Trail still goes through some very large areas of the cavern with very interesting things to see along the way. Once in the Big Room you really do get a sense of the size and grandeur of this treasure. We were told that 6 football fields would fit inside the Big Room. Unfortunately, pictures do not capture what it's like to be in the Cavern. Due to low light levels I would have needed a tripod to capture many of the sights (they allow you to bring one but I didn't ) so many of the pictures aren't great. We were here many, many years ago with our kids for a vacation. It was so great to see it all again!
On another day we took a day trip over to Sitting Bull Falls which is a series of waterfalls located in a canyon in the Lincoln National Forest southwest of the city of Carlsbad. As the crow flies it's not that far from the Caverns but by road it's a completely different route. The falls are fed by springs located in a canyon above with water flowing through a series of streams and pools until reaching the falls where it drops 150 feet into the canyon below. The area around Sitting Bull Falls is the remnants of a reef system known as the Capitan Great Barrier Reef dating from the Permian period. Approximately 250 million years ago, the region was located near the edge of an inland sea. When we visited, only 2 of maybe 7 total falls were flowing. While disappointing in that regard, this was a really good time to go as the daytime temperatures were mild and the crowds were small.
Artesia, NM is a town about 30 miles North of the town of Carlsbad that was established in 1905 on the promise of plentiful water supplies provided by an artesian water system. In the 1920's oil started showing up in the area's water wells encouraging investors and drillers to drill for oil. Today the oil and gas industry still thrives in the area. For such a small town, Artesia has more bronze sculptures than we have seen in one place. Most reflect the history of the area from cattle drives to the oil and gas industry. Three of these are located several blocks from each other but within sight and they represent a cattle drive with the cattle boss, a vaquero or cowboy, and a cattle rustler forming a complete story. Outside of the bronze statues, there is a mural created in 1952 by Peter Hurd. Originally located on a lobby wall in a downtown Houston building, the mural was moved into the Artesia library when it was going to be destroyed along with the building in Houston. The mural is befitting of a library as attached lettering reads "The Future Belongs to Those Who Prepare for it." As large as it is, it is amazing they could safely move it from Houston to Artesia without damaging it. We enjoyed our afternoon walking tour.
Rating: ⭐⭐⭐1/2
RV Park: Carlsbad KOA Holiday, Carlsbad, NM
Site Quality: Gravel roads and pads. The sites were almost all pull through though there were a few at the back of the park that were back in. These sites seemed to be occupied exclusively by permanent residents. We were in site C2 which was plenty long for our RV along with the truck parked behind it. This was one of several pairs of sites that were configured as buddy sites with a common picnic table and fire ring between them. That was a bit awkward since we weren't there with a buddy. Connections were conveniently laid out for our rig. The sewer connection was sunken below the surface but they used the 3″ connection rather than the 4″ so we didn't have any issues with our sewer elbow as we had with another park.
Type: Commercial
Access: Easy access from US Highway 285 about 15 miles north of Carlsbad.
Staff: All of the staff we spoke with were very friendly and helpful. They smoke BBQ daily and will deliver it to your site in the evening for a reasonable fee.
Amenities: Full hookups, free cable TV, dog run, playground, laundry room, pool, restrooms and showers. There were also free games like Horseshoes, Gaga Ball, Checkers, Volleyball, Basketball, and Tetherball. Propane available on site.
Cellular/WiFi: AT&T and Verizon were 5 bars without amplification and 4G service was good. WiFi was available but we did not use it since it was an open system.
What we liked: Reasonably close to local attractions. Places in Carlsbad would be a bit closer but they tend to stay full with local oil field workers. Quiet, little road noise from Highway 285, no train noise. Large park for walking.
What we didn't like: Buddy site arrangement. The water was VERY hard. The air quality can be bad due to the oil wells and refineries nearby.
Verdict: As a KOA it was expensive compared to other commercial parks but it is good for a short stay up to a week. Would look at staying in Artesia when passing thru again.