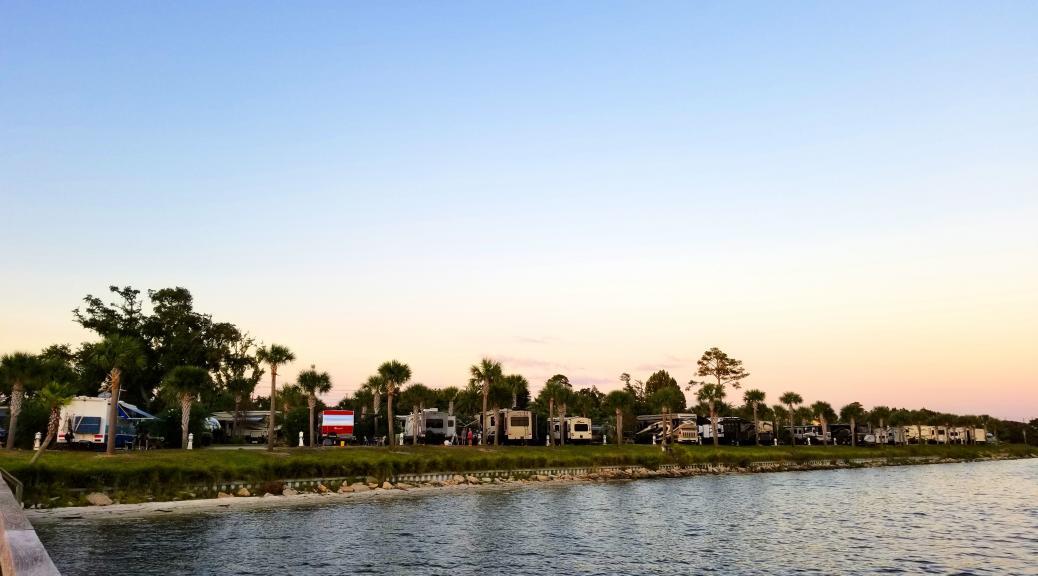 Santa Rosa RV Resort, Navarre, FL
Santa Rosa RV Resort, Navarre, FL
We had seen damage from Hurricane Michael around Eastpoint, FL although most of it had been repaired and rebuilt. There were no road issues and only a few buildings still under reconstruction. There were a few that likely never will be rebuilt. The trip from Eastpoint to Navarre was different. Mexico Beach, about 50 miles from Eastpoint was where Michael came ashore. US-98 through town was still being detoured for several blocks due to damage. Probably 50% or more of the buildings were still being rebuilt. From there to Panama City about 50 miles away showed the destructive power of a category 5 storm even a year later. Pine trees and Palms seem to weather the storms well but other types of trees, some a foot or more in diameter were broken off about 30 feet in the air. After seeing all this, we were glad we made the decision to flee the Orlando area because of Hurricane Dorian even though it ended up staying offshore.
On this leg of the trip we have stayed at quite a few RV parks that include "Resort" in their name. We have found that many of these parks do have some extra amenities but none were really of the calibre we would call a resort. Santa Rosa RV Resort was the first one to live up to that name. Even though sites were still relatively close together, the lush landscaping made it feel like you had privacy. There was also a lot of landscape lighting that gave it a resort feel at night. Amenities included a nice pool area, somewhat of a beach – although I'm not sure you could really swim there and a fishing pier. They also had kayaks and bicycles for rent although we didn't give those a try. The area was well equipped with stores and restaurants. We drove through the Destin area on the way to Navarre and decided we'd much rather spend time here than Destin. Destin was much more crowded and much more expensive. To us it looked better suited to a younger crowd but wasn't really our cup of tea.
The nearby Santa Rosa Island across the bay was really the place to go for swimming. Like Destin, the beaches are made up of powdery white sand and the water is beautifully turquoise. We made several trips there to swim and bask in the sun. The last day we went the waves were quite large and we didn't get in as much swimming but it was still a great day!
At the recommendation of one of our neighbors, we took a trip into Pensacola to visit the Museum of Naval Aviation as well as a well-known fish market called Joe Patti's. The museum was on the Pensacola Naval Air Station and a fascinating view of the history of Naval Aviation including many famous airplanes along with the significance each of them made to our history. One of the exhibits showed five Blue Angels jets in a simulated formation flight. We heard that when they put that in, one of the pilots saw it and asked why the planes were placed so far apart. I think they hang about 5 feet apart and he stated they should be MUCH closer!
Joe Patti's fish market rivals the Pikes Place Fish Market in Seattle although without quite as much show. The market, opened in the 60's, offers a huge selection of fresh fish and the boats are docked right behind the market. We ate sushi there and then bought shrimp, crabs and oysters so we could make some seafood gumbo. Anna made the gumbo in our Instant Pot and that worked out really well.
Rating: ⭐⭐⭐⭐
Site Quality: Concrete roads and pads. Long enough for our rig and truck although we had to back up under the front of the RV. Sites are fairly wide and have nice secluded patios along with a picnic table.
Type: Commercial Park
Access: Right on US highway 98 in Navarre.
Staff: The staff were friendly and helpful.
Amenities: Laundry facilities, Restrooms/showers, swimming pool, recreation room. Free cable TV and WiFi.
Cellular/WiFi: Verizon and AT&T were both good. They had WiFi but we did not use it.
What we liked: Full hookup sites, clean park. Nice pool and exercise room. This park really did have a "resort" feel unlike most other parks where we have stayed that have been called resorts. Walking distance to stores, etc. Really enjoyed the beautiful beaches at the Gulf Islands National Seashore and using our National Park pass to get in free.
What we didn't like: There was some road noise from US 98. The site map was somewhat misleading in showing a beach area right behind the park. There is a small beach behind the pool but that was it. The beach was nice for hanging out but likely not for swimming. We were back to back with another trailer in our 3rd tier site so would want a waterfront site or a pull thru next time.
Verdict: We would definitely stay here again especially if we could get a waterfront site. This would be a great option for a long term stay of a month or more.