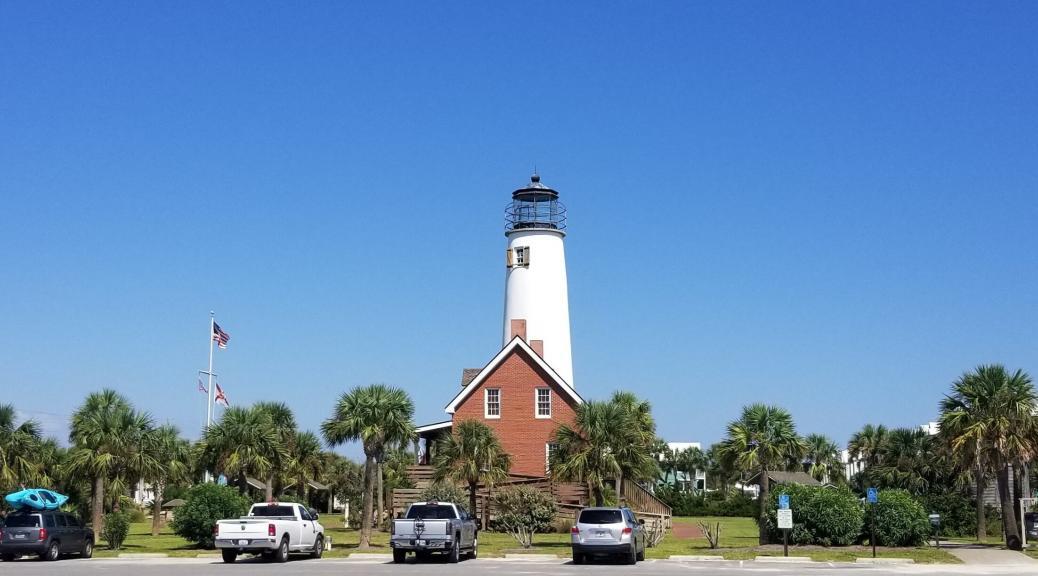 Coastline RV Resort, Eastpoint, FL
Coastline RV Resort, Eastpoint, FL
The Eastpoint area was just on the edge of the area heavily affected by Hurricane Michael about a year before we visited. I would say that things have been restored to about 80-90% of what they were before the hurricane but there is still visible destruction. We should have more information at our next stop West after we go through the area where Michael came ashore.
Eastpoint and Appalachia were the nearest towns to the park. Both had some smaller groceries stores but there is no Walmart anywhere nearby. There were numerous restaurants that were pretty good as well as several fresh fish markets where we bought some of the local catch for dinner on a few nights. In Appalachia there was even a small Farmers Market one weekend. Our favorite restaurant was The Blue Parrot on St. George Island. It is near the lighthouse right on the beach and Anna is still talking about the Grilled Mahi Ruben Sandwich.
Although the park was right on the beach, you really couldn't swim there as it was very rocky. Luckily, Saint George Island was only a short 10 minute trip and to had nice beaches for swimming or fishing. We went over there several times to enjoy the sun, sand and water. The beaches here although nice are not quite as pretty as the ones further West. More on that later…
Rating: ⭐⭐⭐1/2
Site Quality: Gravel roads and pads outlined with a concrete border to keep the gravel in place. Long enough for our rig and truck. Sites are fairly wide and have nice patios made of paver bricks along with a picnic table and grill.
Type: Commercial Park
Access: Right on US highway 98 on the east side of Eastpoint.
Staff: The staff were friendly and helpful.
Amenities: Laundry facilities, Restrooms/showers, swimming pool, recreation room. Free cable TV and WiFi.
Cellular/WiFi: Verizon and AT&T were both good. They had WiFi with a tower right behind our site but we did not use it.
What we liked: Full hookup sites, clean park. Nice pool, rec room and exercise room. Our site was on the first row so we had ocean views.
What we didn't like: There was a lot of road noise from US 98 which was only about 50′ from our trailer. Not a lot of options for groceries here beyond some basics.
Verdict: We would stay here again if travelling through the area but we might consider a site in the back of the park away from the highway. It is a trade off between having a view of the bay vs road noise.