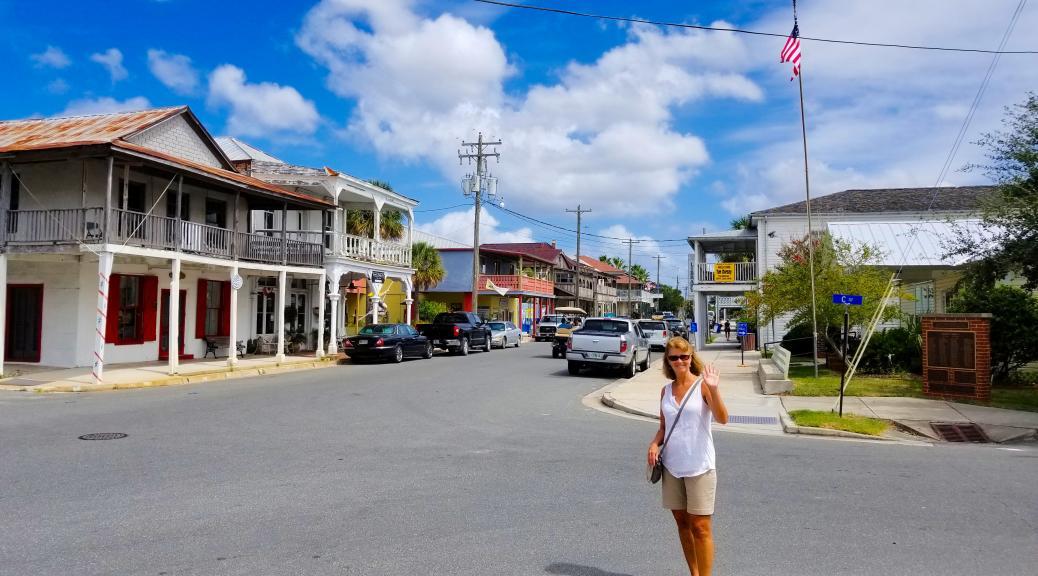 Cedar Key RV Resort, Cedar Key, FL
Cedar Key RV Resort, Cedar Key, FL
We planned to stay in Cedar Key for a full week but had to reduce that to 5 days after a quick airplane trip to Oklahoma City. Even on that trip we couldn't escape tropical weather as we were supposed to return through Houston on the day tropical storm Imelda came ashore nearby. By the time it was done almost 40″ of rain had fallen in places around Houston. Our plane had started to taxi out on our way there when they stopped air traffic into the Houston area. While we sat on the tarmac waiting for it to open up again (which it likely never did that day), a problem came up with the airplane and so we taxied back to the gate. Before we could even get off the plane, Southwest had re-booked us on another flight through Dallas leaving within the hour. We were thrilled it worked out that well.
Cedar Key is a small fishing village that has not only had to survive after hurricanes that affect the area on average less than every three years but also banning of net fishing that effectively ended their ability to commercially fish the area. After that they moved to clams and are one of the largest producers of them in the US. In the past they also supplied Cedar for pencils. Although we noticed a lot of properties for sale, this is an area of true survivors – always adapting to survive.
Today tourism is a big part of the success of the area but it has not substantially changed the character of the town. There are no major chains or high rise hotels there – just smaller properties and houses for rent. You will also find quite a few good restaurants and even a small coffee shop where we enjoyed a great cup of coffee one morning.
Rating: ⭐⭐⭐⭐
Site Quality: Asphalt roads and pads. Just long enough for our rig and truck. Sites were wide and each had a picnic table.
Type: Commercial Park
Access: Just off FL-24 about 10 miles east of Cedar Key. Easy access for big rigs.
Staff: The staff were friendly and accommodating when we shortened our stay. Workers within the park picked up our trash and frequently stopped by to see if we needed anything.
Amenities:
Cellular/WiFi: Verizon and AT&T were both decent.
What we liked: Full hookup sites on pavement (important during the rainy season). They fogged the park for mosquitos while we were there. The park was clean and well maintained. Good Clam Chowder at Tony's. We had numerous recommendations for 93 West but we didn't care for it as much.
What we didn't like: Occasional minor road noise from FL-24. We did hear that the park was up for sale so new owners could change things for the worse.
Verdict: Although there are several things to do in the area that we didn't get to, this park would be good to come to for some rest and relaxation when you don't want to stay busy all the time. In the winter we understand it stays full of snow birds from up north but off that peak the park was only about 30% full. We would definitely stay here again.