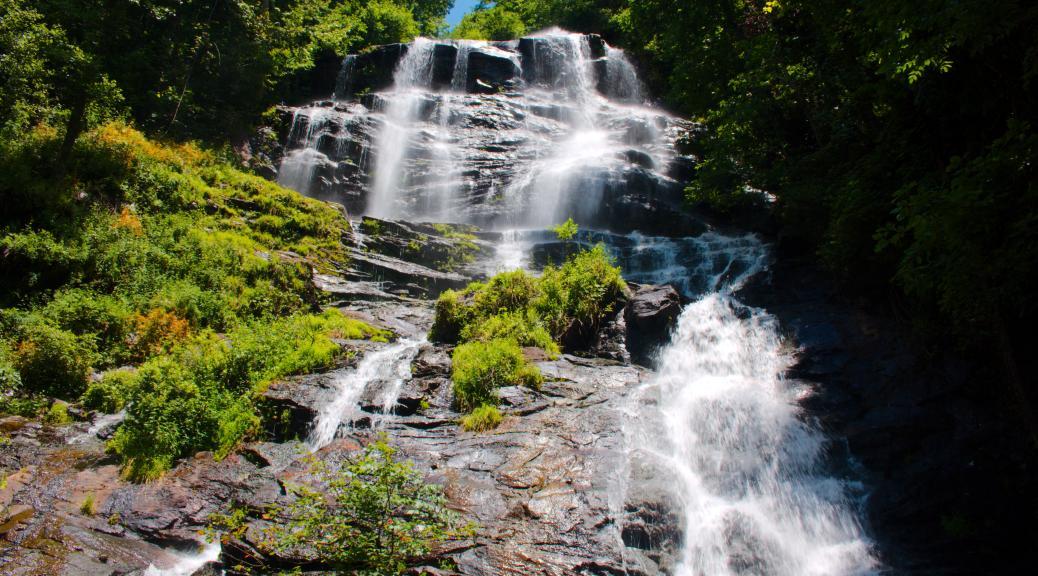 Duckett Mill Campground, Gainesville, GA
Duckett Mill Campground, Gainesville, GA
As we planned our route east, one of the stops we wanted to make was to see a former co-worker at Dell named Bill along and his wife Sherry, north of Atlanta, Georgia. We booked a week at the Sawnee campground just a few miles from their house. Then we met with two challenges.
The first challenge came about a week before we were scheduled to arrive at Sawnee. One morning I got an email saying that our reservation had been cancelled. We panicked a bit at the thought of finding a place for a week on short notice in the busy summer season. After looking at a few commercial parks that didn't look all that great we found Duckett Mill campground. Looking back, I think this was the best thing that could have happened as Duckett Mill was fantastic and our site was very secluded. Apparently the issue at Sawnee was that they didn't have enough volunteers to run the park so they have closed it for the rest of the season. Sounds kind of fishy but who knows… We did notice too that the roads up to Sawnee were somewhat narrow and winding and through residential areas with quite a bit of traffic. There was also a 6 ton limit sign just west of the park that could be an issue. In all, we think Duckett Mill was a better place for us.
The other challenge was the travel distance. Although the route from Rogersville, AL to Sawnee showed up as only about 200 miles we found that the shortest route would have taken us through some small local roads which would have been challenging for our rig. So we decided to take a longer route through Chattanooga, TN which was mostly US highways and Interstates but that added about 75 miles making this one of the longest legs we have driven pulling our rig so far. It took about 6 hours of driving plus we lost an hour due to a time zone change but we held up much better than we expected. Leaving earlier in the day definitely helped. Even Purdy the cat took the long day in stride.
Once we arrived, we had a wonderful afternoon and evening with Bill and Sherry in their beautiful home and look forward to keeping in touch with them. We spent lots of time going over old Dell war stories and talking about changes over the past 14 or so years since we both worked together. It got particularly interesting when Bill brought out some brochures he had for some time about Class A RV's that even Sherry didn't know about. Maybe someday we'll be able to "glamp" together sometime???
At Sherry's recommendation we took a day trip north up to the town of Sautee Nacoochee and to the Old Sautee Store. The store was established in 1872 and is a local favorite as well as a good place for adventurous tourists willing to get away from the beaten path. Sherry told us we had to try their Farmer Cheese which comes from Sweden. It is the store's most popular product. It is very mild and VERY good. Of course we had to buy some! While taste testing the cheese the lady providing the samples found out we were full timers and she started telling us about all the places we needed to go in Georgia and Tennessee. I think we spent 30 minutes with her and we got a lot of tips including a nearby store called Mark of the Potter.
In 1928 Robert Watts and his father Allen "Grandpa" Watts purchased the Hill's Mill property on the Soque River. Grandpa Watt's knowledge of building and milling proved to be invaluable in the construction of the Mill. This was during the Depression when times were very lean for everyone. About the only businesses around were moonshining and some saw milling. Although wood sold slowly, grist mills seemed to grind on steadily. The Watts successfully ground corn until a flood caused them to close down. In 1969, a couple decided to create a pottery store in the old mill as a retirement project. The store is still open today as Mark of the Potter. Giant trout inhabit the river below the mill where visitors come to feed the fish. Different species like Rainbow, Brown and other types of trout gather below the shop balcony waiting for a feeding so we had to try it.
A final stop on this day trip was to the town of Dahlonega, the site of the first major U.S. Gold Rush and the Heart of Georgia Wine Country. Nestled in the foothills of the Blue Ridge Mountains, Dahlonega offers expansive mountain vistas, roaring waterfalls and bubbling streams, postcard-worthy wineries and an abundance of restaurants and entertainment. We went through on a Monday and many of the shops and wineries were closed for the day but we were able to walk around the square, visit a few shops and eat dinner at an Irish-American pub called Shenanigans.
About 30 miles northeast of the Duckett Mill campground is a spectacular 729-foot waterfall called Amicalola Falls. It is the tallest cascading waterfall east of the Mississippi River and is breathtaking. It was well worth another day trip to see the falls and hike around the area. We took some extra time to drive through the campground in the park and determined that it wasn't suitable for our rig. For one thing, the road up to it has some 20+% grades which could be doable as they are fairly short, but once you arrive at the campground it's very obvious it was only designed for much smaller rigs. The road through the campground is small and somewhat winding and the sites are way to short for our rig. Most people up there were in pop-ups or very small trailers or motorhomes.
Gainsville area, Lake Lannier, and Northern Georgia was a new adventure for us and what a pleasant surprise it was. Georgia peaches, beautiful countryside and rolling hills has us writing this area down for a longer stay in the future.
Rating: ⭐⭐⭐⭐1/2
Site Quality: Asphalt roads and concrete pads.
Type: Corps of Engineers
Access: Easy access from GA-53 a bit west of Gainesville, GA.
Staff: The staff were friendly and helpful.
Amenities: Large sites (we were on site 92) covered in trees. Once in the site we could only see one other site through the trees. Our site had 50A power with water but no sewer. Each site had a picnic table and a fire ring. There were restroom/shower facilities that seemed to be clean and in good repair but we did not use them. There was a marked off beach area for swimming.
Cellular/WiFi: Verizon was a bit slow at 2.2 Mbps. AT&T was acceptable at 6.35 Mbps with amplification.
What we liked: Beautiful tree covered sites and most have some view of the lake. You could see the lake from site 92 but the view was substantially blocked by the trees. Some sites like ours were very secluded but others were not as much. Large park with plenty of room to walk.
What we didn't like: No satellite because of the tree cover. We did have marginal local channel reception, however. No sewer kept us from rating the park 5 stars. Due to the length of the driveways and the fact many were curved or had significant slope the long driveways can be considered both a negative and a positive. Another negative was the fact that the outside living space was made of sand and fine gravel. With rain, this mixture splashed up on the rig and was also carried inside on our feet.
Verdict: Thirteen months into full timing, this is our favorite park so far. The sites say they are good for a 45 or 55 foot RV but most have very long driveways leaving plenty of room for parking. We saw some with an RV, a boat and a tow vehicle and plenty of extra room.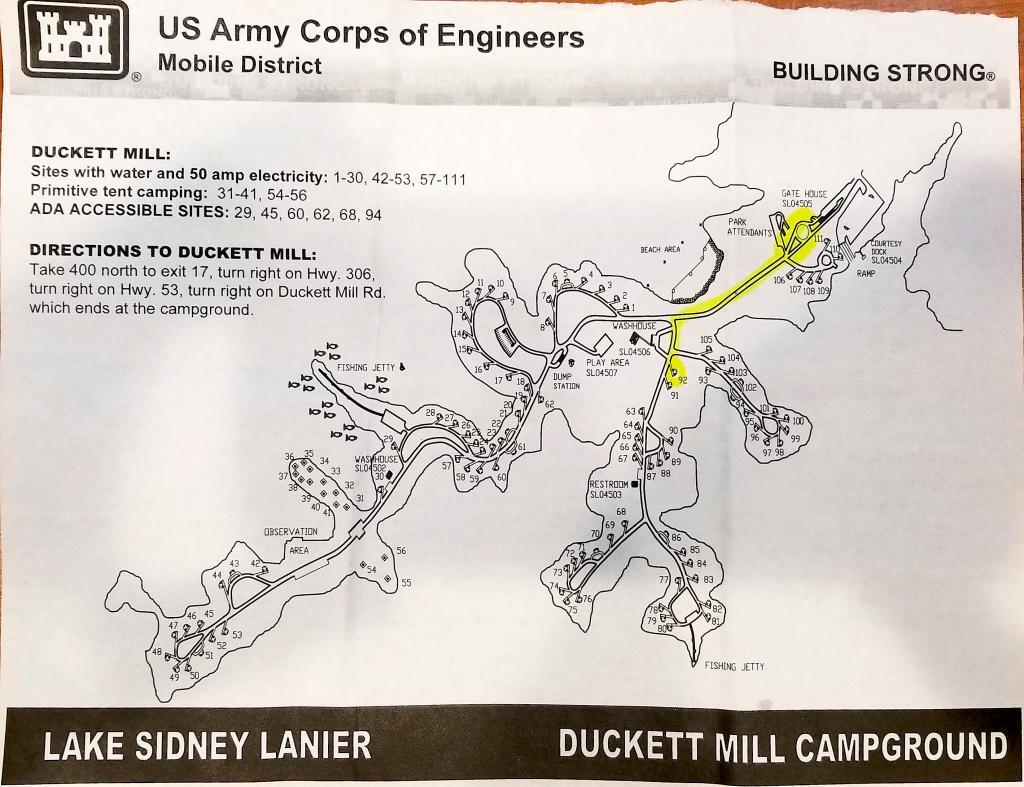 Some of the more secluded sites here would be great. Site 92 was near perfect if you want seclusion, other sites could be good candidates as well including 91, 93, 103-105, 1-8, 9-17, 24-29 and 42-44. Nearly all offer some form of lake view.