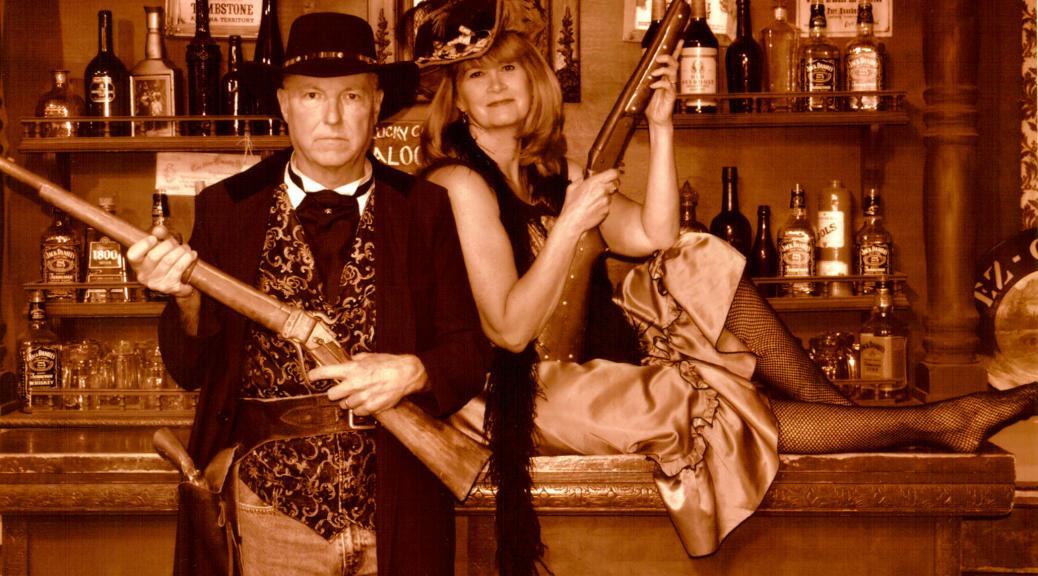 Tombstone, AZ
Tombstone, AZ
A nostalgic trip into the past … Ed Schieffelin was briefly a scout for the U. S. Army headquartered at Camp Huachuca. Schieffelin frequently searched the wilderness nearby looking for valuable ore samples. When friend and fellow Army Scout Al Sieber learned what Schieffelin was up to, he is quoted as telling him, "The only rock you will find out there will be your own tombstone", or, according to another version of the story, "Better take your coffin with you, Ed; you will only find your tombstone there, and nothing else". On finding silver, Schieffelin filed his first claim and fittingly named his stake Tombstone. Soon, word got out, more claims were filed nearby and the town of Tombstone was born. It became one of the last boomtowns in the American frontier and at one time was one of the largest cities in the western United States.
On the evening of March 15, 1881, three Cowboys attempted to rob a stagecoach en route from Tombstone to Benson, Arizona. The driver Eli "Budd" Philpot and a passenger named Peter Roerig were both shot and killed. Deputy U.S. Marshal Virgil Earp and his temporary deputies and brothers Wyatt Earp and Morgan Earp pursued the Cowboys suspected of the murders. This set off a chain of events that culminated on October 26, 1881, in a gunfight in a vacant lot owned by famous photographer C. S. Fly near, not at the O. K. Corral as popularly known, during which the lawmen and Doc Holliday killed Tom McLaury, Frank McLaury, and Billy Clanton. This incident known now as the gunfight at the O. K. Corral is likely what the town is now best known for.
By luck, we arrived in town on the weekend of the towns annual Vigilante Days festival which celebrates the history of the town particularly in the late 1800's. Activities at the festival included gunfight reenactments – primarily the gunfight at the O. K. Corral, street entertainment, gunfight competitions, hangings and more. Many visitors dress up like gunslingers or show girls to help get in the spirit of things. The historic town truly is and one-of-a-kind experience of life in the wild west!
Of course one of the must see stops is the Boot Hill cemetery. There are many places that claim to have a Boot Hill but of course, Tombstone claims to have the original. The name supposedly came from the fact that many people were buried with their boots on. Actually, we found out the name "Boot Hill" was actually not used in the day. It was a term later created by western movies and it stuck. This is where the McLaury brothers and Billy Clanton were buried after the gunfight at the O. K. Corral.
One of numerous mines in the area, the Good Enough mine, has been opened as a tourist attraction allowing visitors to go down into the mine. We took a fascinating guided tour inside the silver mine. Of the 7 levels we were able to tour 3 of them. Being inside the mine is almost claustrophobic and just seeing all the hard work and conditions the miners worked in 6 days a week was incredible. Miners worked for up to 10 hours at a time in the mine and the candles they used for light did not last that long. At least part of their shift was spent working in total darkness in difficult conditions even when there was light.
We took a day trip to the nearby ghost town of Fairbank which had been the closest rail stop to Tombstone in the 1880's. Fairbank was also home to a stage coach station on the Butterfield Overland Mail line which opened in 1885. At its height in the mid-1880s, the town housed approximately 100 residents, and boasted a steam quartz mill, a general store, a butcher shop, a restaurant, a saloon, a Wells Fargo office, the railroad depot, and a stage coach station. When the Tombstone mines closed after flooding in 1886, Fairbank's prominence declined as the nearby mills shutdown, and the rail depot it offered became increasingly unnecessary. Although temporarily saved by mining operations in Bisbee, eventually, drought, floods and the decline of the mines took their toll on the town.
Bisbee, South of Tombstone, was founded as a copper, gold, and silver mining town in 1880, and named in honor of Judge DeWitt Bisbee, one of the financial backers of the adjacent Copper Queen Mine. Bisbee is located in a valley between smaller peaks within the Mules Mountains which gives the town a lot of character with homes and businesses nestled into the hills. Coupled with an attractive climate and picturesque scenery, Bisbee became a destination in the 1960s for artists and hippies of the counterculture. Mining continued in the area until the mid 1970's and today much of the economy there is based on tourism. In 1929, the county seat was moved from Tombstone to Bisbee, where it remains today.
Another day trip was to Fort Huachuca, west of Tombstone, near the town of Sierra Vista. Previously known as Camp Huachuca, the fort was established in 1877 to counter the Chiricahua Apache threat and secure the border with Mexico during the Apache Wars. From 1913 to 1933 the fort was the base for the "Buffalo Soldiers" of the 10th Cavalry Regiment. During the buildup of World War II, the fort had quarters for more than 25,000 male soldiers and hundreds of WACs. The major units are the United States Army Network Enterprise Technology Command (NETCOM) and the United States Army Intelligence Center. Libby Army Airfield is on post and shares its runway with Sierra Vista Municipal Airport. It was an alternate landing location for the space shuttle, but it was never used for that. Fort Huachuca is also the headquarters of Army Military Auxiliary Radio System (MARS). Other units include the Joint Interoperability Test Command, the Information Systems Engineering Command (ISEC) and the Electronic Proving Ground. The fort has a radar-equipped aerostat, one of a series maintained for the Drug Enforcement Administration by Harris Corporation. The aerostat is northeast of Garden Canyon and supports the DEA drug interdiction mission by detecting low-flying aircraft attempting to enter the United States from Mexico. Once we were cleared thru the visitor center we were able to tour the entire active military base including the historic camp/fort grounds, 3 museums on base, and visit with such helpful and friendly volunteers.
We enjoyed our 3 week stay at Tombstone RV Park and Campgrounds. Most of the other campers we met visit every year and our new friends, Bob & Barbara, have been returning for 20 years! We were able to hike trails, dry river beds and abandoned train rail beds. Because of our location near the border, we were cautioned about encountering smugglers and illegal immigrants on our hikes and exploring the old ghost towns but thankfully never had any encounters. We heard coyotes in the evening and saw lots of birds, rabbits, etc. and so glad the cold weather kept rattlesnakes, scorpions and tarantulas in hibernation (or brumation). Because of the cold nights we enjoyed only a handful of campfires – in washing machine tubs that the park provides!
When first looking for a park in this area, our first choice had been the Tombstone Territories RV Park which is a bit further North and West of Tombstone. Unfortunately there were no openings for us when we wanted to be there. While in the area we stopped by and drove through the park. As expected, it was very nice with paved roads and gravel pull through sites. It includes a rec room, exchange library, and an enclosed swimming pool as well as miles of hiking / riding / biking trails. This would be a great alternative particularly for extended stays in the winter. Most likely you would need to reserve very early during the winter "high" season.
Rating: ⭐⭐⭐⭐
Location: Tombstone RV Park and Campground, Tombstone, AZ
Site Quality: Gravel roads and pads with a mix of back in and pull through sites. We were in a back in site (#57) and it was very wide allowing us to park at an angle to the site while still having room to park the truck beside our rig. Each site is separated by a wooden split rail fence. Connections were conveniently laid out for our rig. Pull through sites were a bit shorter and closer together and might not be a good option for us.
Type: Commercial
Access: Easy access from Highway 80 North of Tombstone.
Staff: All of the staff we spoke with were very friendly and helpful.
Amenities: Full hookups, dog run, laundry room, playground, restrooms and showers, heated outdoor pool, horse stables. Camping cabins and Cowboy suites for non-RVers. Free shuttles service into town. Each site has a picnic table. Campfire rings (aka washing machine tubs) are available on request. Propane available on site.
Cellular/WiFi: AT&T did not work. Verizon varied from 1 to 2 bars without amplification and varied from 1x to 3G to 4G. When using our cellular amplifier data was acceptable but still somewhat intermittent at times. Just outside the park everything worked well. The park was in a low spot which seemed to cause these issues. WiFi was available but did not seem to work well when we tried to use it.
What we liked: Trails and river beds to hike near the park. Very friendly environment within the park with people out walking the park during the day.
What we didn't like: We had several intermittent low voltage issues. Difficulty with cellular communications.
Verdict: This was a nice park and both the staff and the people in the park were very friendly. We would stay here again, particularly for up to a week, however, if we want to stay longer Tombstone Territories might be a better option if power and cellular service is better.