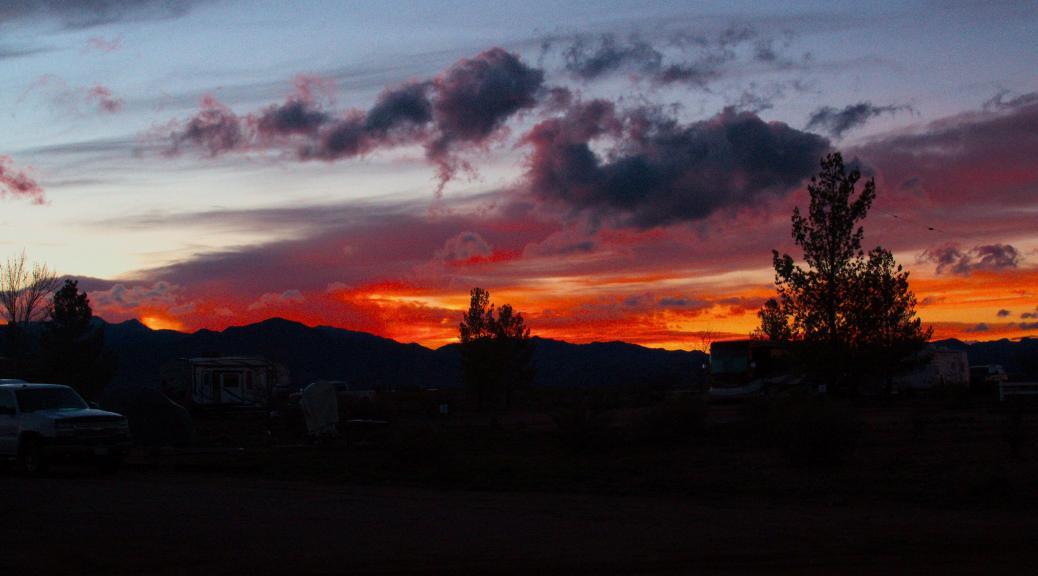 As we traveled south and west through New Mexico and Arizona we found Rusty's RV Ranch in Rodeo, NM and decided to stay there for a week. We weren't too sure what to expect as Rodeo is literally in the middle of nowhere but we were intrigued by the idea of a 'Dark Sky' location. It was also a chance to visit some of the nearby small towns of Rodeo, New Mexico and Portal and Paradise in Arizona.
Rusty's has a unique layout for the park. The pull-thrus are each 200′ long and each one supports 2 RV sites. Unlike other parks, the RV's are in separate lanes instead of back to back. Due to the length of the pull-thru there ends up being plenty of privacy between RV's sharing the pull-thru and the distance between adjacent pull-thrus is far so there was plenty of room. Being a dark sky location had it's challenges for us as they didn't want any white outside lights on at night. It was so dark you could get lost walking around at night – even if you stayed at your own site. The reason for all this is that about half of the people staying in the park were amateur astronomers and astrophotographers with very large expensive telescopes. We found that the more sophisticated ones could be operated from inside their coach and could even be programmed to aim at points of interest automatically throughout the night and record what they saw. Some of the pictures we saw were fantastic. Unfortunately, it was pretty cold on the few nights there were clear skies while we were there so we didn't spend a lot of time outside looking at the stars ourselves.
For being so far from anything major, it was surprising to find The Chiricahua Desert Museum nearby. One of the exhibits there is the Desert Botanical Garden which is filled with native plants from the area. In warmer weather you can also see many lizard and bird species, tortoises, and numerous native insects. Inside, there is a large collection of native artifacts as well as a timeline for the history of the area. There is also a live display area where you can see close up a collection of over thirty-four species of rattlesnakes. Most were quite docile in their displays but the Western Rattlesnake was not. It was very disturbing to be inches away while this snake made it clear it did not like us being there.
The real highlight of the area though was the Cave Creek Canyon area where the towns of Portal and Paradise were located. The towns were ok and we had a good meal at the Portal Peak Lodge Store & Cafe but the real gem was the canyon itself. The rock formations in the canyon were spectacular and the vibrant colors within them made them even better. As with most things, the pictures just don't do capture the depth and beauty of the area. There are primitive camping sites and hiking trails throughout the area. We attempted to hike to the Winn Falls Viewpoint one day but quickly found out why it was labeled a "difficult" trail. There had been some confusion about the length of the trail as we had been told there was a dirt road that covered the first 1.4 miles leaving only a 1.7 mile trail. The problem was that the road was closed so we had to hike that part to get to the trail. We realized by the time we made it to the end of the road we wouldn't have time to go the rest of the way and then get back down before dark so we turned around. On the way down we noticed that you could see the water fall from a point just a few feet from where we parked the truck. We also noticed that it was mostly frozen. After that we didn't feel so bad that we didn't make it all the way to the viewpoint.
Rating: ⭐⭐⭐1/2
Location: Rusty's RV Ranch, Rodeo, NM
Site Quality: Gravel roads and pads with very long pull through sites. The pull throughs were configured with two sites on each
Type: Commercial
Access: From NM-180 on the east side of Silver City go south on Memory lane to the park entrance. There is a sign above the driveway but it is at least 14′ clearance. but due to their length and the fact that each RV was pointing the opposite direction of the other the two RVs were not that close together. Also, they were both pull throughs side by side meaning you didn't sit back to back where one RC had to back in.
Staff: Rusty checked us in and was very helpful and friendly. She not only helped us understand the park but also spent quite a bit of time telling us about what to see and do in the area.
Amenities: Full hookups, dog run, laundry room. Dark sky for astronomers so no outside lights at night.
Cellular/WiFi: Verizon 3 bars without amplification. On our phones we could only get 3G data but using amplification, we could get 4G at about 6 Mbps. AT&T was non-existent but we heard they were installing a tower in town so that should be available soon. WiFi was available but we did not use it.
What we liked: This was a rustic park with mountain views virtually 360 degrees. In site #16 we had a good south western view of the tallest mountain nearby as well as great sunset views. There was a lot of space between pairs of sites and even between each unit of a pair so privacy was good.
What we didn't like: Being a desert area it was quite dusty and windy. Even with 20 Mph gusts forecast we had some isolated gusts over 40 Mph which came unexpectedly. We lowered our satellite dish several times to prevent wind damage. Short of the Cave Creek Canyon, there just isn't a lot to do in the area.