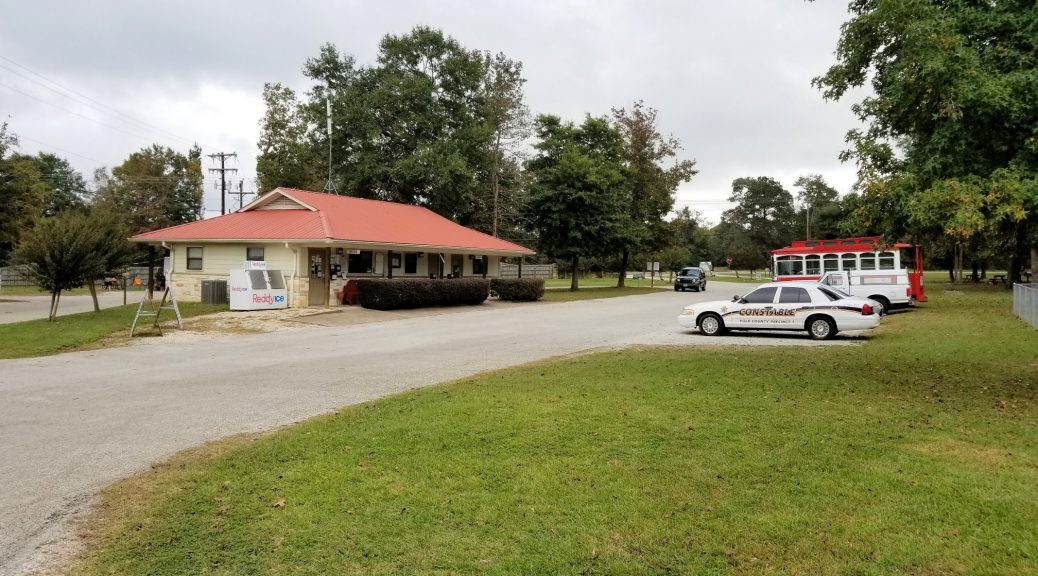 Escapees Rainbow's End
Escapees Rainbow's End
Rating: ⭐⭐⭐
Location:  Livingston, Texas
Site Quality:  Asphalt roads with gravel pads. There are both pull thru and back in spots. More than half are 50A with the remaining being 30A. Each site has a picnic table. 
Type:  Commercial
Access:  From Livingston go South on 146 about 8 miles to the park. The turn on to 146 is a bit tight.
Staff:  All staff we met was friendly and will go out of their way to help.
Amenities:  Full hookups, swimming pool, laundry (2), bath house and restrooms (2). There is also a dump station and dog park on site.
Cellular/WiFi:  AT&T and Verizon 4 bars even without amplification. We got about 6 Mbps on AT&T and Verizon although I was getting 21 Mbps on my cell phone. The data from the Mobley and MiFi was a bit intermittent even when connecting directly to them.
What we liked: This is where our mail service is located so getting mail was convenient. Lots of daily activities including movies. Pull thru sites were long and roomy. Lots of full timers here – some with really nice trucks!
What we didn't like: Not the prettiest of settings although there are a lot of trees around the edges. For a weekly rate with 50A and a premium site the price was only about $27 per day so that made up for it.
We stayed here for a week in November so we could vote and take care of some business at the tax office. This is the national headquarters for Escapees where our official residence is located so it was good to spend some time here. While here, we also took a tour of the headquarters including the mail center. We saw our "official" street address and learned that the Escapees mail center handles more mail than does the US Post Office in Livingston. Mail goes directly to Escapees from the Houston mail distribution center. We also took time to get our truck and trailer weighed using their Smartweigh system which measures the weight at each wheel. We found that we were about 1350 lbs. overweight in the trailer although they had us weigh with full water which we normally do not travel with. That made up about 600 lbs. of the extra weight. We will need to work to remove as much as we can of the remaining 750lbs.
The park itself is set up for full timers which is the primary mission of Escapees. The park includes standard full hookup 30 and 50 amp sites as you would find anywhere else. It also includes deeded sites that you can purchase as well as many deeded lots which typically have a small house and storage for an RV. People live in these and travel like other non-fulltimers do. There are also a few long term standard sites. Finally there are about 40 Care Center Sites where people who need short or long term care can stay for longer periods.
While here we also took some time to visit a few friends in the area. One is a former co-worker and his wife, Steve and Martha, who bought a ranch nearby and should be doing that full time when he retires. For now Martha is managing the property and their cattle 4 days a week. Pretty good for a former "city" girl! We also saw our good friends Tammie and Peter who just moved into a new home near Houston. It was gorgeous and close to a lot of stores and restaurants.