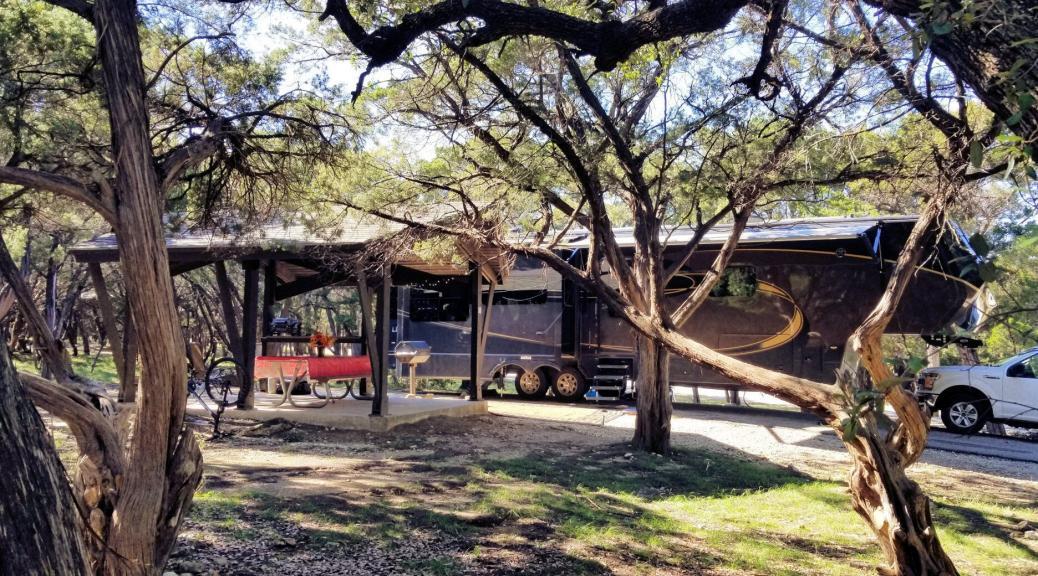 Cedar Breaks COE
Cedar Breaks COE
Rating: ⭐⭐⭐⭐
Location: Georgetown, Texas
Site Quality: Asphalt roads and pads. Each site has a covered picnic table, grill and fire ring.
Type: COE
Access: From Interstate 35 in Georgetown take either Highway 29 or Williams Dr. West to DB Woods Rd. Go South from Williams Dr. or North from Highway 29 to Cedar Breaks Rd. then go West into the park.
Staff: We had good experience with the park attendants which was a relief since there was an encounter with a park attendant that went viral on Youtube just after we booked the reservation. The person involved is no longer associated with the park.
Amenities: Water and Electric only, bath house and restrooms.
Cellular/WiFi: AT&T and Verizon 4 bars even without amplification. We got about 8 Mbps on AT&T and 8.5 Mbps Mbps on Verizon.
What we liked: Pretty, well kept park surrounded by lots of cedar trees, with lots of space between most sites which helped with privacy.
What we didn't like: No sewer hookups. Cedar trees drop sap in the spring but unlike pine sap cedar sap can be washed off.
Nearby Parks: Jim Hogg COE – A nice alternative to Cedar Breaks if not just a bit farther to Round Rock where our doctors and friends are. Might be a good choice for the April/May visit as we could probably get a site that isn't below cedar trees that drop sap. Good sites for us: Lower loop (50A sites) – 2, 4, 6, 12, 17, 22, 26, 28, 30, 34, 36, 40, 42, 44, 47; also sites 66 and 76 might be ok. Upper loop (30A sites) – 88, 89, 94, 97, 106, 116, 118, 126, and 142. Sites 105, 127 and 129 also might be ok. The top loop sites should only be selected as a last resort.
We spent two weeks here in October 2018 mostly to take care of doctor appointments and to see friends. As we had lived here for about 25 years prior to taking off on our RV adventure we didn't do anything touristy. We did spend time at some of our favorite restaurants and stores. Our truck also spent a week in the shop getting a problem fixed with it's DEF (Diesel Exhaust Fluid) system.
Update 4/28/2019: We stayed here again in April 2019 on a lakefront spot which was nice but a bit less private than the previous site we were on. Sites 10, 23, 27, 38, 40, 44, 45, 46, 48, 50, 54, 56 and 58 look good for our rig. 38 was our lake front site and we were able to get satellite there in spite of a tree being in the way. Previously we were on site 56 and it also allowed for satellite reception. For some reason we were only able to get locals from Killeen and not Austin.
Update 5/2021: Site 10 is good and we have stayed on it twice and have gotten satellite both times even though the dish is pointed at a tree. Site 7 might be a better alternative to 10 as it is long and is away from the restrooms. It appears that we ought to be able to get satellite there as well.