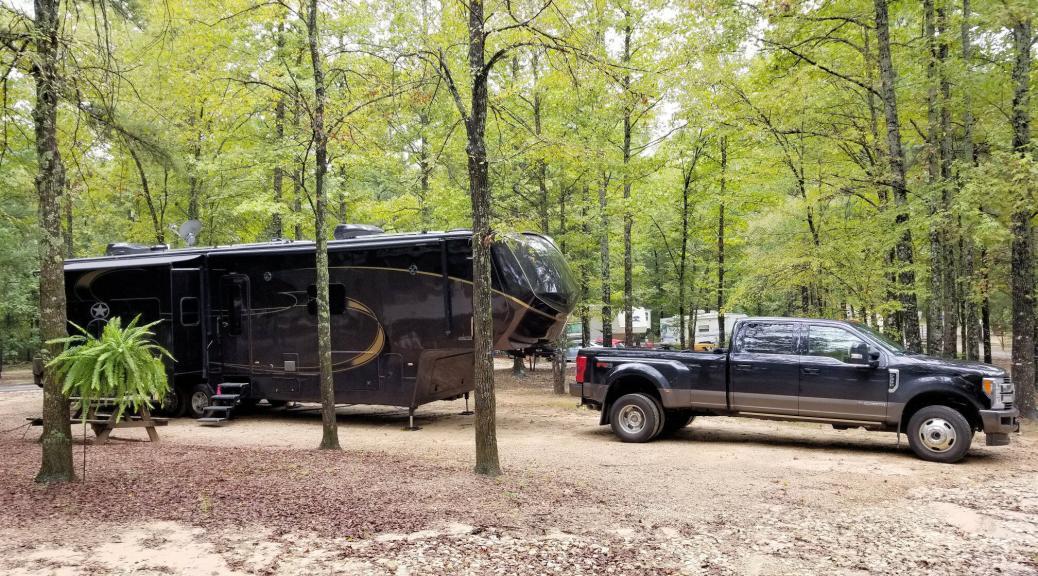 Palestine RV Park
Palestine RV Park
Rating: ⭐⭐⭐⭐
Location: Palestine, Texas
Site Quality: Asphalt roads through the park with gravel pads. Each site has a picnic table.
Type: Commercial
Access: Take loop 256 to the South of Palestine then take Crockett Rd. (Hwy 287) South to County Road 147 then go East to the entrance to the park. CO147 is small with some low hanging trees but they were above our rig. Within the park the road was narrow but fine for our 41′ rig with caution.
Staff: Angela is both the owner and park attendant. She was very helpful and friendly offering to even help us set up. She has put things around the park to make it homey.
Amenities: Full hookups, bath house, laundry and restrooms.
Cellular/WiFi: AT&T and Verizon 4 bars even without amplification. We got about 7 Mbps on AT&T and 21 Mbps on Verizon. My phone had lower data rates at about 6 Mbps. The park appeared to have WiFi but it was not advertised and it did not appear to be operational.
What we liked: Surrounded by lots of trees, very nice area. Good opportunities for walking on the nearby country roads.
What we didn't like: We did hear train whistles from a track about a mile away but it wasn't too bad. After that one time we never heard one again. There had been a lot of rain and the sites had a lot of sand that was easily tracked into the rig.
This is a very small, family owned park just south of Palestine, Texas. We stayed overnight at the park on the way from Shreveport back to the Austin area. Although there had been a report of a trailer being stolen from the park in the past, we felt safe and secure. Since that time the owners have added an electric gate as well as several security cameras. The park is definitely a great place for short or potentially even long term stays.