Jim Hogg Park, Georgetown, TX
Jim Hogg Park, Georgetown, TX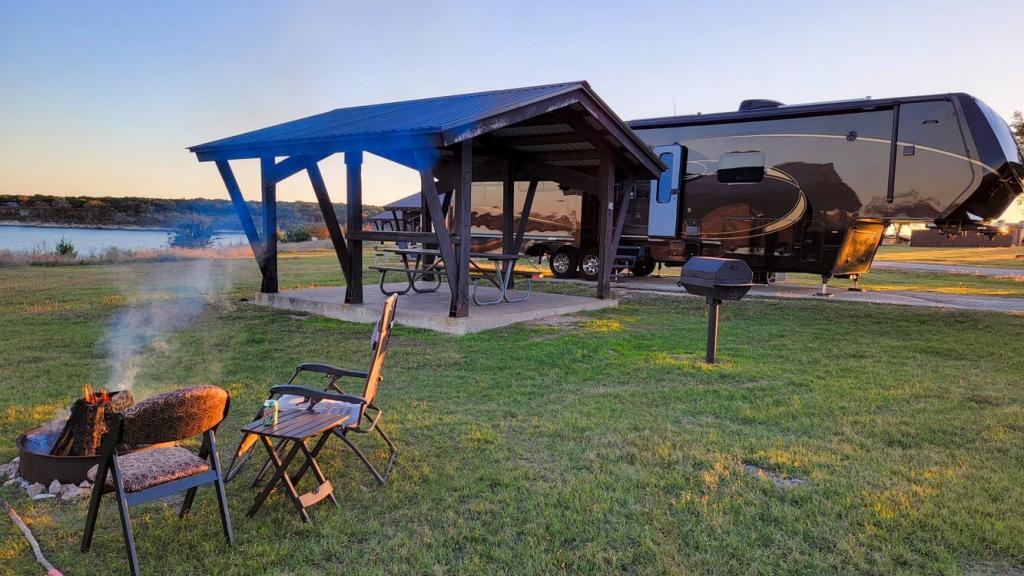 Park Review -Jim Hogg Park
Rating: ⭐⭐⭐⭐
Location: Georgetown, Texas
Site Quality / Amenities: Asphalt roads and pads. Each site has a covered picnic table, grill and fire ring. Water and Electric only, bath house and restrooms in each loop. The southern loop (nearest the lake) has 50A power while the northern loop is 30A only.
Type: COE Park
Access: Access via Jim Hogg road from Williams Dr. (2338). Lakeway Dr. is good to get to Williams from the north on I35 as is 970 to Andice from 183.
Staff: We had little interaction with staff at the park but they were always friendly.
Cellular/Wi-Fi: Verizon and AT&T were fast at about 21 Mbps.
Restaurants: We have numerous favorites in the area since we lived here.
Nearby parks: Cedar Breaks on the south side of the lake.
What we liked: Nice well kept park with less cedar trees than Cedar Breaks (important since the cedars drop sap) and also with less rocks so the ground was easier and more stable to walk across.
What we didn't like: No sewer hookups. The dump station is on the way out of the park which is a bit far for a tote tank although it works. The real issue is that if there is a line you may not be able to exit the park as the line blocks the road out.
Verdict: A nice alternative to Cedar Breaks if not just a bit farther to Round Rock where our doctors and friends are. Might be a good choice for the April/May visit as we could probably get a site that isn't below cedar trees that drop sap. Good sites for us: Lower loop (50A sites) – 12, 14, 21, 22, 24, 26, 28, 34, 35, 37, 42, 43, 46, 47, 55; also sites 66 and 76 might be ok. Upper loop (30A sites) – 88, 89, 94, 97, 106, 116, 118, 126, and 142. Sites 105, 127 and 129 also might be ok. The upper loop sites should only be selected as a last resort.