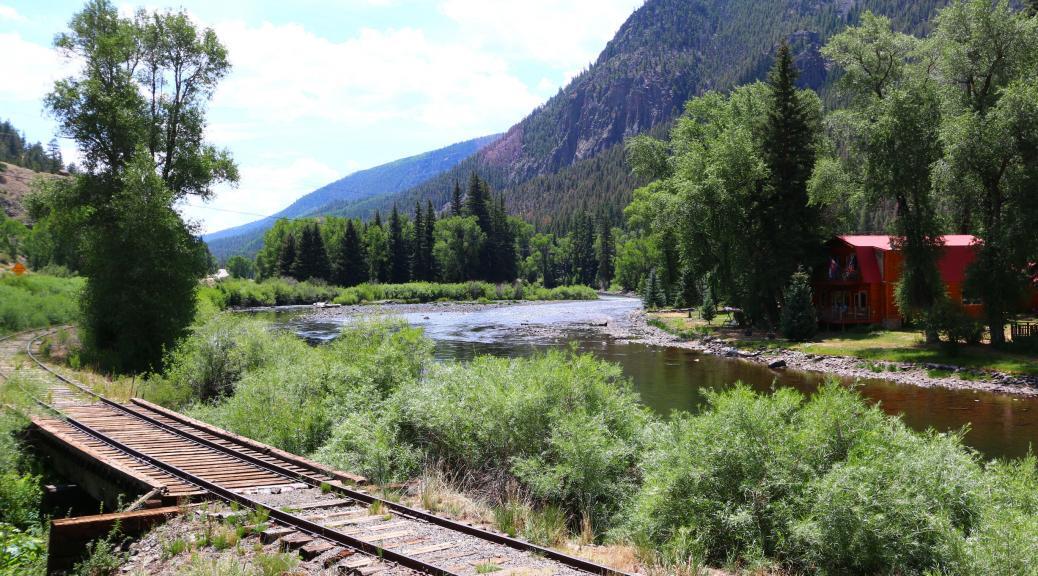 South Fork Area
South Fork Area
Silver Thread Scenic Byway / Bachelor Loop
The Silver Thread Scenic Byway starts at South Fork and ends at Lake City in Colorado. We made a day trip to explore this area with special interest in the Blue Creek Lodge, Creede and Lake City. My family had visited Blue Creek Lodge about 60 years ago before I was born.  Although the original main lodge burned in the 70's and was rebuilt a lot of the property looks similar to what it did then – although the trees have gotten a lot bigger. The byway included some georgous scenery that unfortunately pictures just don't do a good job of capturing. After following the entire route up to Lake City, we returned to Creed for an early dinner and then we went part way around the Bachelor Loop a tour through the historic silver mining district and ghost towns above Creede. While much of the loop can be driven with 2 wheel drive vehicles, we were glad to have 4 wheel in several areas and we didn't even get up to some of the more remote areas. The scenery along the loop was georgous as was the byway.
Pagosa Springs
Pagosa Springs is a town in southwest of South Fork known for its hot springs. It is surrounded by the rugged San Juan Mountains and vast areas of national forest. The San Juan River, with its abundant trout, runs through town. We took a quick day trip here mostly to enjoy the scenery along the drive down. While there, we did go through the Pagosa Springs History Museum where you can see how the pioneers lived in the area from the 1890s to the early 1900s.
South Fork Logger Days
While we were in South Fork we were lucky enough to be in town for theor annual Logger Days Festival. For over 130 years logging was a major industry in the area until it declined and finally died in 2001. The festival keeps the skills and traditions alive and includes both men and women competing and showing off their skills.
Great Sand Dunes
When people think of sand dunes in America, most people think of White Sands in New Mexico. However, the tallest dunes in North Amarica are found in Colorado in the Great Sand Dunes National Park and Preserve. These dunes reach up to 750 feet high. Sediments from the surrounding mountains filled the valley over geologic time periods. After lakes within the valley receded, exposed sand was blown by the predominant southwest winds toward the Sangre de Cristos mountains, eventually forming the dunefield over an estimated tens of thousands of years. Sand surface temperatures may reach up to 150 °F in summer. Lucky for us, when we vsited in July it was a fairly cool morning so the temperatures while warm were not too bad.