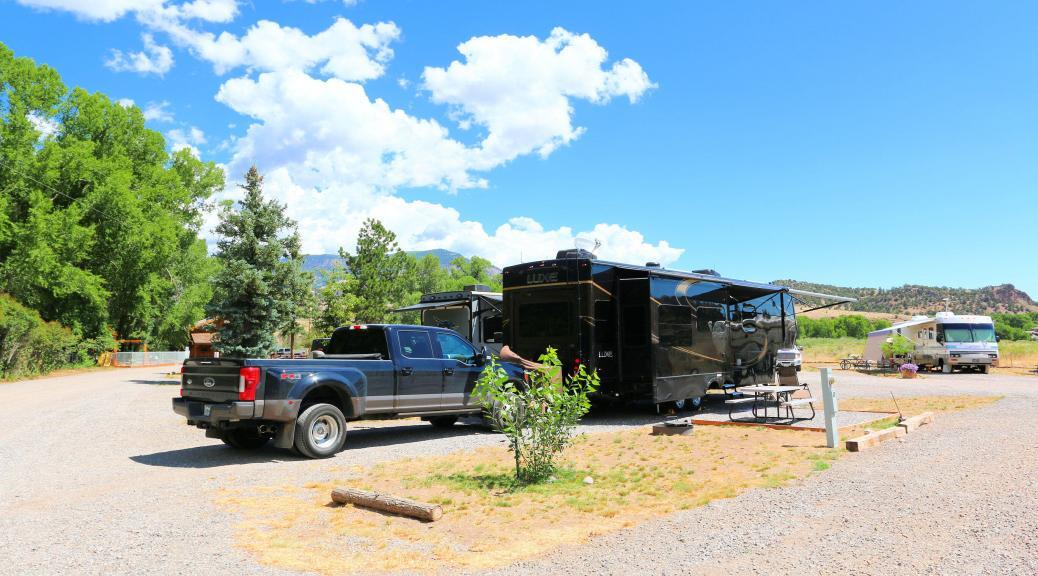 Peacock Meadows – South Fork
Peacock Meadows – South Fork
Rating:  


Location:  South Fork, Colorado
Site Quality:  Gravel roads throughout the park with gravel pull thru and back in spots. Each site had a picnc table and fire ring.
Type:  Commercial
Access:  Off highway 160 with good access for big rigs.
Staff: Friendly and helpful.
Amenities:  Laundry facilities along with showers and restrooms. Group area with picnic tables and a fire ring. On site "Saloon" which offers various activities for the park throughout the week including a bar and live bands on Friday's.
Cellular/WiFi:  AT&T and Verizon 3 bars and decent speeds (~20Mb). WiFi claims to be fiber with decent speed for an RV park (2-4Mb) but when trying to use it the connections tended to pause for short periods when trying to view you tube videos. It did work for a period of time on Netflix.
What we liked:  Quiet, peaceful atmosphere. Felt safe and secure. Site was plenty big for a 41′ RV and the truck. Good view of mountains in three directions.
What we didn't like:  Not much shade in most spots, trees have been planted but they were all very small. The sites, particularly the pull thrugh ones, tend to be close together although not right on top of each other.

There was a train track on the south side of the park (near highway 160) but it seems that it hasn't been used for quite a while so we did not get any noise from there. Apparently a tourist line has been proposed on these tracks but that proposal has also been around for quite some time and has not moved forward. There was also very little road noise from highway 160.
While we would likely stay here again there are other possibilities nearby that also look interesting. Southwest of South Fork there are several nice looking spots including the Fun Valley Family Resort and Riverbend Resort. There are several more to the Northwest on 149 and Cottonwood Cove Guest Ranch in Wagn Wheel Gap. There are others in Creede and up near Lake City but when pulling the trailer we would really need to get to Lake City from the North as the Southern approach on 149 goes over Slumgullion Pass and includes some long stretches of up to 9.4% grades.
Click here to see some of the places we visited while we were here.