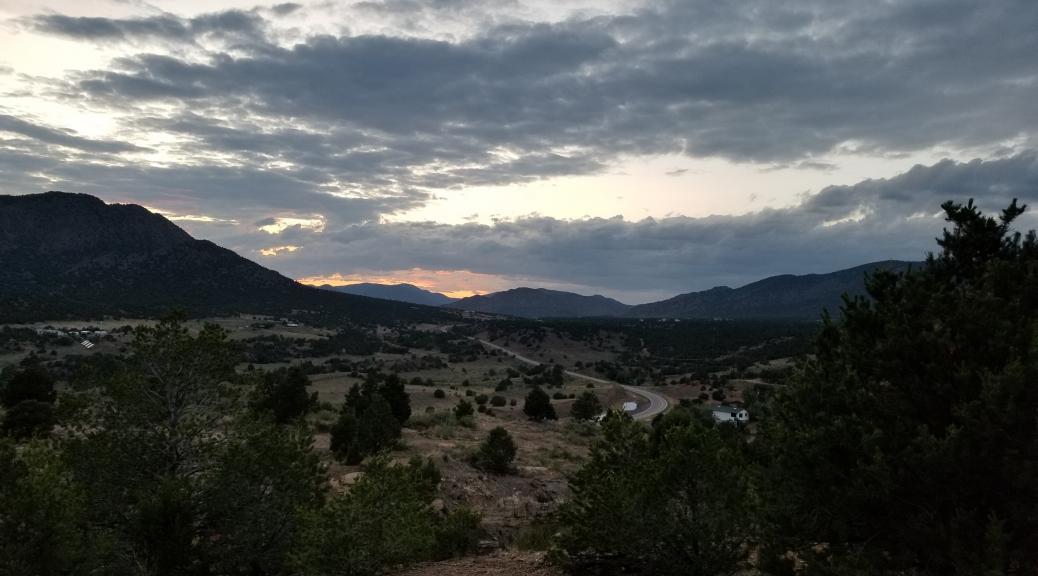 Prospectors RV Resort – Cañon City
Prospectors RV Resort – Cañon City
Rating:  

Location:  Cañon City, Colorado (About 10 miles west of town)
Site Quality:  Gravel roads throughout the park with gravel pull thru and back in spots. Each site had a picnic table and fire ring. The roads and RV sites were not quite as well maintained as other places we have stayed but they weren't horrible either.
Type:  Commercial
Access:  Off highway 50 with good access for big rigs.
Staff: Friendly and helpful.
Amenities:  Laundry facilities along with showers and restrooms. We did not use or even go in any of these. At least one recent review said that the showers were not clean.
Cellular/WiFi:  AT&T and Verizon 4 bars and decent speeds (~37Mb on Verizon jetpack). WiFi was available but we did not use it.
What we liked:  Quiet, peaceful atmosphere. Felt safe. Site was plenty big for a 41′ RV and the truck. Good view of mountains in all directions. Close to Royal Gorge and Cañon City.
What we didn't like:  Not much shade in most spots. The sites, particularly the pull through ones, tend to be close together although not right on top of each other. Water pressure was pretty low and we had persistent problems with power (L2 voltage too low). To be fair, we did not talk to them about the power issue as it mostly affected us on the weekend but I did notice at least one other complaint in prior reviews of the park.

We stayed here for 5 days while we were waiting to get into the next park where we made a reservation. On short notice and without a reservation many of the other spots we looked at were already booked. This park has a lot of potential and has apparently been improved since the current owners bought the place a few years back. Based on their greeting when we arrived and their responses to comments posted about the place I can tell they care and are trying to improve as quick as they can. We would stay here again for a night or two if we needed to and if we couldn't find a better place.
While here we mostly had some down time while trying to not spend too much money. We did spend a day in Colorado Springs with the Colorado Joneses at the Space Foundation Discovery Center where we learned some new things. The grandkids seemed to enjoy the hands on activities they had there. We also went into Cañon City a couple of times and saw the Royal Gorge train depot, the old town section of town and we also visited the Museum of Colorado Prisons. The Museum shares a stone wall and armed towers with a prison that has been in continuous operation since 1871. The exhibits cover 140 years of history and offers a unique experience.