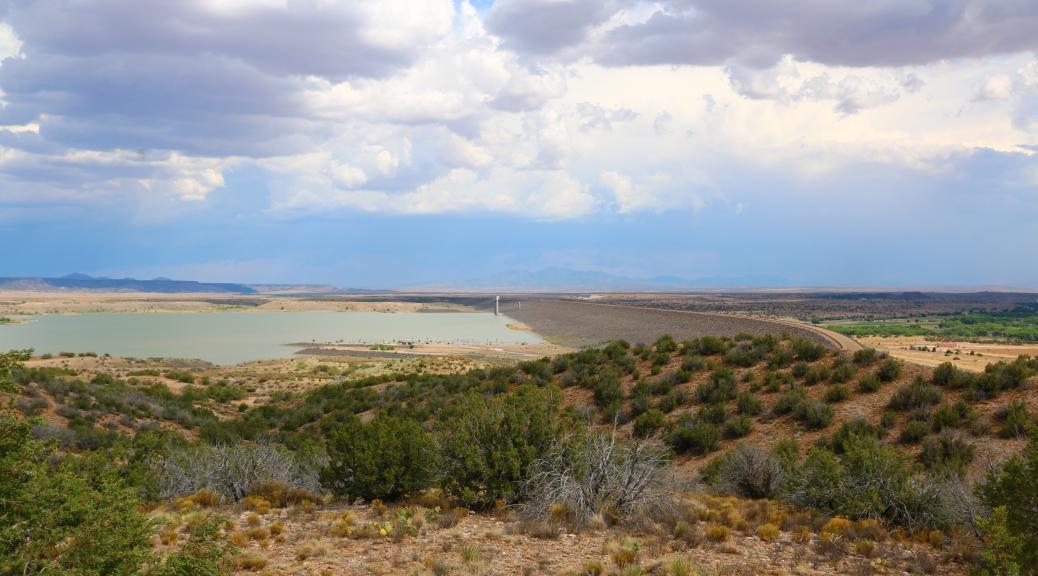 Cochiti Lake Recreation Area
Cochiti Lake Recreation Area
Rating:  


Location:  Cochiti (near Santa Fe), New Mexico
Site Quality:  Asphalt roads throughout the park with asphalt pull thru and back in spots with covered picnic tables. Each site also had a solar light near the picnc table – ours worked but some did not. These provided dim light at the site which was nice at night.
Type:  Corps of Engineers
Access:  North highway 25 and West of Santa Fe with good access for big rigs.
Staff: Friendly and helpful.
Amenities:  Showers and restrooms. Each site has a covered picnic table and grill.
Cellular/WiFi:  AT&T and Verizon 5 bars (Cell tower is in the park). AT&T was slow (<1Mb) while Verizon as very fast (~40Mb). No WiFi.
What we liked:  Quiet, peaceful atmosphere. Campsites are terraced above the lake providing good views of the lake and dam which is one of the 10 largest earthen dams in the world. Felt safe and secure. 50′ asphalt site was plenty big for a 41′ RV and the truck.
What we didn't like:  Not much shade in most spots. No sewer hookups so you have to use one of two dump stations. The shower nearest our site was just OK but could have been updated and cleaned up. One of the control knobs was on the floor. One downside compared to RV parks in Santa Fe is that the temperatures here tend to be 5 to 10 degrees warmer. 
The Cochiti Lake Recreation Area is an oasis in the otherwise desert landscape of this part of New Mexico. Before we arrived we weren't sure what to expect but this turned out to be a nice place to relax and recharge. There are numerous sightseeing opportunities nearby including Kasha-Katuwe Tent Rocks, Bandelier National Monument, Valles Caldera National Preserve, Los Alamos, Turquoise Trail National Scenic Byway and of course Santa Fe – just to name a few.
We camped in site 60 in the Buffalo Grove Loop. All sites in Buffalo Grove and most in Juniper Loop have both electric and water. Sites 59 and 60 offer the best views of the lake. Sites 51 and 53 would also be nice if they are long enough as they are on a shallow cliff going down to the lake. Site 57, while having limited views of the lake did offer a nice view down a canyon. Thea Juniper Loop sites all seem too short for our RV. The outer sites on the loop often have the best views but do not have water, only electric.
After looking at several RV parks in Santa Fe, Cochiti Lake definitely was preferable to us even with the drive to get to Santa Fe and even without having sewer hookups. While here we visited Santa Fe, Madrid (on the Turquoise Trail), Tent Rocks, Puye Cliff Dwellings and Los Alamos. Places we left for next time include Bandelier National Monument and Valles Caldera National Preserve.