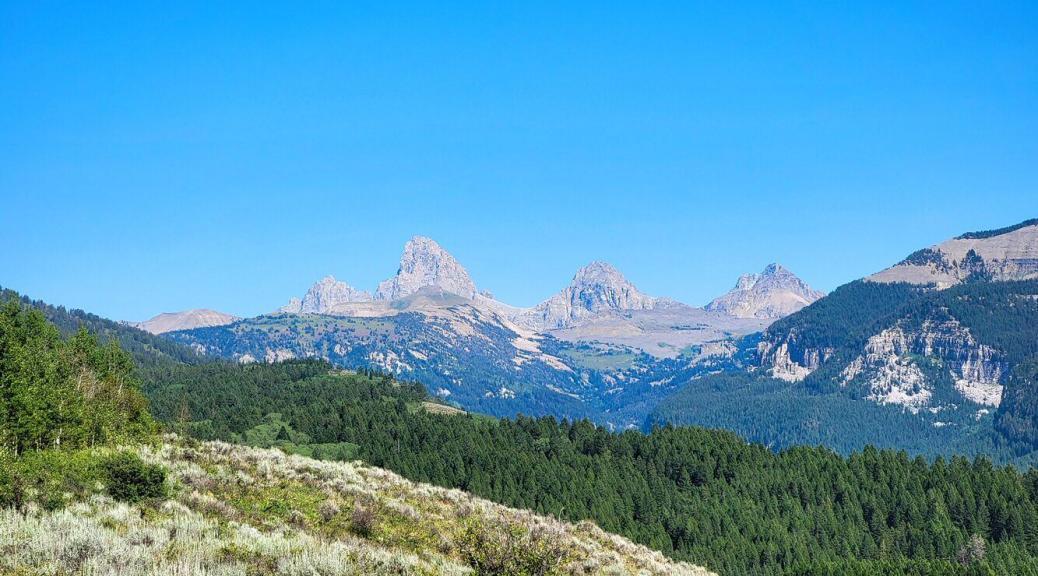 Tetonia, ID / Grand Teton National Park
Tetonia, ID / Grand Teton National Park
We spent two weeks in the area around Grand Teton National Park. Like most people, Grand Teton was one of the must see, bucket list places on our list in the United States. Since there were no RV camping spots available for us in the national park or Jackson, WY we chose to stay in the small town of Tetonia, ID on the west side of the Teton mountain range. We took several day trips into the national park and thank goodness we did not have to pull the trailer over the 10% grade of Teton Pass and into Jackson, WY. We saw many cars not even pulling trailers on the shoulder cooling down. While here, our good friends Tammie and Peter from Texas joined us. Not knowing about the 10% grades, they pulled their rig over the pass getting to Tetonia. Although they made it just fine, they said "Never again!"
Unfortunately, with the exception of one or two days, smoke from wildfires in California blanketed the mountains and the views were not as spectacular as we had hoped they would be. In some cases we just had to imagine how beautiful the mountains would be on a nice clear blue day. In a few cases, the pictures took on a surreal look aided by the smoke.
Teton County, Idaho is huge and so gorgeous with the Teton River weaving through it like a ribbon. The county has massive farms growing crops of potatoes and wheat. It was so impressive to see the patchwork of fields stretching as far as you could see. We saw the large potato sorting sheds and equipment but we were not there during the potato harvesting season which would surely be something to see.
Grand Teton National Park
Of course, if you are in this area the Grand Teton National Park is the major attraction. The park includes about 242 miles of trails, 152 miles of paved roads and 65 miles of unpaved roads. The Teton Range is an active fault-block mountain range, 40 miles long and 7-9 miles wide. The highest peak in the range is Grand Teton at an elevation of 13,775 feet. Eight peaks in the range are over 12,000 feet in elevation. Jackson Hole is the mountain valley on the east side of the Teton range and is 55 miles long and 13 miles wide with an average elevation of 6,800 feet. The Snake River flows through the park and there are numerous lakes and ponds within the park boundaries.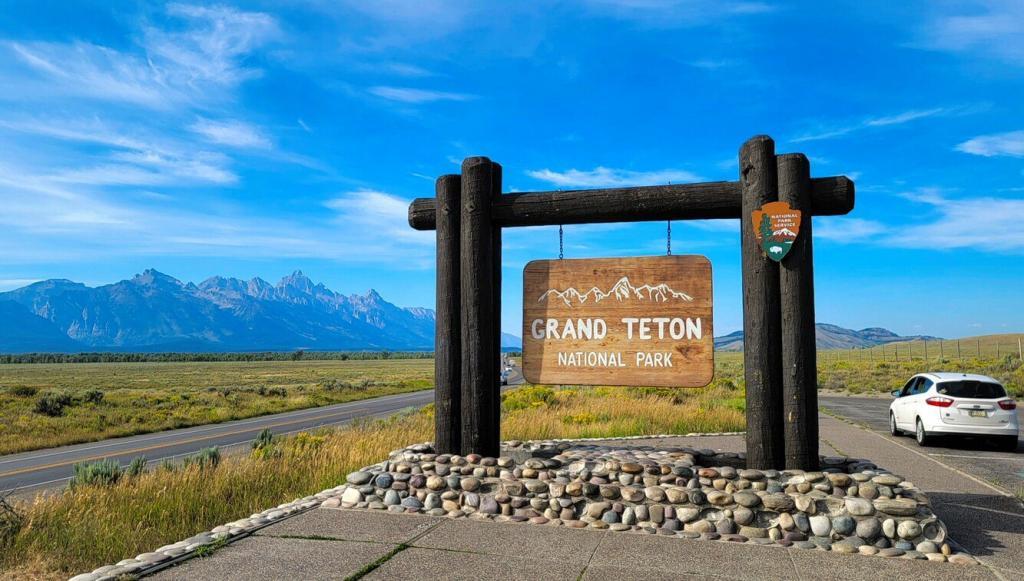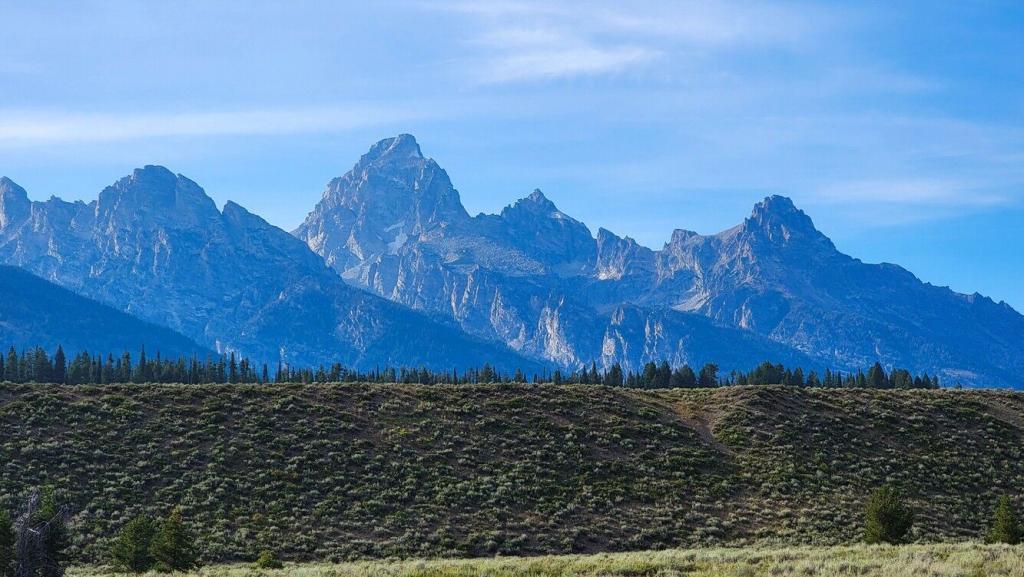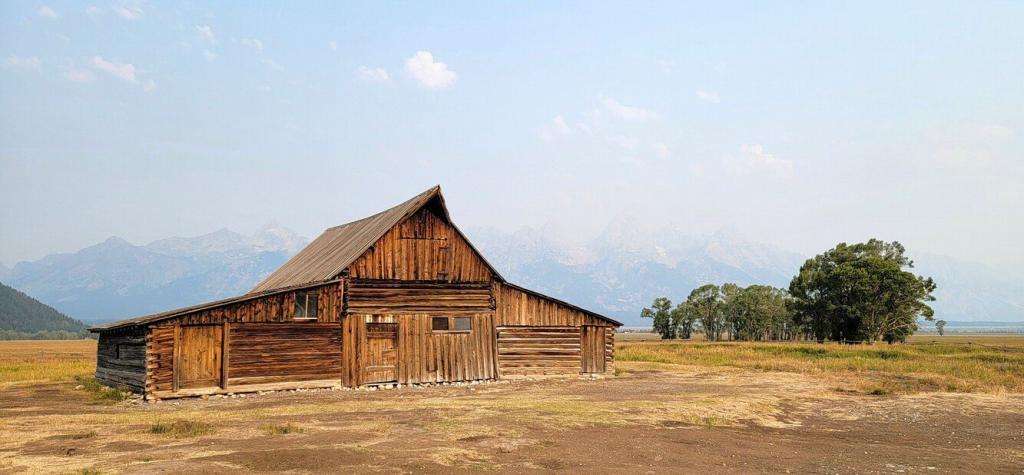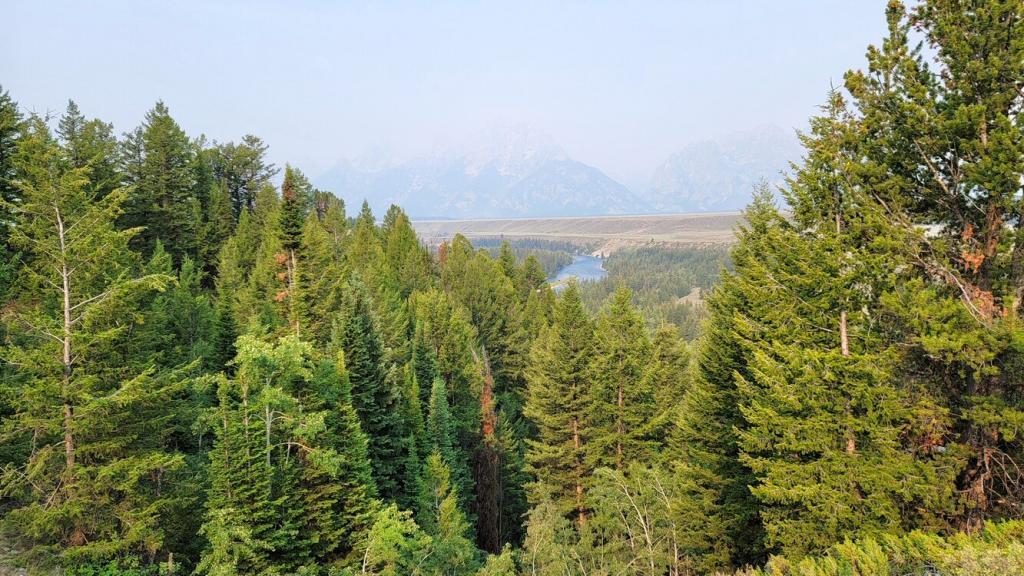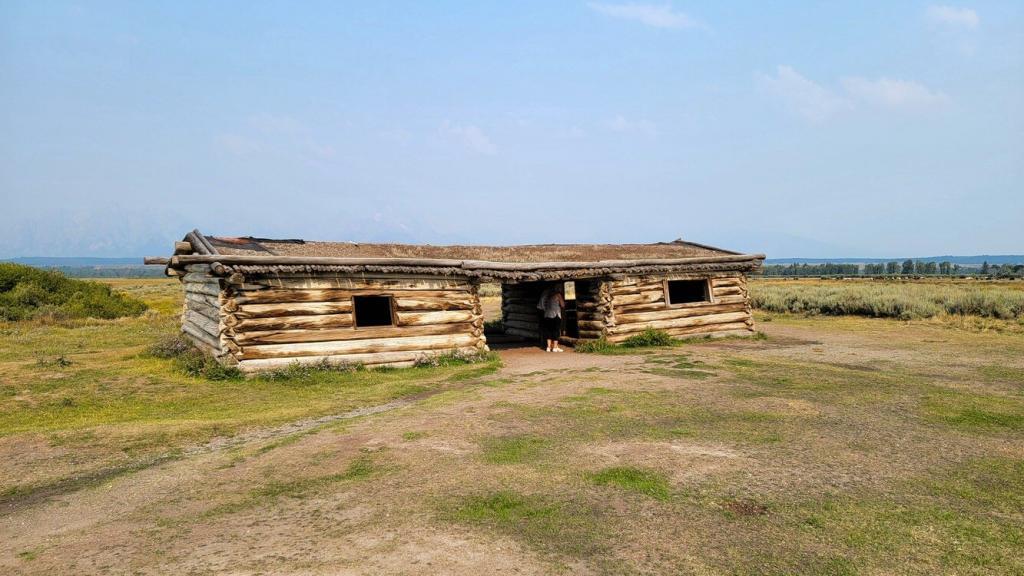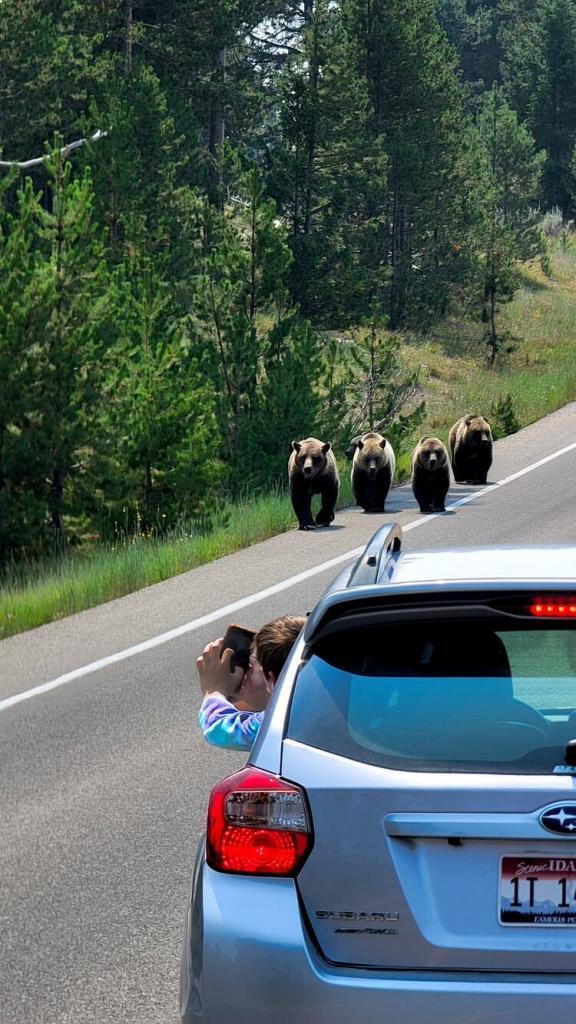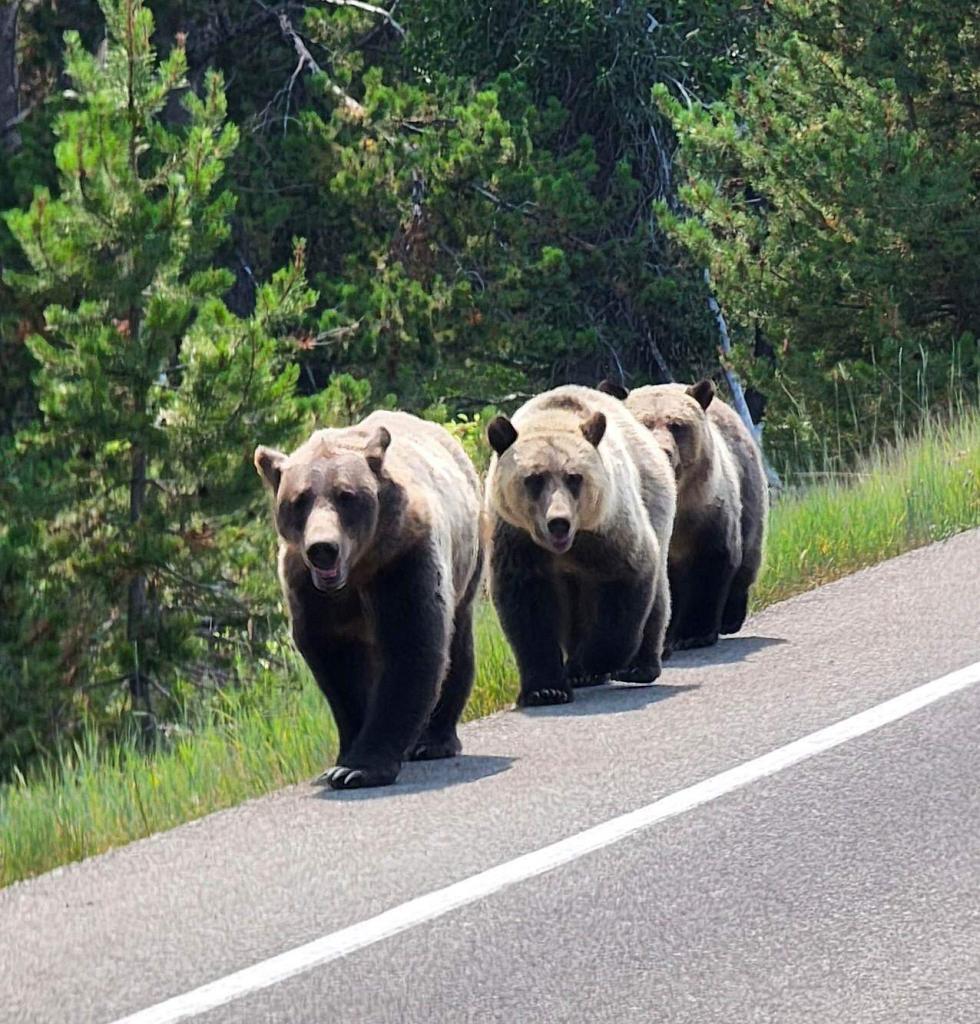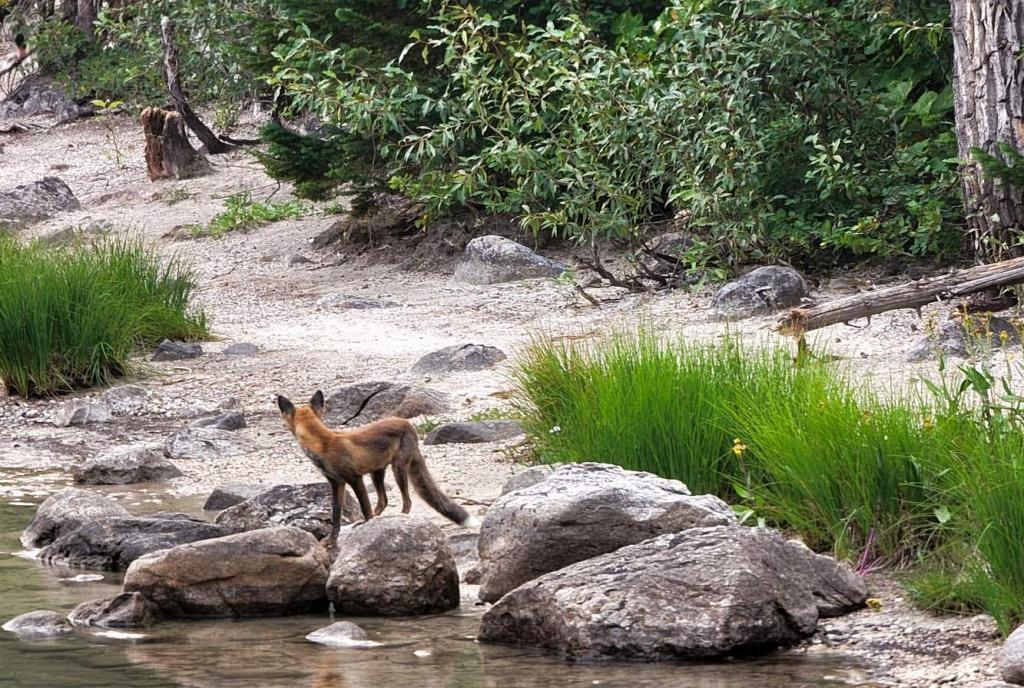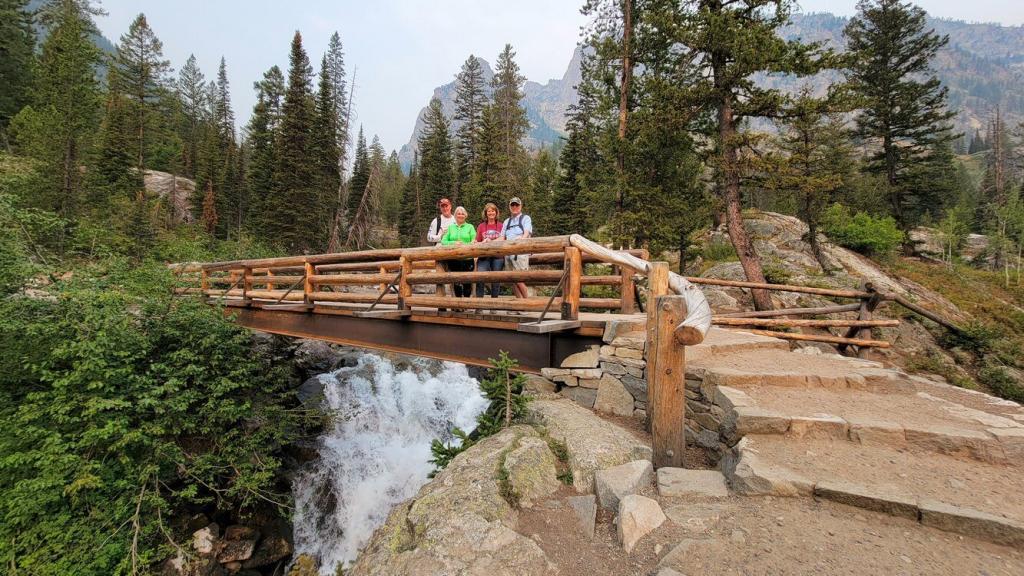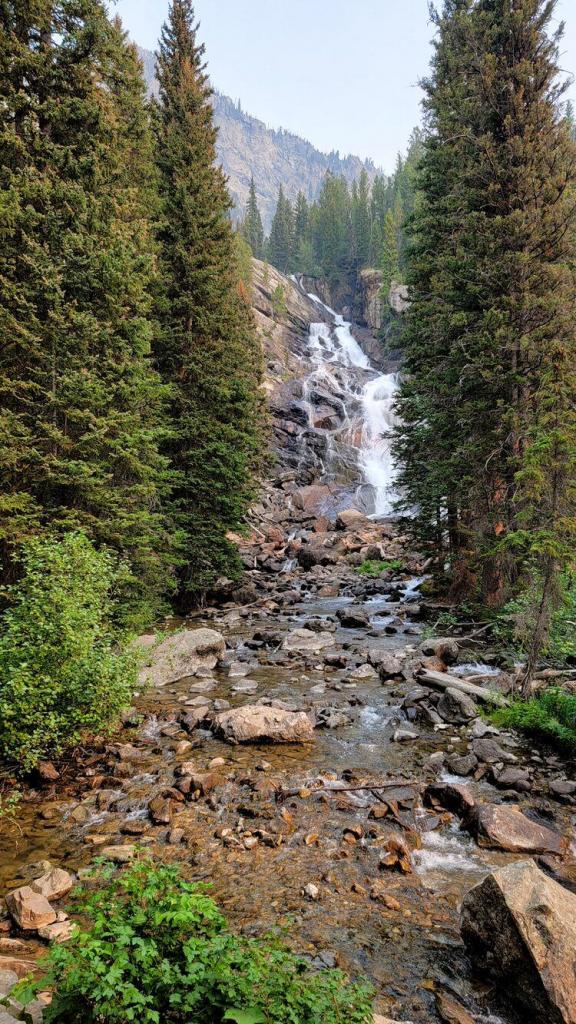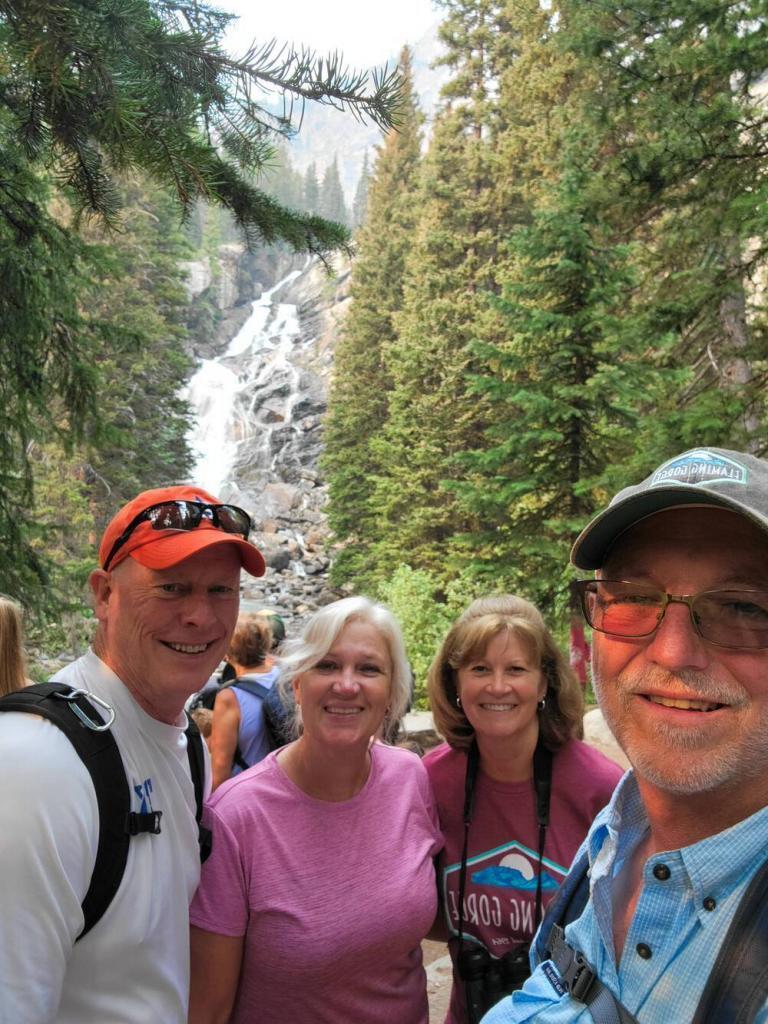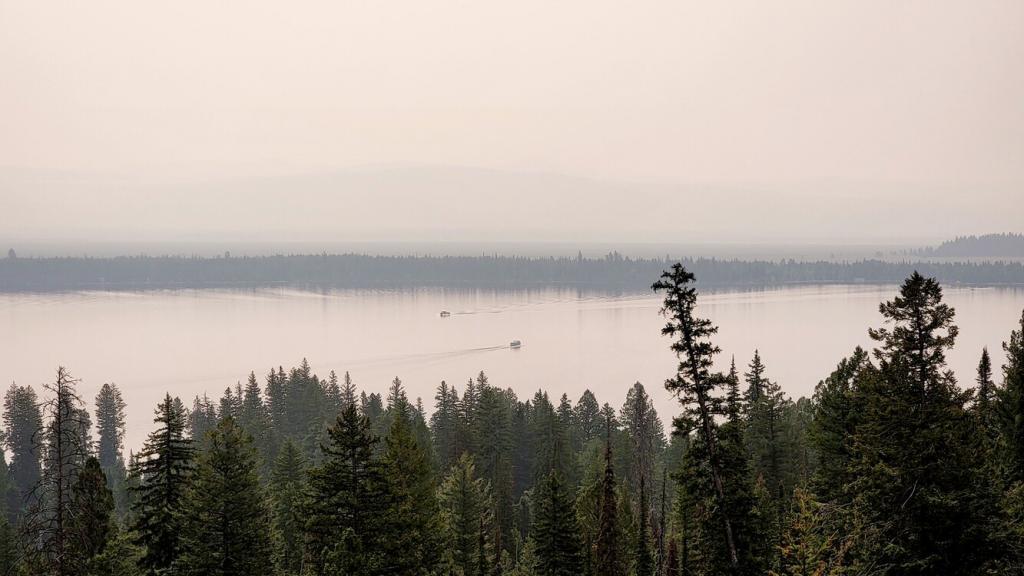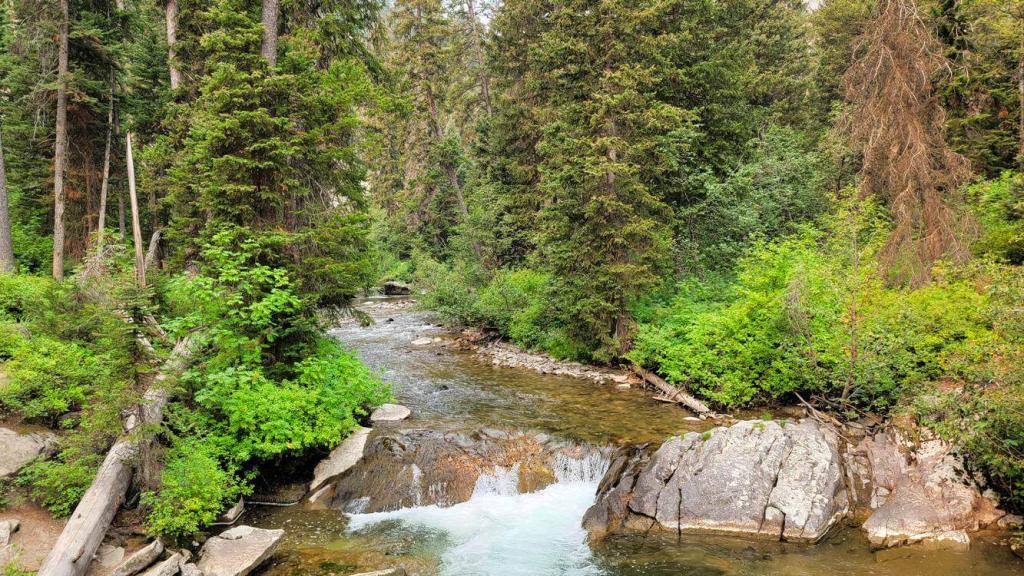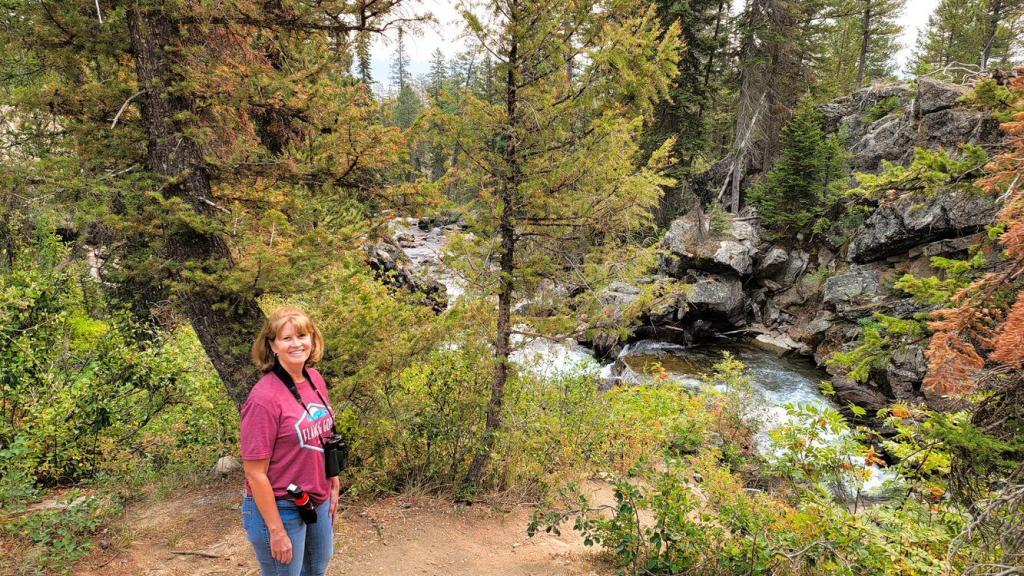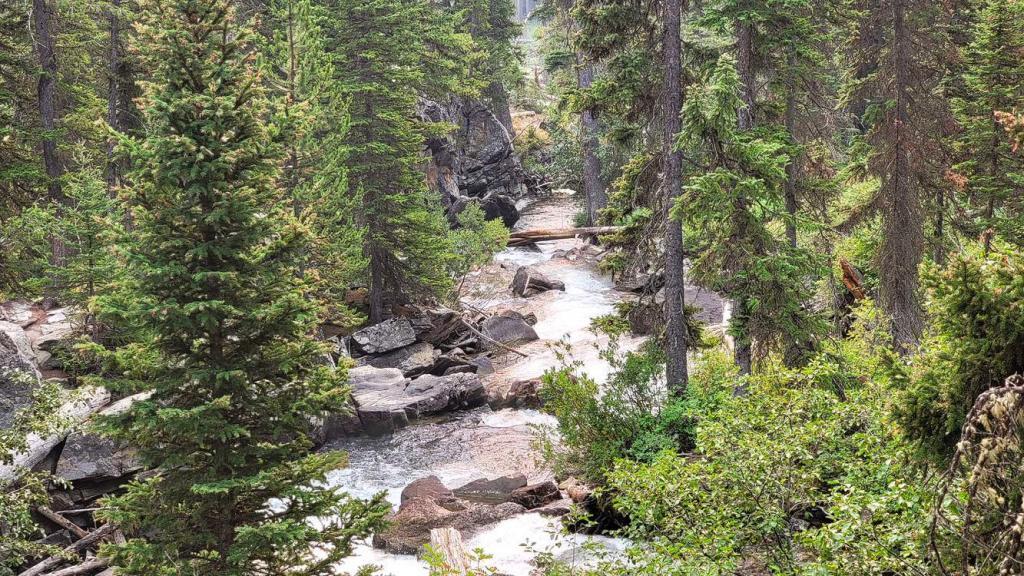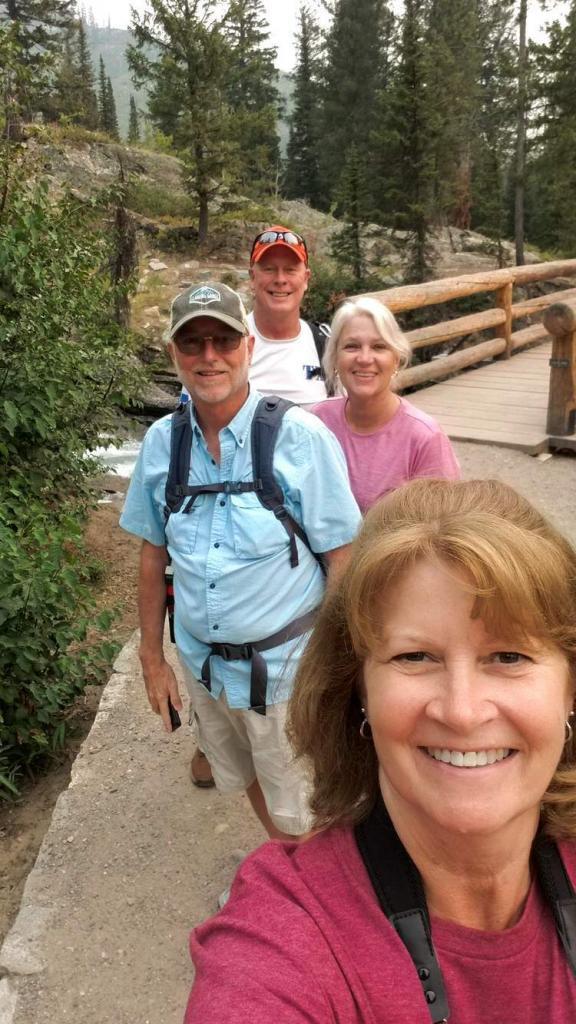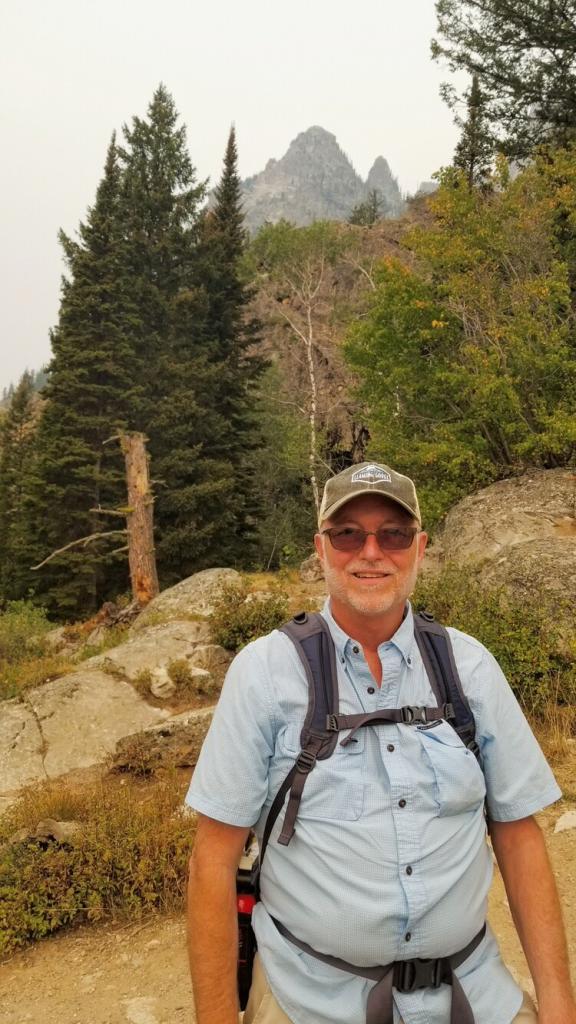 Alaska Basin Trail
The Alaska Basin Trail is a hiking trail in Grand Teton National Park and Bridger-Teton National Forest in Wyoming just east of Driggs Idaho. We spent a gorgeous day hiking about 1.5 miles of the 7.5 mile trail enjoying the sites along the way. Teton Creek flows through the area and provides some wonderful scenery to photograph.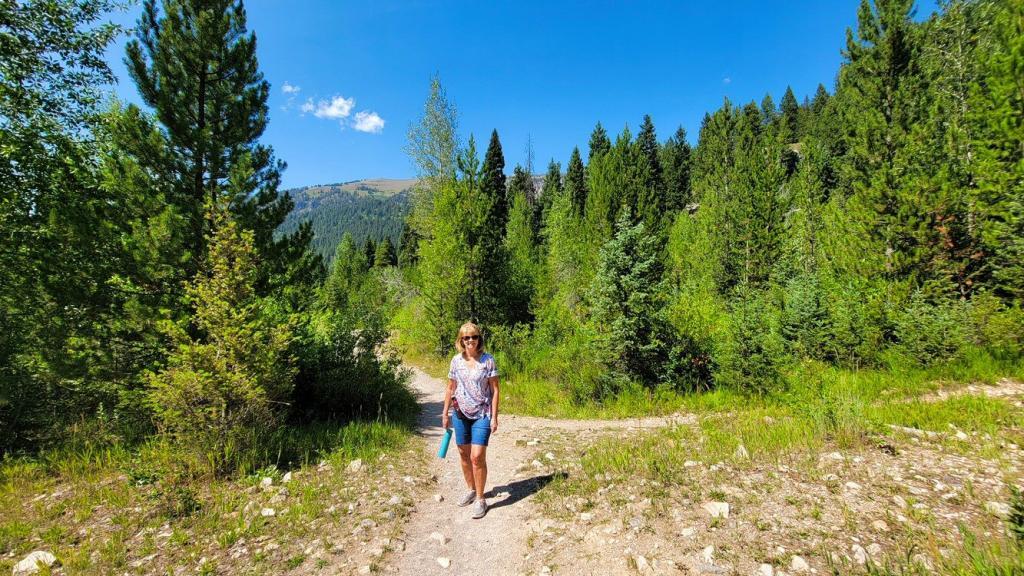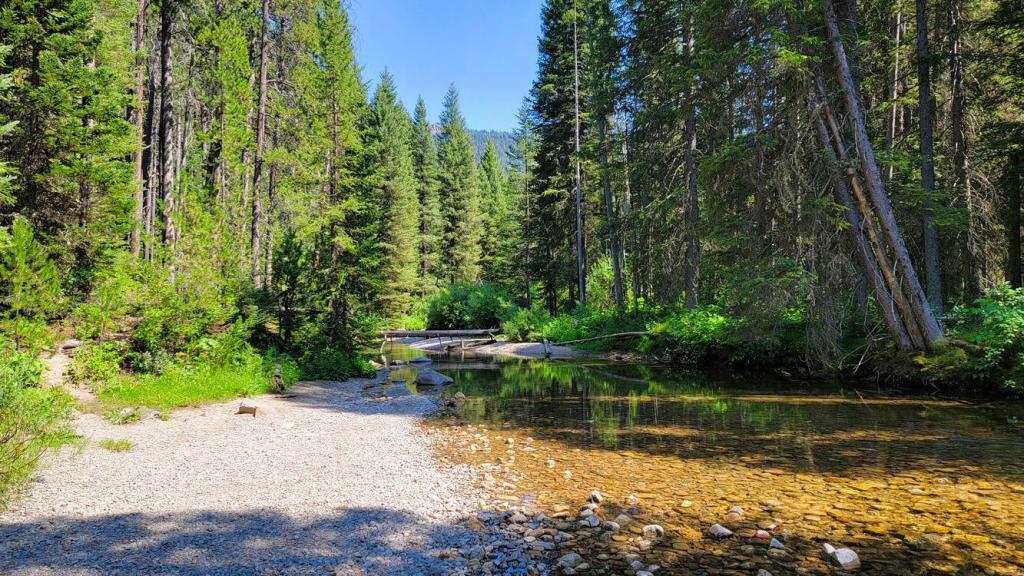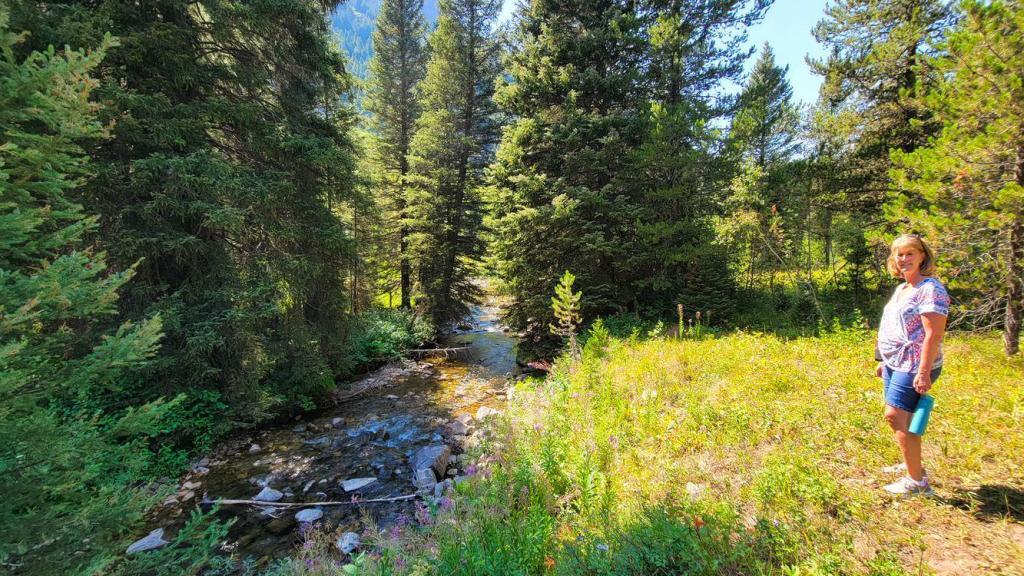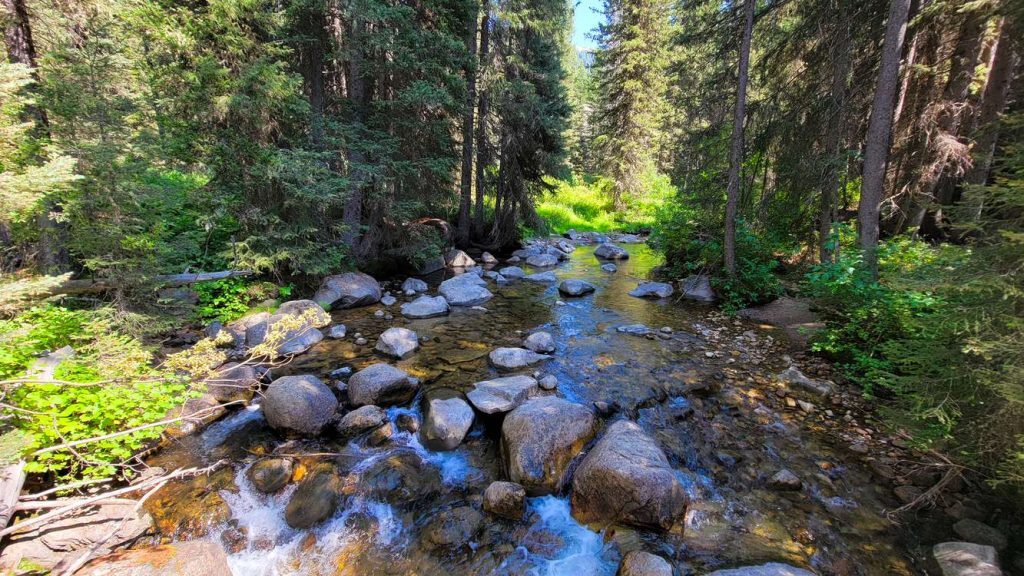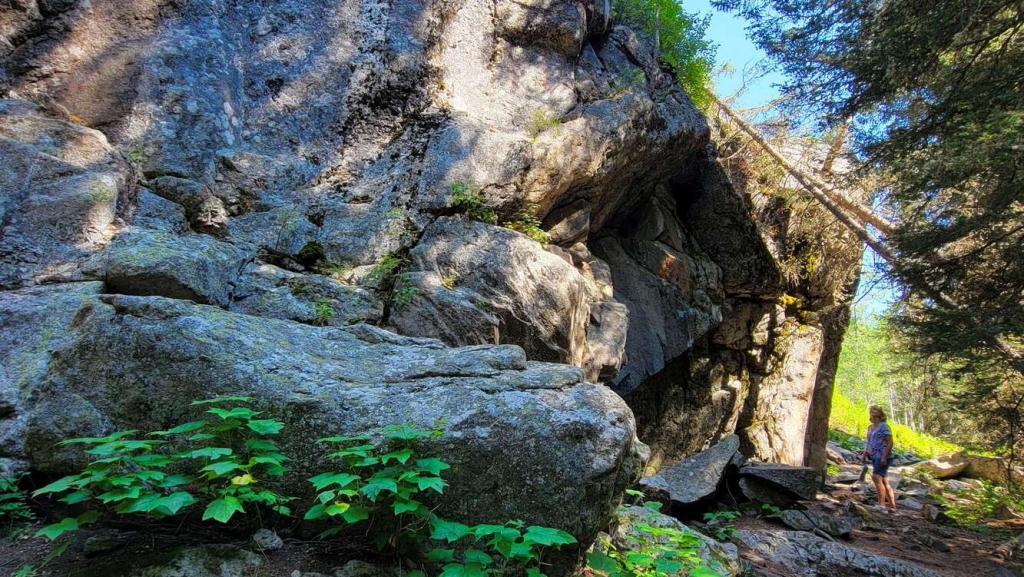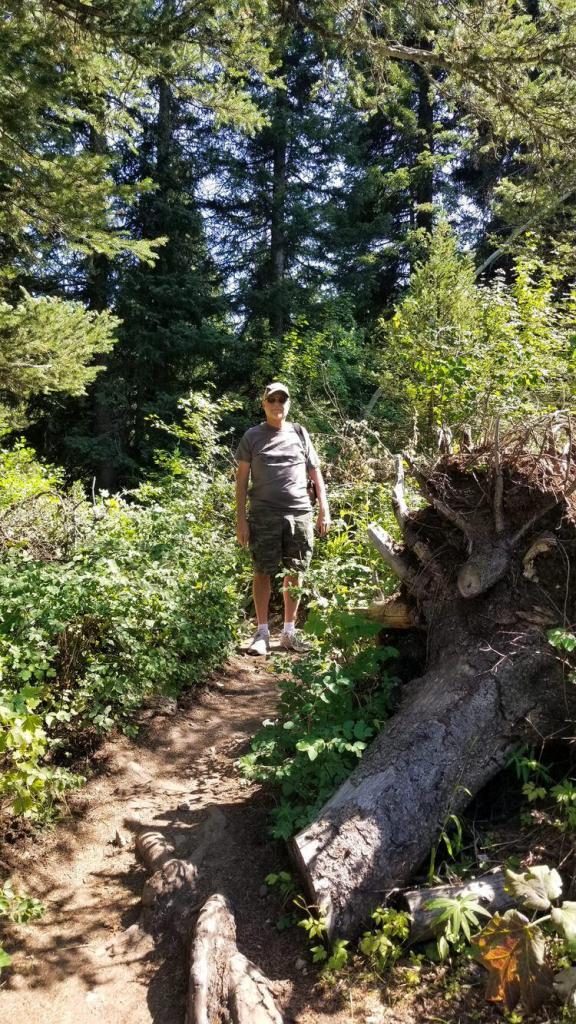 Jackson
Jackson is a small town on the southern end of the Grand Teton National Park that bustles with tourist traffic both in summer and winter months. We walked around the town square area a couple of times and looked through a few of the shops and ate at a couple of good restaurants. The area is quite busy and congested so we didn't spend a lot of time there but that environment appeals to a lot of people.
One of the major attractions are the four elk antler arches in each corner of the town square. Jackson Hole is home to the National Elk Refuge, a protected sanctuary where hundreds of elk shelter during the winter months. Every spring, elk will naturally shed their antlers, and it is a local tradition for Jackson Hole's Boy Scout troops to harvest shed antlers from the National Elk Refuge each season. In May, the community celebrates ElkFest, a multi-day festival with vendors, music, and food. During ElkFest the harvested antlers are auctioned off to bidders from around the world with a portion of the proceeds benefiting the National Elk Refuge. Each arch is supported by a steel framework and constructed by hand using 14,000 pounds or more than 2,000 antlers each obtained from the annual harvests. The arches are held together mostly by friction and gravity and need to be rebuilt about every 50 years.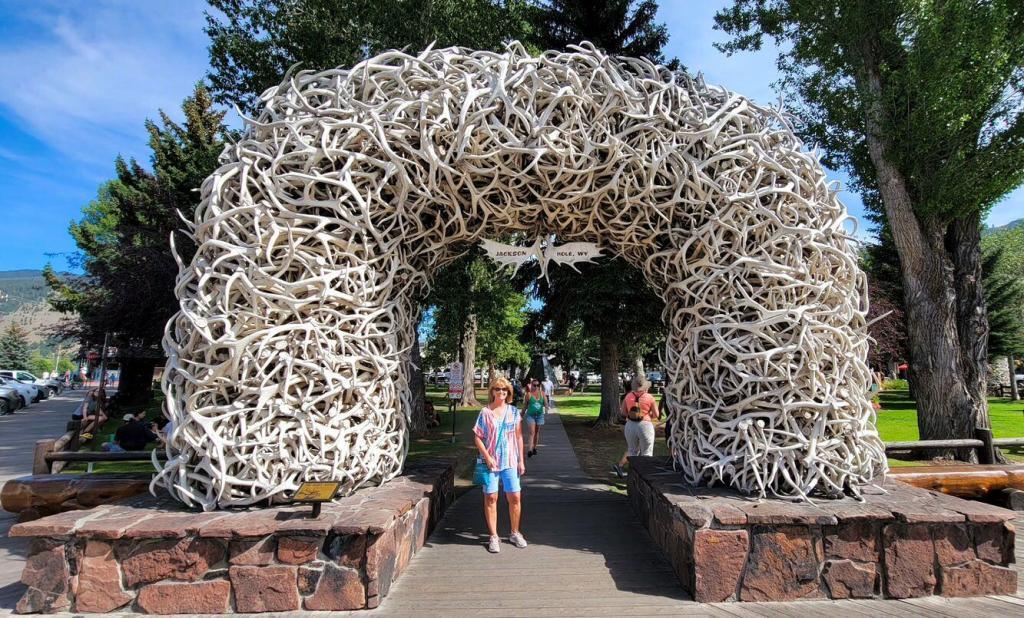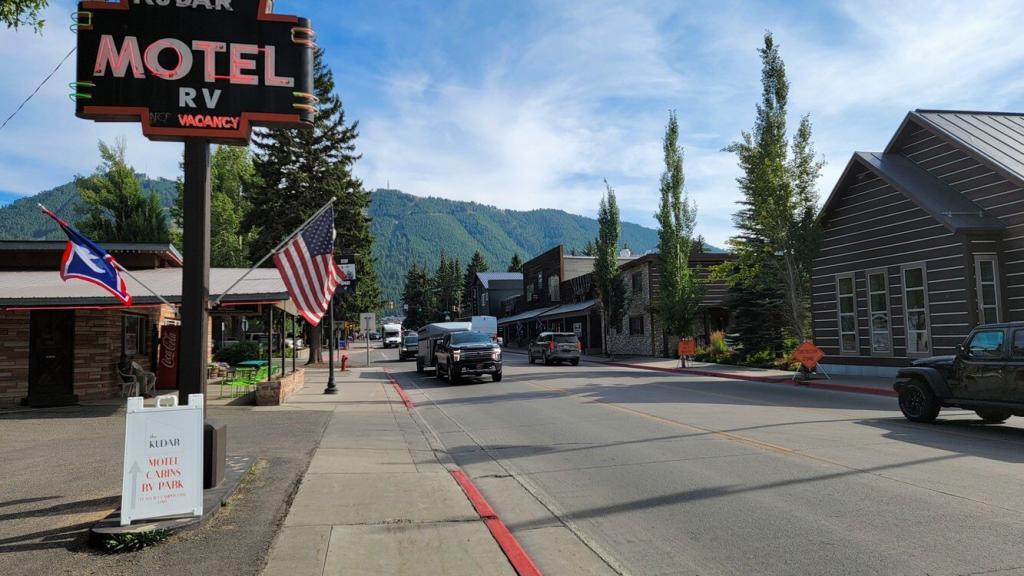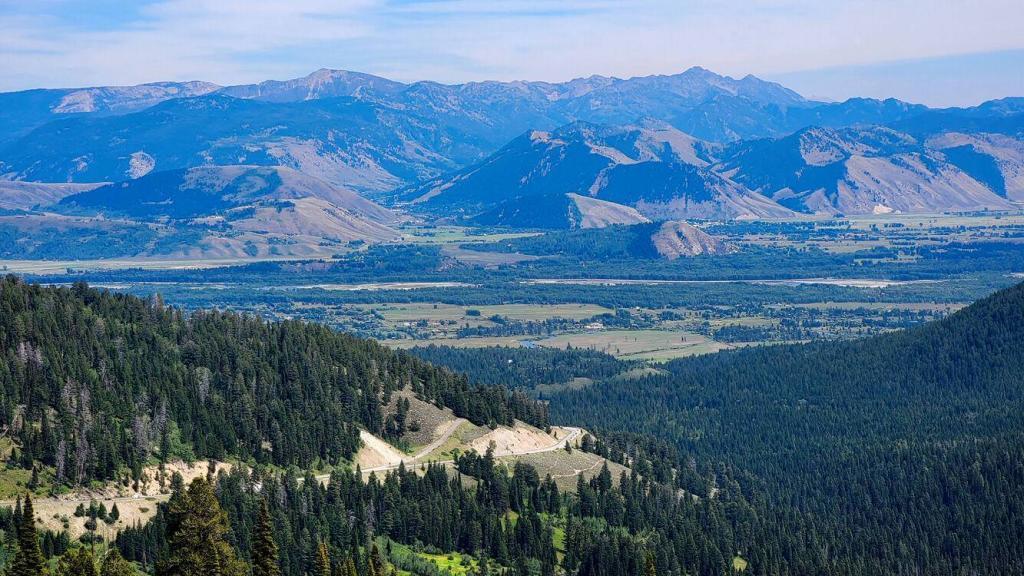 Tetonia / Driggs Area
Tetonia and Driggs are on the west side of the Teton mountains and on the other side of the mountain range from the national park but some say that the views of the mountains are better from this side. Maybe that's just an argument between Idaho and Wyoming but at least for us we did see the mountains better from the west side if for no other reason than the smoke was a bit lighter most days. We enjoyed taking in some of the sights in the local area as well as the final Driggs Rodeo for the season complete with great mountain views, the Teton Valley Historical Museum and a visit to the small Grand Teton Distillery where craft made Vodka and Whisky are distilled and bottled. Driggs is the best place in the area to find activities like farmers markets and craft sales as well as numerous restaurants and stores.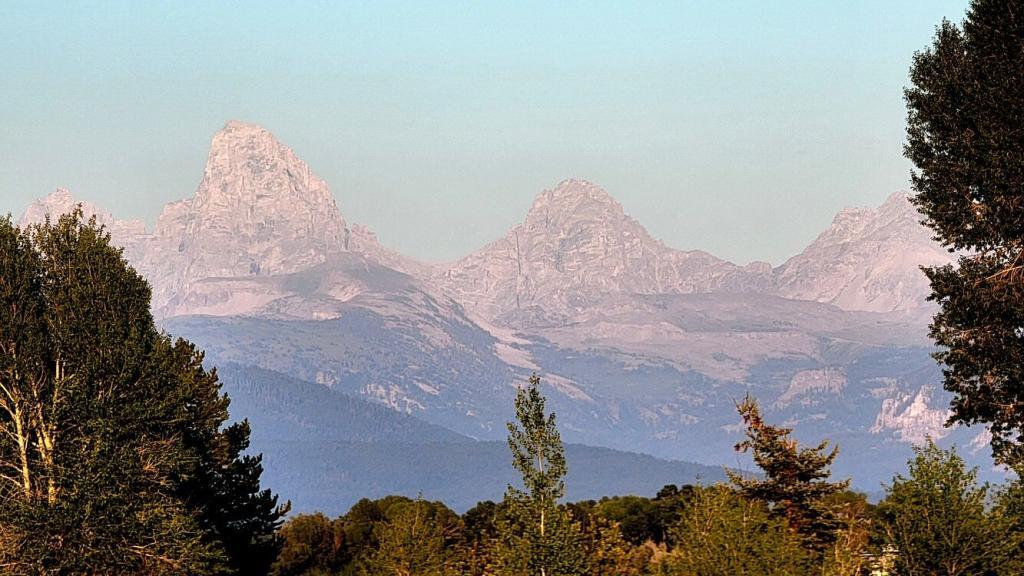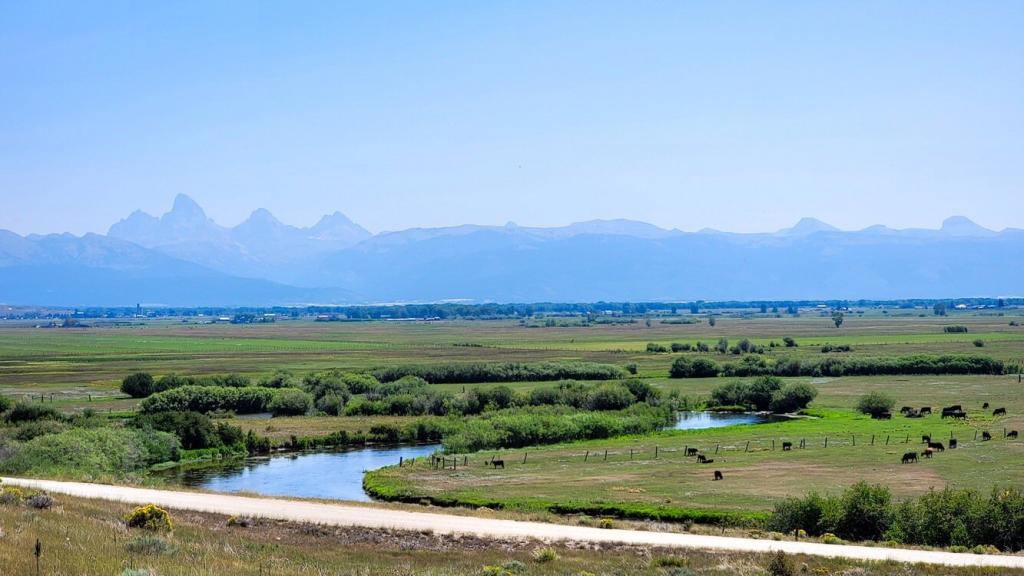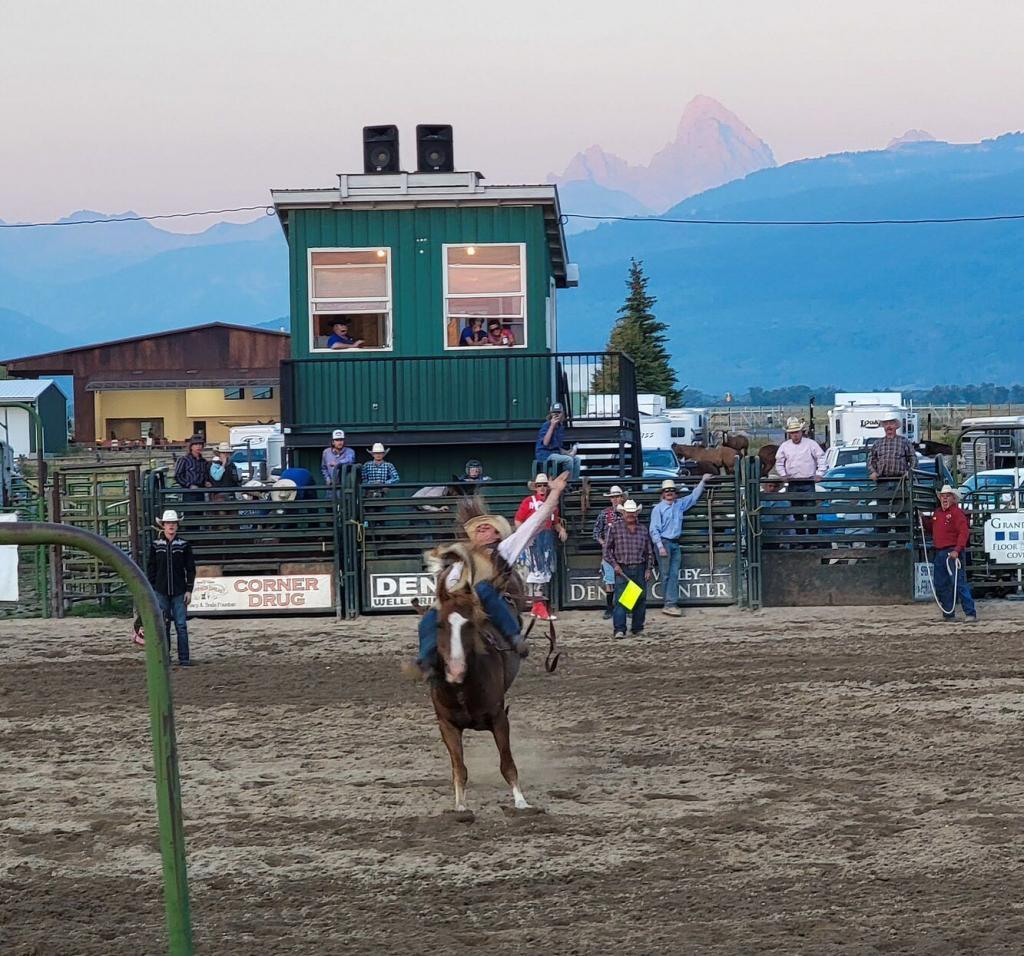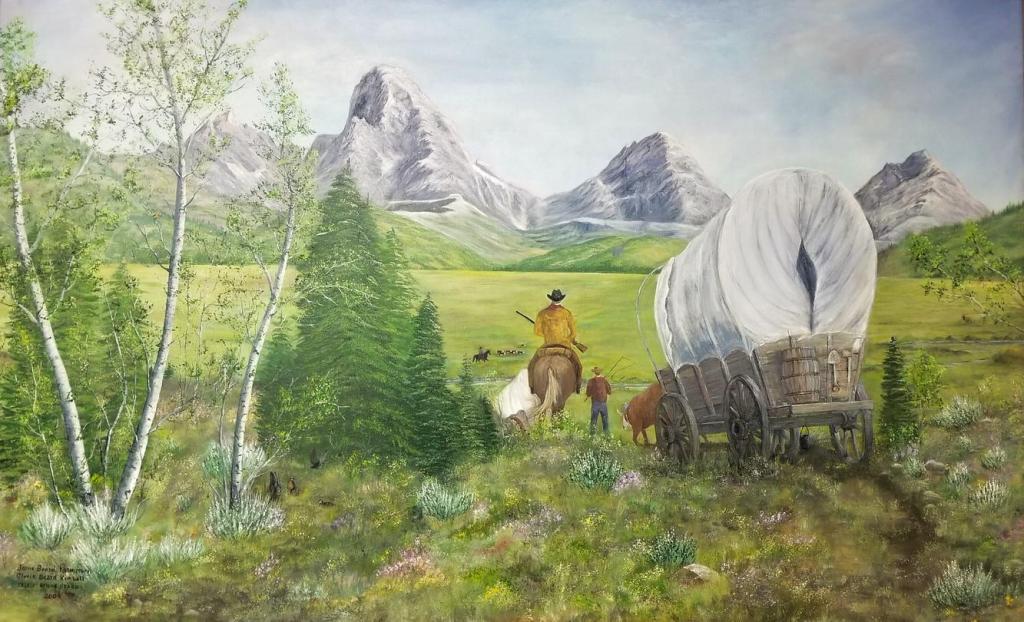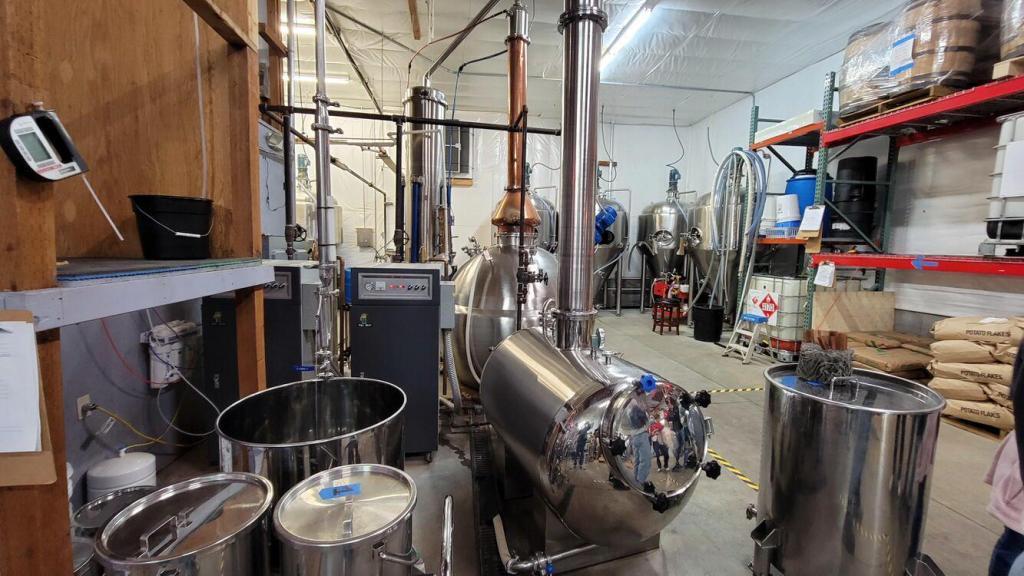 Big Eddy
Big Eddy also known as Rainey Bridge is a free campground west of Driggs. There are 16-29 dry (no hookup) campsites at this location and all sizes of RV's can use it for stays up to 10 days.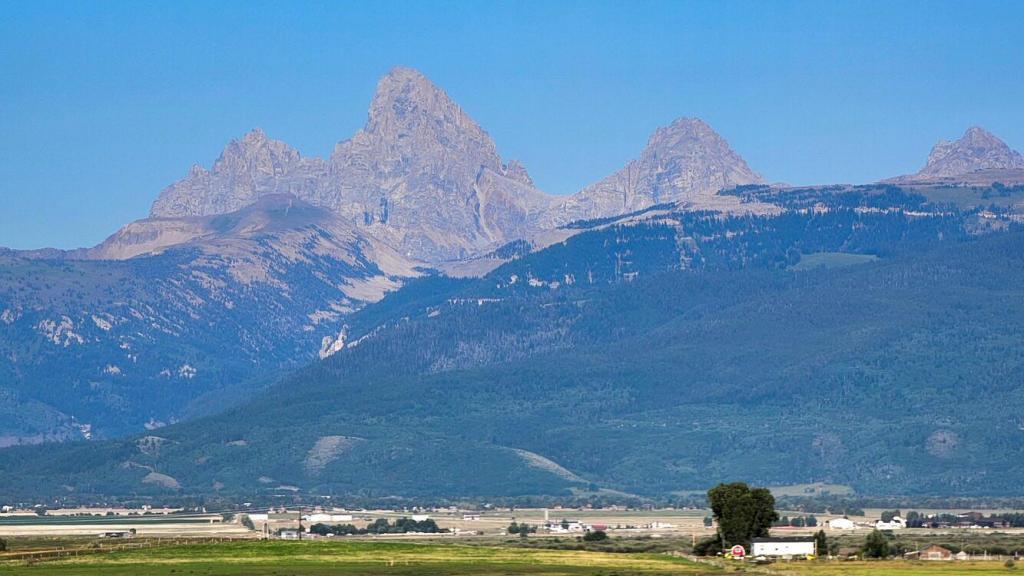 Park Review – Teton Peaks Lodge and RV Park
Rating: ⭐⭐1/2
Site Quality: Picnic tables at each site, gravel pads.
Type: Commercial
Access: Easy access off Idaho highway 33 south of Tetonia.
Staff: At check-in they had a touchless process due to COVID where you just went straight to your site. That worked well but is a bit impersonal. We did meet two of the family members who run the park and both were extremely nice and made sure they were there if we needed anything.
Amenities: Game room, laundry, restrooms and showers.
Cellular/Wi-Fi: Wi-Fi is available in the park although we didn't use it. AT&T and Verizon were somewhat marginal. Both worked but were prone to being slow or to having intermittent outages.
Restaurants: Badger Creek Cafe – This is the only restaurant in Tetonia, it was OK but nothing special. Good for a local bite. Agave – This is one of the Mexican restaurants in Driggs that we tried. It wasn't Tex-Mex like we're used to but the fajitas were actually pretty good. West Side Yard – Further down south in Victor, this restaurant offers bar style food that was really good. Liberty Burger – In Jackson serves up great burgers. The Merry Piglets Mexican Grill – Also in Jackson serves up Tex-Mex plates that were also very good and some of the best Tex-Mex we've had since leaving Texas.
Nearby parks: Teton Valley Resort, Victor – Was supposed to be much better than where we stayed but we found they had added numerous cabins and removed RV sites. It appears they may be building more. Could be an option in the future if it improves but for not it looks very tight and no nicer than Teton Peaks.
What we liked: View of the Tetons from the park.
What we didn't like: Many people used the area between our site and the adjacent site as a pathway to the game room, laundry, etc. It's actually part of our sites, not a pathway. Our site also needed some landscape trimming but others were OK. Quite expensive for what we got. The park is also quite a distance from the Grand Teton National Park but short of staying in the park, most likely with no hookups, there are few options for larger rigs.
Verdict: Good place for a week or so unless there are better places further south in Driggs or Victor.