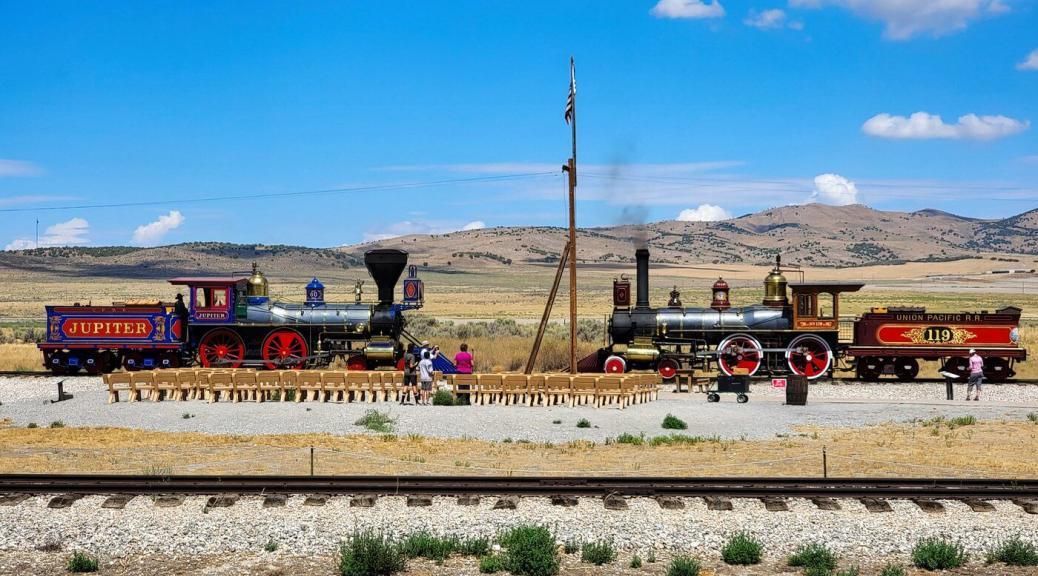 Tremonton, UT
Tremonton, UT
Tremonton was a convenient place to stop along our path north through Utah. The city itself doesn't have a lot to offer visitors but there are a lot of things to do and see nearby as you will see later. It did have a local museum and many of the exhibits were interesting but we found it to be a bit disorganized and lacking a lot of the history that brought people to the area. On the other hand there were some nice smaller stores for groceries and things like that and it never was very busy or crowded in the area. Logan, about 30 miles east was much busier and had a lot more restaurants and stores and even a couple of Super Walmarts.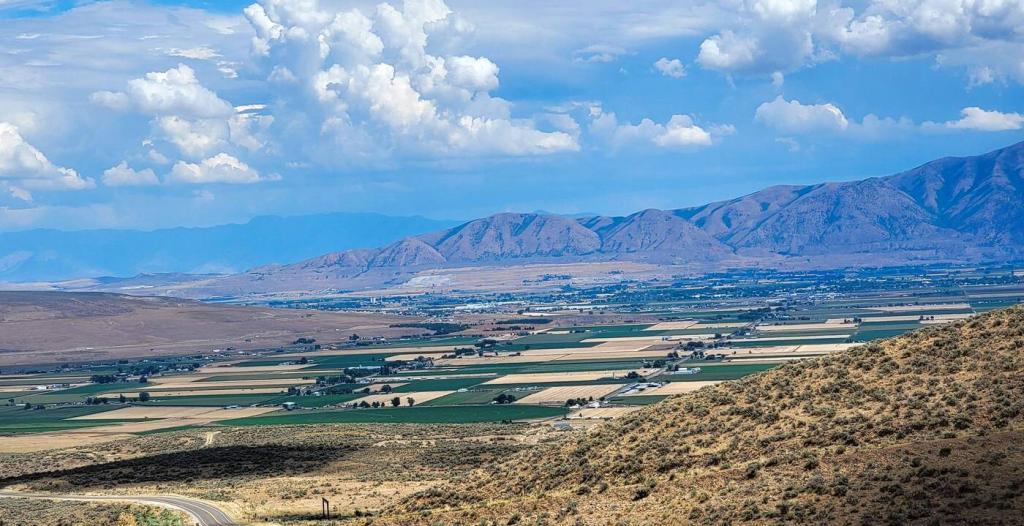 Golden Spike National Historical Park
North America's first transcontinental railroad was a 1,912-mile continuous railroad line constructed between 1863 and 1869 that connected the existing eastern U.S. rail network at Council Bluffs, Iowa with the Pacific coast at the Oakland Long Wharf on San Francisco Bay. The railroad opened for through traffic between Sacramento and Omaha on May 10, 1869, when CPRR President Leland Stanford, ceremonially tapped the gold "Last Spike" (later often referred to as the "Golden Spike") with a silver hammer at Promontory Summit. This National Historical park is the site where that final spike and final section of rail was completed. Thanks for a tip from a couple in our RV park we found out that they would be performing a reenactment of the ceremony held in May 1869 the day after we arrived in Tremonton. So of course, rather than taking a day to rest and relax after our drive from Heber Valley we had to go.
We were so glad we were able to see the reenactment as it made the whole historical event much more personal than just looking at some empty railroad tracks and a few plaques.
Great Salt Lake
After visiting the Golden Spike site we headed out along a bumpy, dusty dirt road out to an art project called the Spiral Jetty. The Jetty was developed in 1970 by artist Robert Smithson in just 6 days and was made of over 6,500 tons of black basalt rock and earth. The spiral's coil is 1,500 feet long and approximately 15 feet wide. The jetty disappears and reappears depending on lake water levels–drought years bring it out for all to see. Right after it was completed, lake levels rose and it was underwater for about 30 years. Smithson died in a plane crash in 1973, at age 35, while he was surveying another land art site in Texas.
The west is suffering from several years of extreme draught and in 2021 the jetty is not only clearly visible its about 1/2 mile out to the water line. Of course, being that close, we had to hike out there in the heat of the day to see the Great Salt Lake up close. Neither one of us decided to actually put a foot in the pinkish water though!
ATK Rocket Garden
Literally in the middle of nowhere in the desert there is a large complex that now belongs to Northrup Grumman. Prior to Northrup purchasing the complex it was owned by Orbital ATK who built the rocket garden here to show off some of the space projects they were associated with. Before Orbital it was home to Morton Thiokol who you might remember developed to solid rocket boosters for the space shuttle. The interesting thing about this complex is that it is right across the street from the Union Pacific rail line that joined the Central Pacific line near Promontory creating the first transcontinental railway in our country. The route of the first immigrant train overland passed through here as did the Oregon trail passing just 80 miles north of here. Some much transportation history within miles of this site.
Bear Lake / Logan Canyon
The trip to Bear Lake through Logan Canyon is a popular route for people to take when near Logan, UT. US highway 89 passes through the canyon and along the Logan river and there are numerous turnouts to enjoy the scenic views along the way. After about 35 miles you arrive at Bear Lake Overlook which offers visitor information about the area as well as stunning views of Garden City below as well as Bear Lake. Bear Lake is known as the "Caribbean of the Rockies" because of it's vivid turquoise-blue water. It contains abundant microscopic particles of white-colored calcium carbonate which reflects the waters natural blue color back to the surface giving it this color. Bear Lake is one of the oldest lakes in North America and is at least 250,000 years old but may likely be twice that and could even be several million years old.
The end of the road for our travel partner – Purdy
On a personal note, during our stay here we had to put our cat Purdy to sleep. We woke up on Wednesday, August 4th and she was doing ok or so it seemed. I put her down to eat and take her morning dose of Thyroid medicine and she walked away then started to run away but it was obvious as she ran that her back legs were not working. We both knew that her health was going down hill but still this was a bit more sudden than we anticipated. We thought she had hip dysplasia causing her to be unstable on her feet but it appears that many of her symptoms were likely due to heart disease. On that morning her heart threw off a clot that followed her main artery down to a branch at her rear legs and then it lodged there cutting off blood supply to both of them. Although there has been some success in breaking down clots in that area it is both painful and requires a lot of rehabilitation. Purdy was nearly 19 years old and likely all that would not have been successful and we did not want her to suffer. It was difficult to leave Tremonton as we felt like we were leaving her behind but it was the right thing to do. She grew into our life on the road but still let us know she did not like riding in the truck. She was a sweet girl and we miss her.
Park Review – Aspen Grove RV Park
Rating: ⭐⭐⭐1/2
Site Quality: Picnic tables at each site, concrete pads, asphalt roads.
Type: Commercial
Access: Relatively easy access off I-15 (exit 381) if going south or exit 40 from I-84 if going north on I-15 (you have to fork onto I-84 from I-15 just before the exit. The park is in town on Utah 102.
Staff: Check-in was smooth and efficient and the staff was friendly. Staff working in the park were also friendly.
Amenities: Laundry, restrooms and showers. Large dog park. A couple of the sites have electric car charging stations (a first for us in an RV park)
Cellular/Wi-Fi: Wi-Fi is available in the park although we didn't use it. AT&T and Verizon were decent.
Restaurants: Golden Spike Burgers – Descent but really no more than fast food. The Pie Dump – This place has been around for nearly 100 years and is apparently a local favorite. We stopped by for breakfast and service was slow even though it wasn't particularly busy when we arrived. Food was OK but it's hard to imaging they will be around for even 10 more years unless they can add a few people. Tamashi Sushi & Ramen Bar – The sushi was surprisingly good, other entrees were OK but not great.
Nearby parks: We didn't investigate other parks nearby.
What we liked: Decent park with concrete pads. We were in site 18 which had plenty of space for the Fifth Wheel and our truck. We had room to park in back of or in front of the RV.
What we didn't like: Several of our neighbors left for work in the middle of the night and early morning. Very small amount of train noise. They allowed washing rigs but the water left the trailer dirtier than before we started.
Verdict: Good place for a night maybe a few if you're in the area.