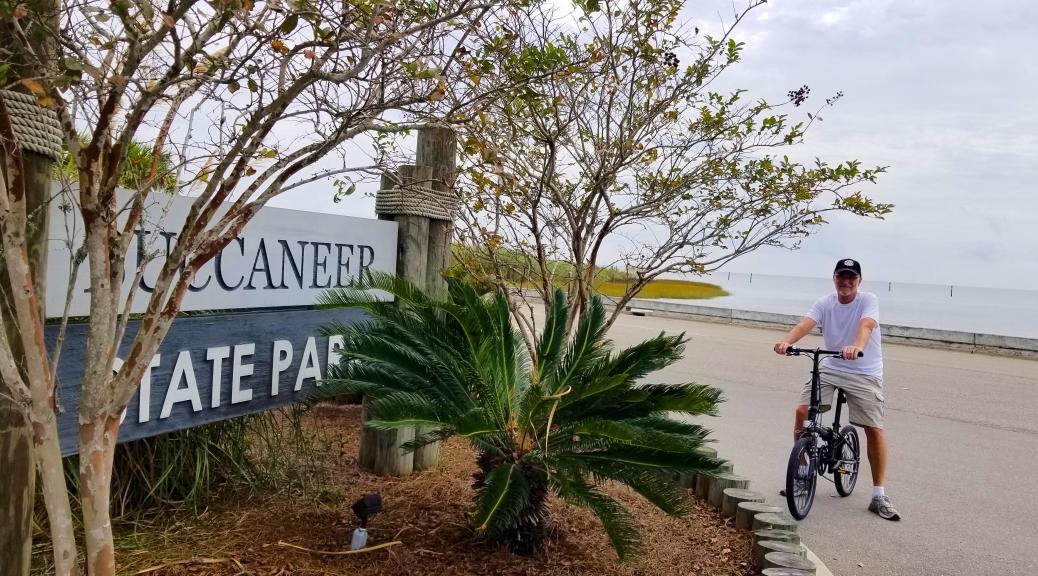 Buccaneer State Park, Waveland, MS
Buccaneer State Park, Waveland, MS
Buccaneer State Park was pretty and reminded us a bit of Tyler State park in Texas. When we booked, the only place we could get more than a week in a site large enough for our trailer was Royal Cay. Even when we got there, a sign on the office window said they were booked up although that was taken down later in the week. What we found was that there were always numerous empty sites in the park. In our loop there were never more than 4 or 5 campers there in a loop of 57 sites. We were pretty much all by ourselves in the back of the loop. While we liked the seclusion, Royal Cay was the least desirable loop with gravel pads and no picnic tables, grills or fire rings. We also had a train track about 100′ away and although they didn't use their horns they were still quite loud when they passed by at all hours of the day and night. We likely would have preferred to be in another loop particularly since they weren't as booked as they indicated.
While in the area we spent most of our time in Waveland, Bay St. Louis and Pass Christian. All are quaint small towns with no high rise buildings and little traffic. The speed limit on most roads was 25 MPH which was a bit difficult when you needed to go several miles. Bay St. Louis had a lot of small restaurants and bars right along Beach Blvd. but unfortunately with rainy weather we didn't explore those beyond just a few drive by's. We did go to a restaurant in Pass Christian called Shaggy's and another in Gulfport and both served up great seafood dishes.
This area, which is only about 40 miles from New Orleans, was devastated by Hurricane Katrina in 2005. In fact, Katrina came ashore for the third time in Waveland. The Ground Zero Museum in Waveland commemorates the devastation suffered by the area. The museum is housed in the Old Waveland School and is the only remaining historical building to survive. A blue line on the wall shows how high the water was in the building during the storm surge which was estimated to be almost 27′. As we have seen in other coastal towns, people's resilience and determination to persevere is amazing.
The temperature has dropped to in the 60's a few days and is a very welcome change. Tropical storm Nestor passed thru bringing 2 days of rain but not the wind as we were thankfully on the outside edge of it. We have been repairing the trailer at many stops along the gulf coast and this stay was no exception. It's always something! We noticed our left front trailer tire has been showing excessive wear. Jerry found we were out of alignment and was able to manually adjust the alignment to 1/16th", purchase another tire and then rotate all the tires. This was a huge job and hopefully it will hold us until we can get to a Morryde approved service center. Also, we are having ongoing valve problems. Jerry has replaced valves twice. The newest set are electronic and the lights for open and close don't always work. Now one valve will not close and another is starting to do the same thing. After a run to Camping World in Biloxi, we are dropping the bottom of the trailer again tomorrow and will try to remedy it – again!
Rating: ⭐⭐⭐
Site Quality: Asphalt roads throughout the park. Most pads are asphalt except in the Gulf view loop and the Royal Cay loop where the pads are gravel. Some sites have privacy while others do not.
Type: State Park
Access: Off Beach Blvd near Waveland, MS. Follow the directions on their website rather than your GPS or it could take you to the non-existent north gate of the park.
Staff: The staff were friendly and helpful.
Amenities: Waterpark (in season), pool for the campers (in season), Camp store (in season), Nature Trail, Playground, Disc Golf, Activity Building, Pavilion.
Cellular/WiFi: Verizon and AT&T were both good but not great.
What we liked: Full hookup sites, clean park, although at least the Royal Cay look needed some work to close off open sewer connections. Nice pool and rec room but they were closed in the off season. Decent nature trail.
What we didn't like: We stayed in the Royal Cay loop on site 182. Royal Cay is the least desirable loop in the park as the sites are gravel rather than asphalt and there are no picnic tables, grills or fire rings. To top it off there was a train track about 100 yards from our site. Although obscured by trees it still made a lot of noise and caused the trailer to vibrate. The only good thing is that the trains did not blow their horns nearby so they were less annoying than they could have been. After labor day most of the park closes down including the aqua park, camp store and swimming pool.
Verdict: We wouldn't make this park a destination in the future but if we needed to stay in the area we would stay here again. We would prefer one of the loops other than Royal Cay. If we wanted to stay in the area for an extended period of time, the area between Biloxi and Pass Christian was nicer. The beachers there were almost as white as they were in the Navarre area.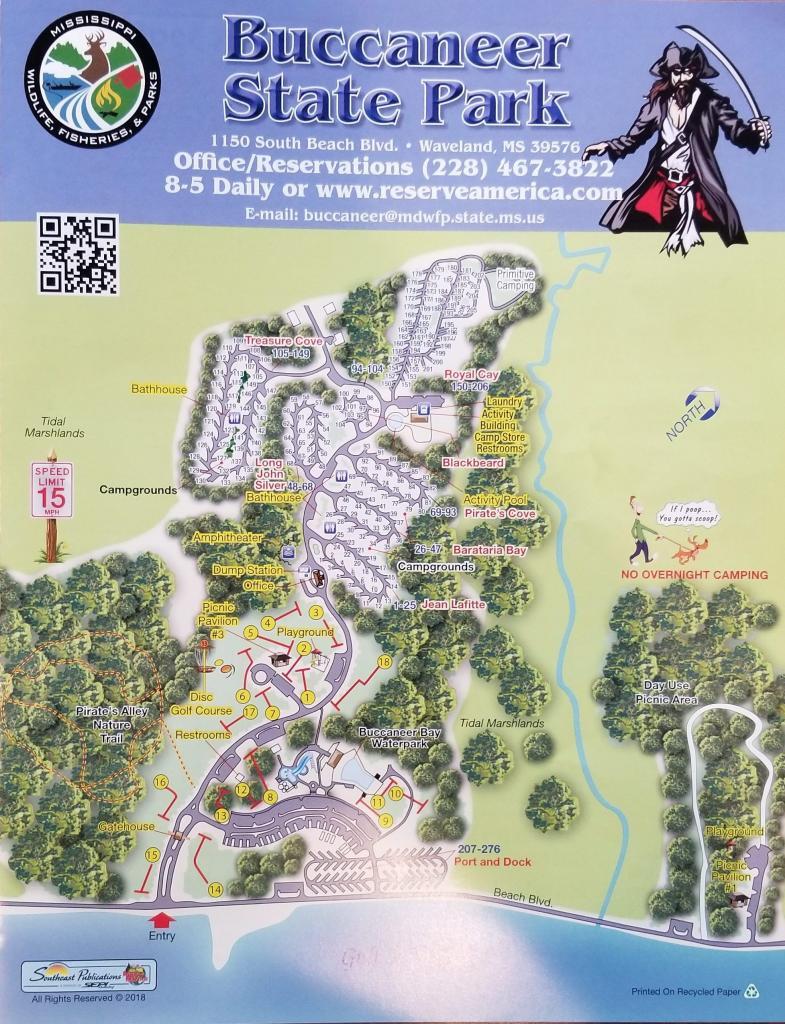 Sites 1 through 206 are all full hookup sites with 50A power.
Jean Lafitte (Sites 1 thru 25) – Asphalt pads, some shade particularly sites 5 thru 17 on the outside of the loop.
Barataria Bay (26 – 47) – Asphalt pads out in the open with little to no shade, shorter sites.
Long John Silver (48 – 68) – Asphalt pads, open with no shade except for sites 57-68 on the outside of the loop. The trees in those sites may block satellite.
Pirates cove (69 – 93) – Asphalt pads. Open except sites 80 to 93 on the outside of the loop which would be the preferred sites.
Blackbeard (94-104) – Concrete or asphalt pads, open small loop with no privacy. Picnic tables and grills.
Treasure cove (105-149) – This area is the most secluded section of the park and has picnic tables, barbecue grills and fire pits. It is also the most popular section and can be hard to get a site. Includes concrete or asphalt pads, most look long enough for big rigs since you can extend over the back. Lots of trees so satellite is not likely. These sites could have the same train noise as Royal Cay.
Royal Cay (150-206) – This area has full hookups but is the most primitive for RV sites. These are gravel sites with asphalt roads. There are some trees but satellite should be available in most sites. There are no grills, fire rings or picnic tables in these sites. Campfires are permitted in this area but must be contained. There is a train track about 100′ away from these sites. Although they don't blow their horns going by, they do generate a lot of noise several times a day.
Port and Dock or Gulfview (207-276) – These sites are water and electric only but do have a good view of the gulf across Beach Blvd. These are only reservable through the park office.