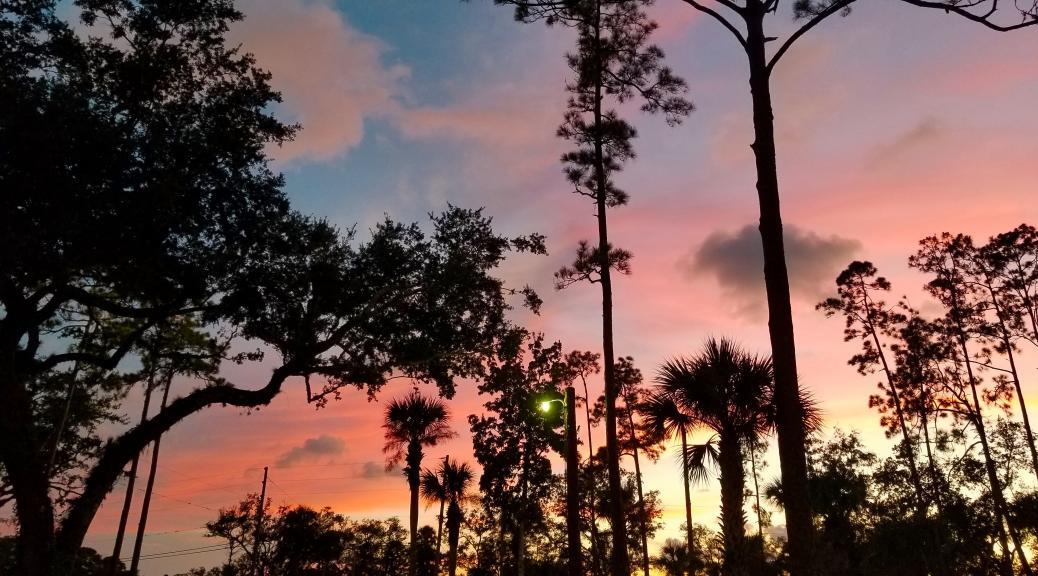 Christmas RV Park, Christmas, FL
Christmas RV Park, Christmas, FL
We came to Christmas RV Park in Christmas, FL to settle in for a month, do some sightseeing and to leave our trailer safely for 5 days while we went on a Disney Cruise with our family. Well, you know what they say about the best laid plans… Hurricane Dorian decided to throw a kink in ours.
New terms such as 'Cone of Uncertainty' and 'Evacuation Plan' soon became very important to us.
We followed all the weather news projections, read the hurricane prep websites and created the important Evacuation plan! This meant sitting in lines at gas stations, hunting for a propane refill center that had not run out, enduring the grocery store as the last pallet of water was fought over and stocking up on food. We booked the last spot at the Jennings, Florida KOA at the Florida/Georgia state line and evacuated there.
Now a new term to us is 'Hurricane Fatigue'.
Dorian has strengthened to an incredible Category 5 and is crawling along. We've extended our stay at Jennings to ride out the storm with hopefully only tropical storm conditions. We hope to reserve a spot in an RV park in Orlando later this week so we can meet up with our family and still go on our Disney Cruise.
Stay tuned!
Rating: ⭐⭐1/2
Site Quality:  Dirt/gravel road with quite a few pot holes and mud puddles. Grass/dirt pads with some having gravel pads. We got lucky and had a wood deck but as it wasn't tied down so we were very concerned about safety in hurricane force winds.
Type:  Commercial Park
Access: From Interstate 95 take FL-50 west to the park.
Staff: Friendly but indifferent. Not helpful when we called to make original reservation and took a couple of calls to reserve site. Manager called us crazy when we left early to evacuate.
Amenities:  Heated pool, mail service with TV/game room, community fire pit, shuffleboard, meeting halls and kitchen, 2 very clean laundry rooms, 2 very clean restrooms/showers, dump station, onsite well and sewage treatment. Lots of planned activities during the busy winter season.
Cellular/WiFi:  Verizon and AT&T were both decent at about 4 Mbps.
What we liked:  Our site was D-1 on Dasher Lane. Many friendly long-term residents stopped by to visit, invite us to Friday happy hour and make us feel welcome. Lots of trees. All the names of the roads in the park and buildings were Christmas season names. Nice sunsets.
What we didn't like: This park was all mostly dirt which made for a soggy, swampy mess during the summer wet season. All sites are dirt and grass with a crushed shell mix on a few. The mosquitoes and no-see-ums were relentless. Being here in the wet summer season was not a good idea but the drier winter season is likely better.
Verdict: Despite the friendly residents we would not return.