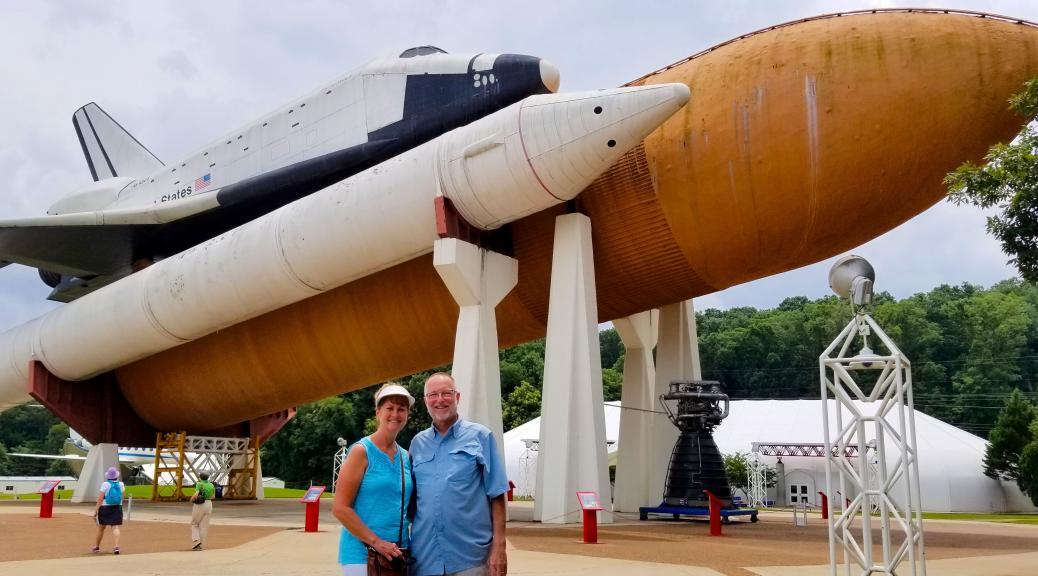 Joe Wheeler State Park, Rogersville, AL
Joe Wheeler State Park, Rogersville, AL
We spent a week here in July on our way east. As expected, it was hot and humid most days but our site was shady and that helped cut the temperature down by about 10 degrees. This area, including Huntsville and Decatur have played and continue to play a key role in the US space exploration efforts. We were excited to be able to explore some of the activities here.
The highlight of this stop was a tour of the United Launch Alliance factory in Decatur nearby. The factory is as big as 26 football fields and 800 people build rockets for the company, many of which are critical for our national security. Thanks to our son, Patrick who works for ULA and set this up for us, and Connor for his tour of the technical side of building rockets at the facility. We were so impressed to be able to see in detail the work involved. Although we were not allowed to take any pictures there are plenty online if you Google "ULA Decatur factory" and look at images. One of the images you may see is a huge blue milling machine that we saw in action. A large block of aluminum is inserted in the machine and for almost 3 days it works 24 hours a day to create a single side panel for a rocket – cutting intricate shapes to reduce weight while maintaining the necessary strength of the panel. We had no idea that much of the structure was machined this way as opposed to being built up out of sheets of aluminum but it all made more sense after the tour.
We spent another day touring the US Space & Rocket Center in Huntsville. This museum is operated by the state of Alabama showcasing rockets, achievements and artifacts of the US space program. A unique feature of this museum is that many of the exhibits are used for training – this is the home of Space Camp where 10 year olds and up can train like the astronauts do. One of the employees there said a 90 year old went through the camp! We picked a great time to visit as this is the 50th anniversary of the Apollo moon landing and there were a lot of extra activities related to that. We were able to speak with several volunteer docents who had actually worked for NASA during the heyday of the programs to get to the moon in the 1960's. One of the highlights was a complete building dedicated to a full size replica of a Saturn V rocket like the one used to get to the moon. Also on display was the actual Apollo 16 command module and the simulator that Charlie Duke, John Young and Eugene Cernan used during the fateful Apollo 13 mission to test procedures that allowed the crew to successfully return to earth after an explosion that severely damaged the spacecraft.
Our campground was on Wheeler Lake just below the Wheeler Dam and Lock. We tried once to go to the overlook by the Lock to see a boat go through the locks but nothing was happening and it was too hot in the middle of the day to stay longer. Just before we left the area we decided to try again just before sunset. The timing was great as a barge was just going into the Lock as we arrived. We watched the whole process from start to finish as the barge was lowered about 50 feet so it could pass into Wilson Lake on the other side. We were amazed at how fast the water went down in the lock – you could actually see the boat lower. It probably took about 30 minutes for the process to complete and then the barge sailed on its way.
Rating: ⭐⭐⭐⭐
Site Quality: Asphalt roads and pads.
Type: State Park
Access: Easy access from US-72 a bit west of Athens and Decatur in Rogersville, AL.
Staff: The staff were friendly and helpful including the campground hosts many of whom were in nearby sites.
Amenities: Large site (A-24) covered in trees. Once in the site we could see two other sites but just barely through the trees. This site was 50A power with water and sewer. Most sites are only 30A. Each site had a picnic table and a fire ring. There were restroom/shower facilities that seemed to be clean and in good repair but we did not use them.
Cellular/WiFi: Verizon and AT&T were both marginal and data speeds were slow at less than 2Mbps even with amplification.
What we liked: Beautiful tree covered sites – the trees kept the temperatures about 8 degrees lower. Some sites like ours were pretty secluded. Large park with plenty of room to walk.
What we didn't like: No satellite and marginal local channel reception because of the tree cover. The site was somewhat narrow due to the trees and there was really only a small amount of leeway for everything to work. That said, we kind of like it that way. Our pad had a tree root growing under it that caused the area where one of our tires sat to be raised up significantly.
Verdict: This park likely ranks as one of our favorites although we didn't do a lot here as we were busy exploring the area. There are parts that need some TLC though. The ranger told us when we arrived that the campground would be closed starting about October 2019 for upgrades. It sounds like they will fix most of the issues as well as adding 50A service and fast internet throughout. Lets hope they keep the secluded feel the park has today.