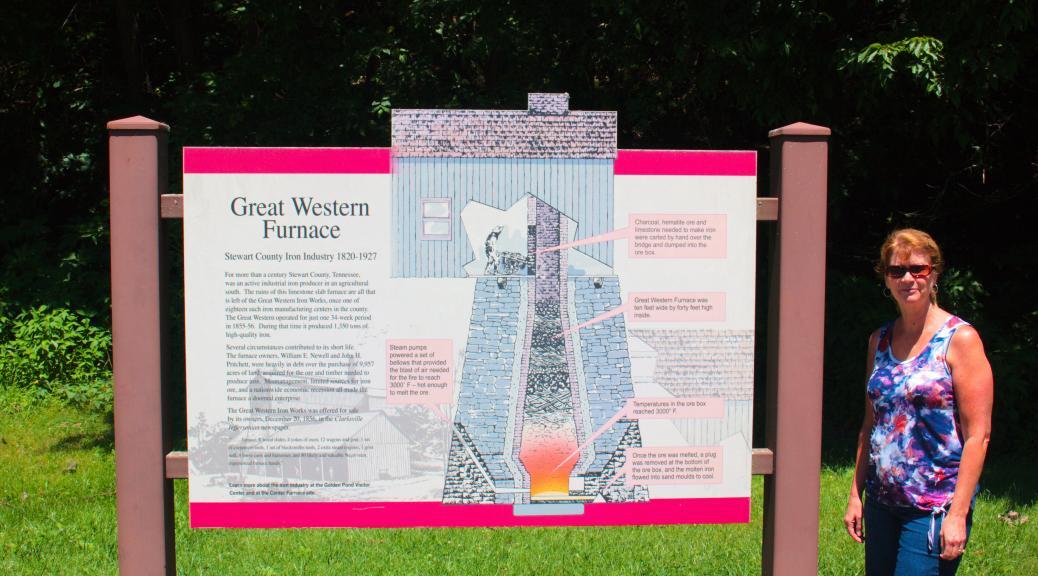 Canal Campground, Grand Rivers, KY
Canal Campground, Grand Rivers, KY
Grand Rivers is the first of many upcoming stops where we will be adding a new state to the list of places we have camped. The campground here was very nice with lots of large trees, spacious sites for the most part, and plenty of wildlife including squirrels, birds, turkeys and deer. Our site was a short walk away from the Barkley Canal which connects Lake Barkley to Kentucky Lake allowing barge traffic to move up the Cumberland River and into the Tennessee River where it can connect with the Mississippi River and down into the Gulf of Mexico. We saw big barges and heard many more along with a large number of speed boats as they navigated the canal.

Our site (#39) was in a low area surrounded by some small hills which turned out to be fortunate. The area had been hit with thunderstorms just before we arrived and they continued daily through much of the time we were there. Being in a lower area we were protected from the winds which were strong enough to topple trees all around the area. We did have one night where numerous tornadoes were spotted in the area and we had one go just south of us and another just to the north only a few miles away. We did have a small branch break in the tree behind us but it stayed up in the tree so we survived with no issues.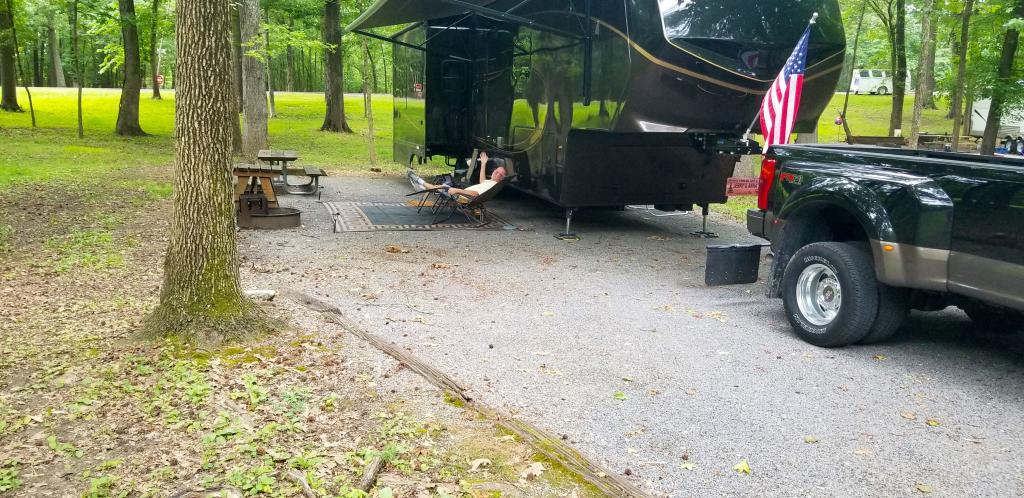 The Land Between the Lakes National Park area was just south of our campground and across the canal. It is a narrow strip of land bounded by parallel lakes on each side – Lake Barkley formed by the Cumberland river and Kentucky Lake formed by the Tennessee river. This area was settled in the early 1800's by farmers looking for fertile farm land. Beginning with the industrial revolution in the 1820's, the demand for iron products for factories and consumers increased through the mid-1800's. With the rivers providing ideal transportation, eight furnaces to process the iron ore operated in present-day Land Between The Lakes. Two of those eight have survived, notably the Great Western Iron Furnace.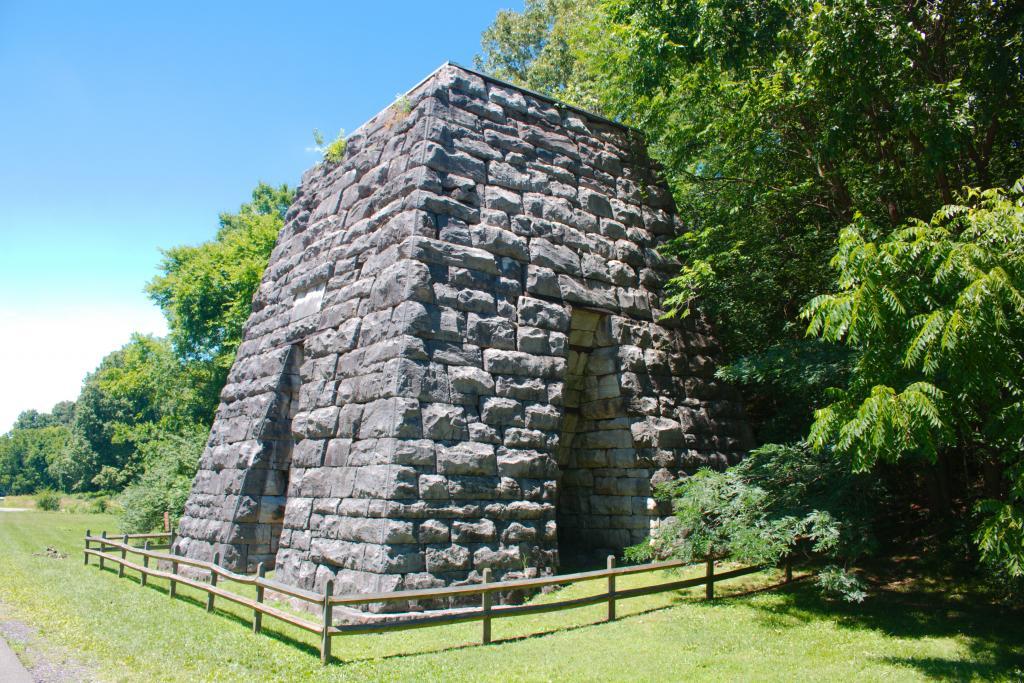 While we were stopped along the road to look at the Great Western furnace we met a local who had grown up in what they knew then as the Land Between the Rivers since the lakes had yet to be created. He told us a lot about the history of the area including mentioning a man named Cleo Griffin who was the last person to live on the LBL. He told us that Cleo's house was one of the few structures still standing and how to get to it so we had to go investigate. Cleo lived in LBL for over 20 years after everyone else had been forced from the area to make it a national park. If you want to find out more about this man who served our country before coming back to the home he was born and raised in see https://www.fourriversexplorer.com/the-last-resident-of-land-between-the-lakes/.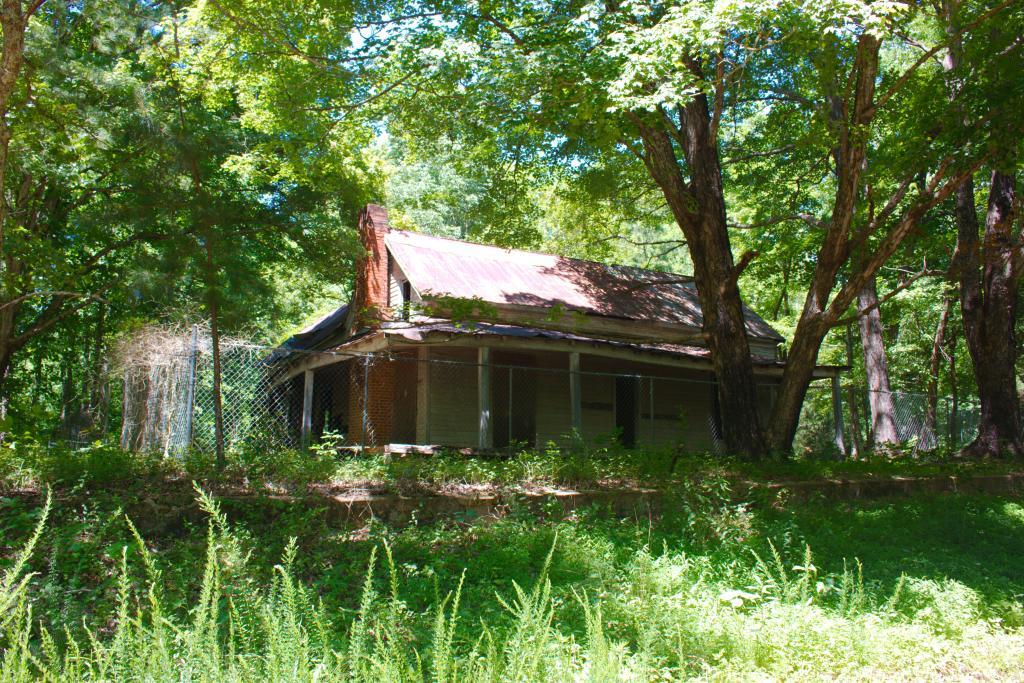 Within the Land Between the Lakes area is a 700 acre preserve Elk and Bison Prairie offering a native grassland habitat common in Kentucky more than a century ago. Visitors travel through the area in their enclosed vehicle via a 3.5-mile paved loop road. Numerous wildlife species thrive in the prairie including wild turkeys, a variety of birds, small game, butterflies, and prairie mammals as well as of course Elk and Bison. We saw Elk from a distance and Bison up close – almost too close. As we moved through one of the Bison decided he wasn't too happy with us being too close to his young or maybe he thought the black truck was another Bison. We thought he was going to ram the truck but we managed to get away. As we left we spoke to a park ranger who showed us the dents in the side of his truck from another Bison!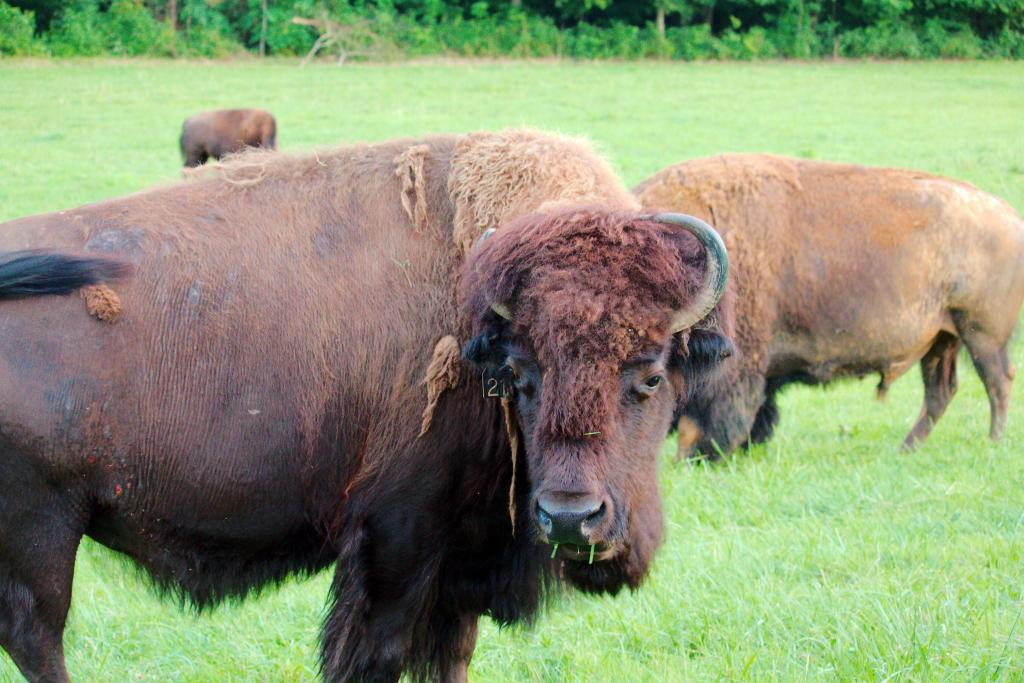 We enjoyed exploring other areas of The Land Between the Lakes National Park as well. We drove through the Piney Campground and hiked down to the Civil War ruins of confederate Fort Henry, on the Tennessee side of the park, only to discover nothing was preserved. Next, we visited Fort Donelson Military Park and National Battlefield. This was a massive Civil War Confederate fort used to hold off the Union Army advance to seize control of the rivers and railroads. The battle lasted 4 days and was a turning point in the war. Ultimately, the Union army won thus taking control of the rivers and railroad and eventually making Nashville a huge supply depot. Fort Donelson was very well preserved. There were story boards at the battlefields and the original cannons throughout. A monument for the Confederate soldiers along with a marker for those who had died there, as confederate soldiers cannot be buried in a national cemetery. Further down the highway was the impressive Fort Donelson National Cemetery. We love learning about the history in the areas we visit!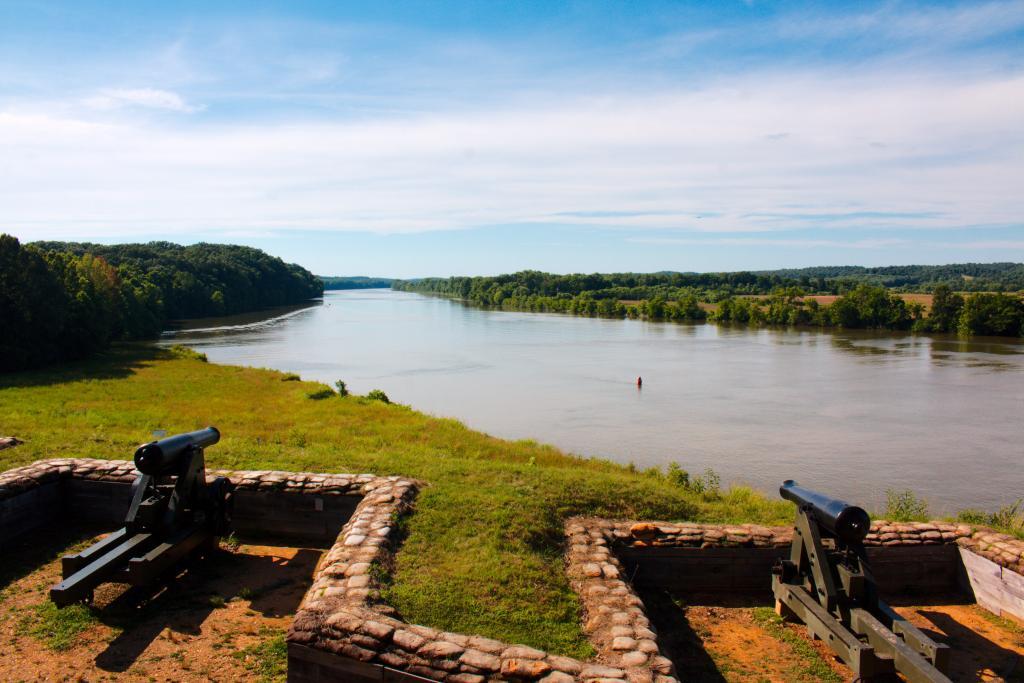 When we arrived in Kentucky we noticed that campers were a bit different than those we had seen anywhere else. First off, they brought a lot of "stuff". I realize that may sound funny coming from someone who had one of the largest 5th wheels around but I mean they had a LOT of stuff. It wasn't uncommon to see an RV, two cars (one was usually a pickup), a boat of some sort, full size grills, tables, their own fire pits, and even the kitchen sink … Well you get the point! The other difference was that we were literally nearly the only one in the park who didn't have a golf cart. Everyone had one – young or old. In the evenings we'd often see traffic jams with many more carts than cars. We finally had to Google about why there were so many golf carts in Kentucky. One of the first things that popped up was a 2017 article in USA Today about the phenomenon. I guess in some parts they are as popular as cruising in old cars in many other places.
Rating: ⭐⭐⭐⭐
Site Quality: Asphalt roads and crushed gravel pads.
Type: Corps of Engineers
Access: Easy access from Interstate 24/69 onto KY-453 toward Grand Rivers and Land Between the Lakes. Left on KY-952 and then right onto Canal Campground Rd.
Staff: The staff were friendly and helpful and tried hard to make sure we got every discount they could give us.
Amenities: Large spacious site (site 39) that was in a lower area that protected it from some of the wind we had during storms. 50A power with water. Some sites are full hookup. Each site had a picnic table, a smaller wooden table for cooking, etc., a lantern holder and a fire ring. There were restroom/shower facilities that seemed to be clean and in good repair.
Cellular/WiFi: Verizon and AT&T were both good at about 6-7 Mbps.
What we liked: Beautiful tree covered sites. Large park with plenty of room for our daily walk. Nearby the canal to watch boat traffic including large barges on their way to the Mississippi river. Quite a bit of wildlife including deer, birds, turkeys and squirrels.
What we didn't like: No sewer at our site although some sites do have sewer. No satellite or local channel reception because of the tree cover and being in a lower point in the park. The lower ground did protect us from some of the weather though.
Verdict: We would definitely stay here again as it is a gorgeous park with great amenities.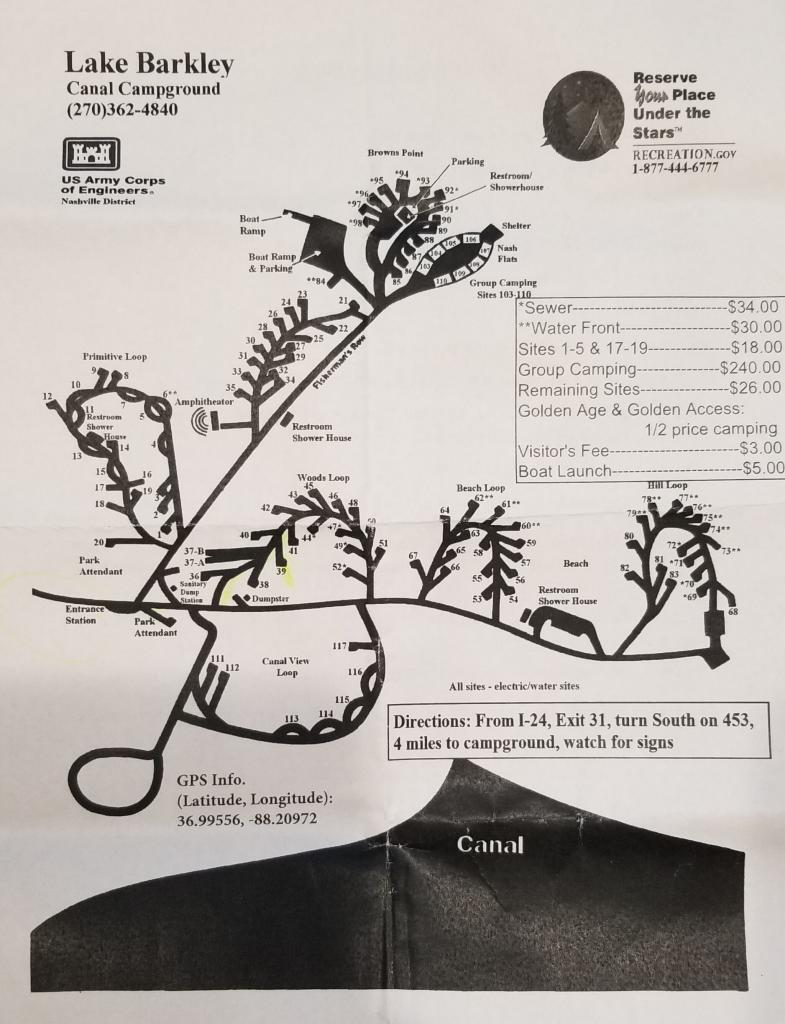 Woods Loop – Good sites in a somewhat protected area. A few sites have sewer.
Beach Loop – Nice sites, many with a good view of the lake.
Hill Loop – Some very nice sites with views of the water, a few have sewer.
Canal View Loop – Most are open so satellite reception should be possible. Good view of the canal through trees.
Primitive Loop – These sites are only suitable for very small trailers and most are only for tents.
Fisherman's Row – Could be ok for us but most of these sites were very close together. Not preferable.
Brown's Point – Nice sites with waterfront views and sewer (91-98). These are probably the best in the park. The other sites here are probably ok but not preferable.