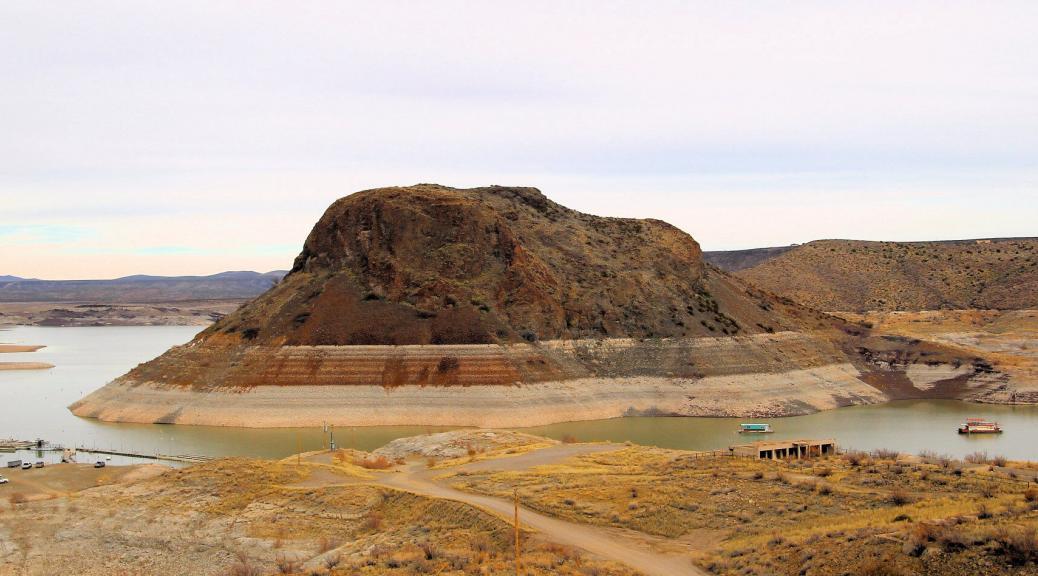 Elephant Butte, NM
Elephant Butte, NM
After spending some time in northern New Mexico around Christmas we decided we needed to move further south where it would hopefully be a bit warmer. We thought the Elephant Butte area looked pretty good and we were surprised we could get a month there on short notice. Elephant Butte got it's name from a small Butte that is now in Elephant Butte Lake. After looking at it several times, we can see a slight resemblance to an Elephant head but we think you probably need to smoke something to get the full effect. You can see for yourself in the picture. You may also notice that the lake looks low. It's only at 3% capacity. Drought and lack of snow in southern Colorado has taken its toll on the Rio Grande river that flows into the lake.
We really liked the Elephant Butte Lake RV Resort where we stayed for the month of January. We had a spacious deluxe site with a concrete pad for the RV and room for the truck beside it. It was nicely landscaped for a park in this area and had a lot of activities within the park particularly for longer stays. In looking around the area, we definitely picked the nicest park but we did find another one on the other side of town that deserves an honorable mention – Cedar Cove RV Park. If we come here again that might be an option as well.
The town of Elephant Butte is adjacent to Truth or Consequences. I had seen T or C (as the locals call it) before and had assumed the name had roots back to the old frontier days. Well, it turns out that isn't even close. Originally named Hot Springs due to the numerous springs that brought people there, the city changed its name in 1950 to "Truth or Consequences", the title of a popular NBC radio program. Ralph Edwards the host of the show had said he would broadcast the 10'th anniversary show from the first town that renamed itself after the show; Hot Springs won the honor. Edwards revisited the town each anniversary for the next 50 years.
In T or C we found several descent restaurants as well as a nice Walmart and hardware store to keep us supplied. It also had a nice old movie theater called El Cortez where we went to see The Mule. While not as comfortable as many modern theaters today, there is still something special about going to places like the ones we went to when growing up. Within the town there is the Geronimo Springs Museum which had a lot of information about the history of the area and we spent a couple of hours there. It was almost too much to take in. A special treat for us was a visit by an old Ford Tri-motor airplane to the area. For three days it could be seen flying over the city taking people on rides.
One day we took a day trip east from T or C to the town of Engle which was founded in 1879 as a station on the Atchison, Topeka and Santa Fe Railroad. Engle became a thriving cattle town and was a shipping point for ore and other materials from nearby towns including Chloride, Winston, and Cuchillo. The town has declined since it's hayday and there really isn't much there anymore. Spaceport America, New Mexico's commercial spaceport venture was just a bit south of there so we decided to drive down and take a look. It was closed that day and you have to take a tour out of T or C to visit anyway so we didn't get to see a lot but then there doesn't seem to be a lot there yet. It seems like there is still a lot of debate across New Mexico whether or not the development of this facility was a good use of taxpayer money or not.
For those of us who like spicy food and Hatch peppers, any stay in the area would be incomplete without a visit to Hatch, New Mexico. Hatch is widely known as the "Chile Capital of the World," for growing a wide variety of peppers, especially the New Mexican cuisine staple, and one of New Mexico's state vegetables, the New Mexico chile. Of course January is not really the best time to go but we had fun exploring the eclectic town anyway. The Hatch Chili Festival around Labor Day would be an event to really get the flavor of the area – in more ways than one.
The Geronimo Scenic Byway goes through Elephant Butte as well as T or C and then goes west into the mountains both north and south of town. Along this route there are numerous spots with fantastic views of the valley below. There are several ghost towns along the way, mostly silver mining towns that died when the government moved to gold. Our favorite among these was Chloride on the northern part of the route. By now there wouldn't have been much left if Donald Edmond and his wife hadn't made a wrong turn 40 years ago and ended up there. They fell in love with the town and the people who still had all the stories from the town's heyday. When Donald retired from IBM, they moved there permanently and began both documenting their stories (he has several books) as well as restoring parts of the town. They don't get any funding for these efforts. All the money comes from them personally. Along the southern part of the route was historic Emory Pass with spectacular views from the vista overlook.
On the third Saturday in January we took a road trip west of Socorro to tour the Very Large Array National Radio Astronomy Observatory. Radio astronomy is the study of celestial objects that give off radio waves. The VLA consists of 28, 82-foot diameter dishes that can be moved into different configurations using dual railroad tracks and large transporters. About three times a year they move the antennas into a different configuration. Luckily for us, the antennas were in their closest in configuration while we were there. In the farthest configuration they can be up to 13 miles away. The VLA has appeared in several movies and is very cool to see in person. If you want to see a short movie with more details see Beyond the Visible.
We took one final road trip down to Las Cruces, NM which is about 80 miles south of Elephant Butte. Part of this trip was to go to a few stores that weren't available in T or C including getting the oil changed in the truck. Las Cruces surprisingly had the nearest Ford dealership. While there, we did take time to go to Nopalito restaurant for some New Mexican food. This place was recommended by a co-worker of my sister and it turned out to be the best place we've eaten mexican food in New Mexico. We also took in some tourist attractions including a huge pepper in front of a hotel and a roadrunner made of recycled materials at a rest stop on I-10 just west of town. The roadrunner was cool, see what recycled goods you can find in the closeup picture below. Even better was the view of Las Cruces in the valley below with the Organ Mountains in the background. If you are in the area, pull in to the rest stop if for nothing more than the view.
We enjoyed our visit here exploring this "wild west" era of silver mining ghost towns, learning about Geronimo and other famous Apaches, driving through desolate mountain ranges, meeting so many interesting people, and of course eating lots of Mexican food with red and green chili sauces. Enjoy our pictures!
Rating: ⭐⭐⭐⭐1/2
Location: Elephant Butte Lake RV Resort, Elephant Butte, NM
Site Quality: Asphalt roads with gravel or concrete (premium sites) pads. There were mostly pull through spots although there were also back in spots around the edges of the park. We were in one of the premium back in spots.
Type: Commercial
Access: From Interstate 25 via two lane roads to the east side of Elephant Butte.
Staff: All staff we met were friendly and helpful.
Amenities: Full hookups, dump station, indoor swimming pool, spa, exercise room, playground, several showers and restrooms each with laundry facilities. The shower/restroom facilities were great with private rooms and nice clean facilities.
Cellular/WiFi: AT&T and Verizon 3-4 bars without amplification. Data rates were good on both Verizon and AT&T. WiFi was available but we did not use it.
What we liked: Mail and packages can be received here. Large well maintained park. The deluxe sites were spacious and had some privacy. Lots of stores and restaurants nearby. Although mostly full, the park seemed to be a bit further north than many of the winter RVers like. We still got some snow here along with some freezing nighttime temperatures but the weather overall was pretty good. We would definitely consider coming back in the winter.
What we didn't like: Anna would have preferred a site on the south side where the sunset's were viewable from our RV. Could be hot in the summer as there was little shade.