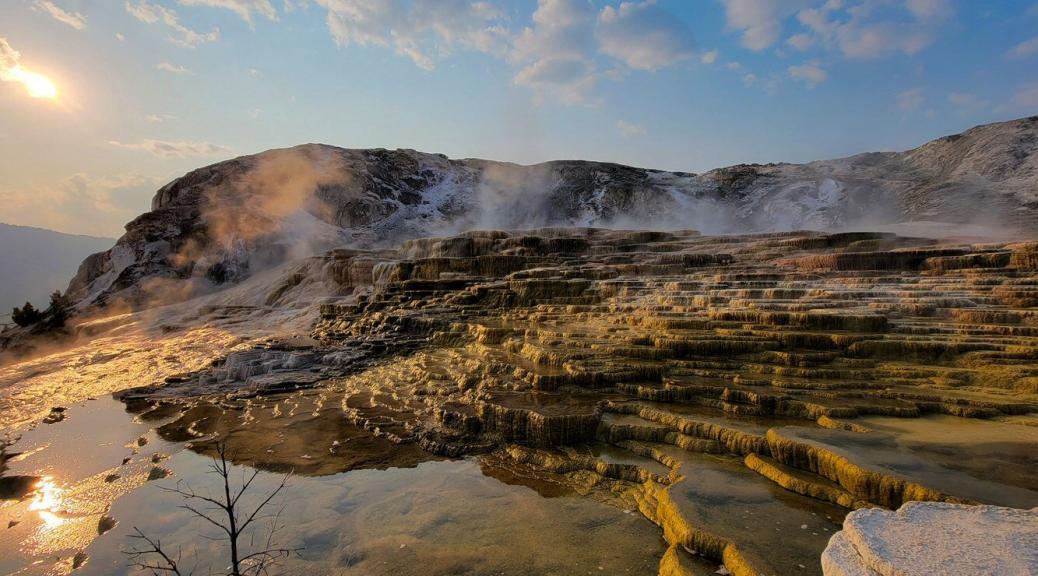 West Yellowstone, MT
West Yellowstone, MT
We spent 18 days in West Yellowstone taking in the local attractions and seeing as much of Yellowstone National Park as we could. Even though there are museums and other things to do in the town of West Yellowstone (like shopping for the ladies :-)) the big attraction here is of course Yellowstone National Park. While I'll talk about that more later, let's just say that Yellowstone absolutely must be on your bucket list if you have never been before!
West Yellowstone is an ideal place to stay (unless you are inside the park somewhere) because from there you can easily get to anywhere in the park without too much of a drive. Of course, too much is relative. The park is very large so you will be doing a lot of driving but from the west side you're sort of in the middle of the action and you are also closest to the most popular sites within the park such as Old Faithful.
Everywhere you go in the area you'll find huckleberries at least if the bears haven't found them first! All the stores have Jam, syrup, you name it – all made from huckleberries. Then there's huckleberry ice cream. A local favorite is Wilcoxson's Ice Cream and their huckleberry is really good. Be sure to try some.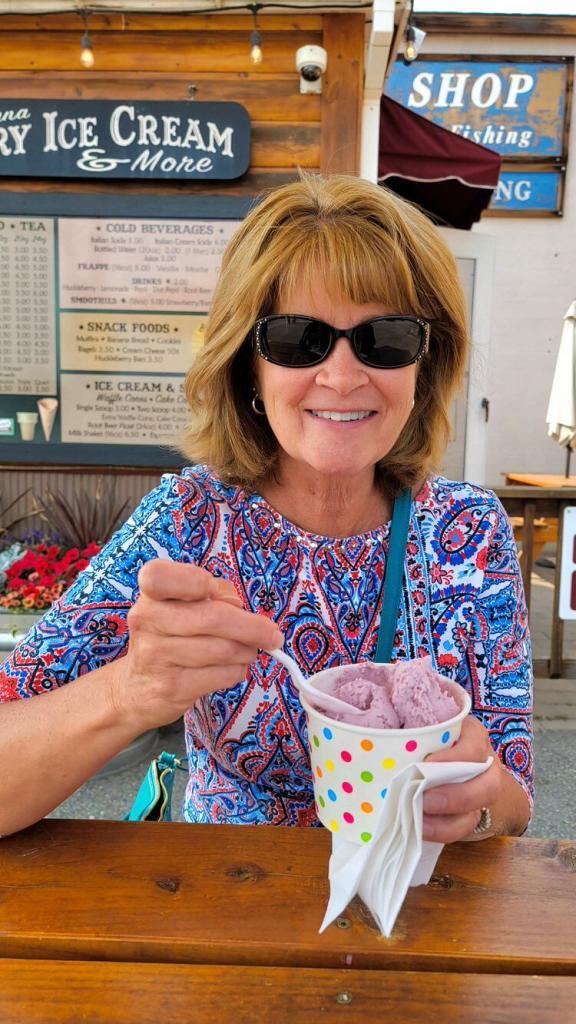 Grizzly and Wolf Discovery Center
We met a couple on one of our hikes in the Tetons who told us about this place in West Yellowstone and they said this was not to be missed. We're glad they did because we probably would have just assumed this was a tourist trap and passed it over. In reality, this is a rescue center for animals that can no longer survive in the wild, usually because they became too familiar with being around people thus creating risks for both people and the animals.
While there we learned that large numbers of bears and wolves have to be put down every year due to humans feeding them either intentionally or inadvertently. Once these animals learn to go to humans for food they become more and more aggressive until something has to be done. Although there are several places like this one that can take them, the numbers they can take are very limited compared to the number needed.
It's sad when people think they are helping or maybe just trying to be cute and they end up forcing a situation where an animal has to be killed. Just after we left Yellowstone, we saw a news story where a couple was giving their dog a bath in a thermal feature in the park. There are signs everywhere telling people how fragile the areas are and how they may even be dangerous due to water temperatures and PH levels similar to battery acid. Not only could they or their dog have been severely injured but what about future visitors and their ability to enjoy the area?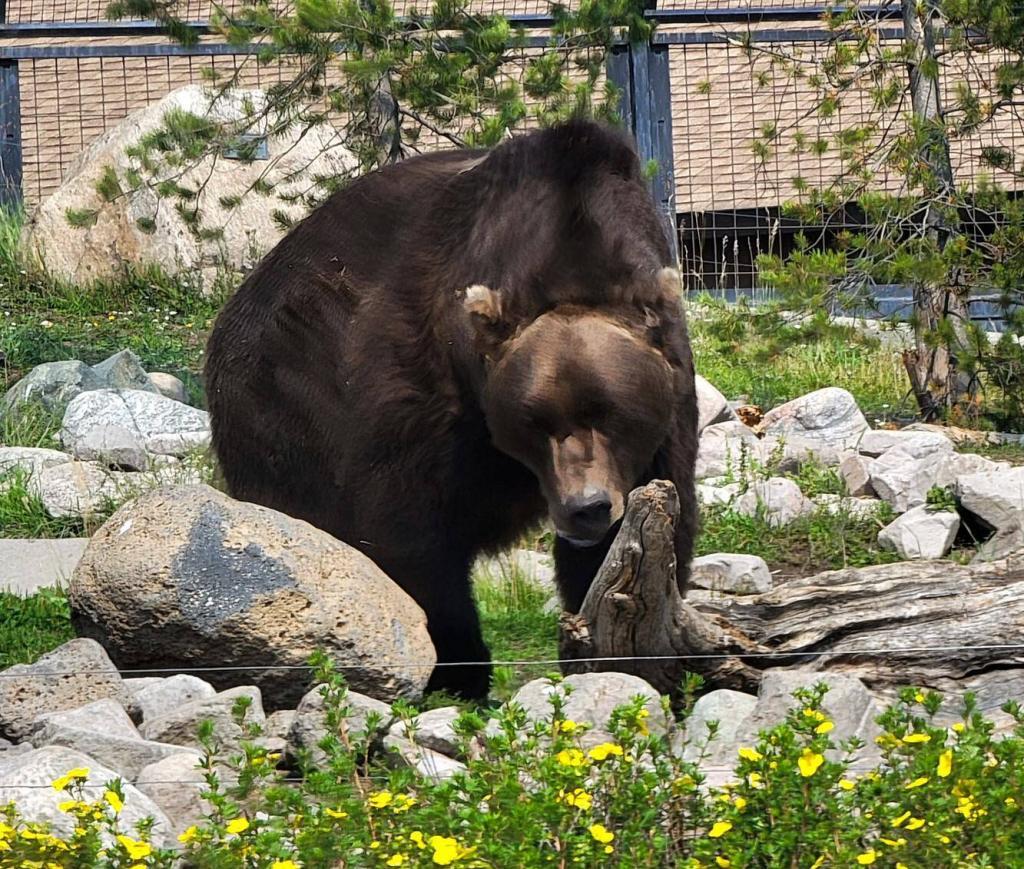 Around the Block – Earthquake Lake / Hebgen Lake / Henrys Lake
On a beautiful moonlit night in August 1959 while hundreds of people camped near Hebgen Lake and along the Madison River north west of West Yellowstone one of the most powerful earthquakes ever recorded in the Rocky Mountains struck the Madison River Canyon. Measuring 7.5 on the Richter scale, the earthquake triggered a massive landslide, sending over 80 million tons of rock crashing down into the canyon and blocking the Madison River. The landslide created hurricane force winds through the canyon and then water began backing up behind it creating the new Earthquake Lake.
In a matter of seconds, the land under Hebgen Lake tilted upward leaving cabins on the north shore immersed in water while portions of the south shore were high and dry. Water in the lake sloshed back and forth while huge waves crested over the dam. Although the dam cracked, it held. Three sections of highway 287 fell into the lake. As a result, hundreds of campers were trapped and 28 lives were lost – some buried under the rock slide and others drowning in the resulting flooding.
Can you even imagine waking up about midnight – first to the earthquake, then to hurricane force winds and finally to flooding, only to realize that the road to escape the area had fallen into the lake?
This area is within the beautiful Gallatin National Forest. We went to the Earthquake Lake Visitor Center which has an amazing museum which shows a film describing the earthquake, reconstruction of the river and has the stories of the people that lived thru this trauma.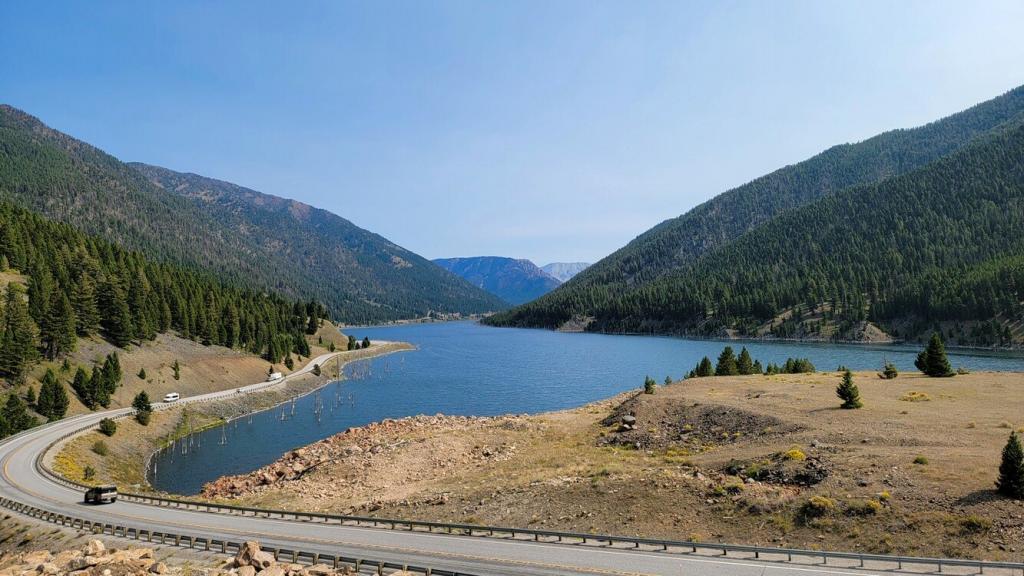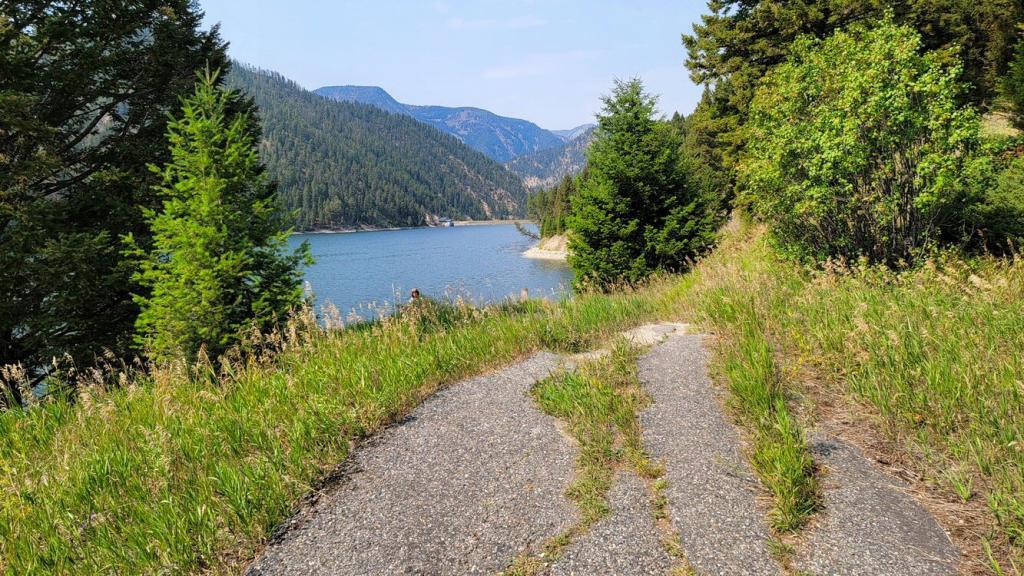 Museum of the Yellowstone
The Museum of the Yellowstone in West Yellowstone is dedicated to telling the story of travel to and through Yellowstone National Park, and the Park's influence on West Yellowstone and the Hebgen Lake Basin. Here you can learn about transportation to and from the park from horses and stagecoaches to automobiles and even modern airplanes. You can also find out more about the earthquake of 1959 and the wildfires of 1988.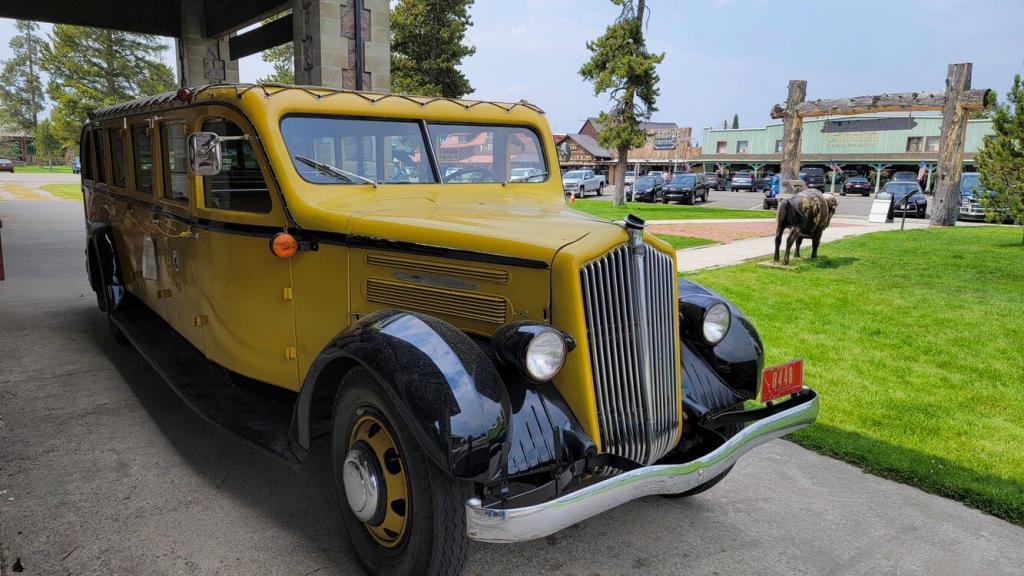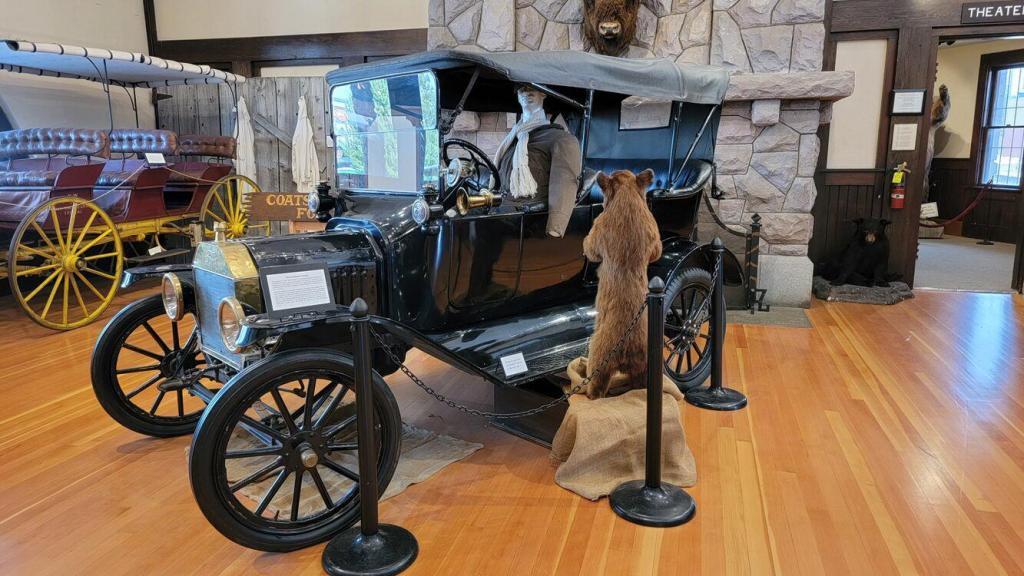 Yellowstone National Park
When we first drove into the park, we were immediately taken aback by the beauty. As we proceeded through the park, we never stopped saying that it just couldn't get any better – until we went around the next bend. Each area within the park is different and each has something different to see. We spent 18 days in the area and probably went into the park seven different times but I think you could easily spend a month or more exploring everything.
Yellowstone was the first national park in the United States and is also widely held to be the first national park in the world. While Native Americans have lived in the Yellowstone region for at least 11,000 years, aside from visits by mountain men during the early-to-mid-19th century, organized exploration did not begin until the late 1860s. Management and control of the park originally fell under the jurisdiction of the United States Department of the Interior; however, the U.S. Army was eventually commissioned to oversee management of Yellowstone for a 30-year period between 1886 and 1916. In 1917, administration of the park was transferred to the National Park Service, which had been created the previous year.
The park spans an area of 3,468 square miles. Yellowstone Lake is one of the largest high-elevation lakes in North America and is centered over the Yellowstone Caldera, the largest super volcano on the continent. The caldera is considered a dormant volcano. It has erupted with tremendous force several times in the last two million years. Well over half of the world's geysers and hydrothermal features are in Yellowstone. The park is the centerpiece of the Greater Yellowstone Ecosystem, the largest remaining nearly-intact ecosystem in the Earth's northern temperate zone.
Hundreds of species of mammals, birds, fish, reptiles, and amphibians have been documented to live in the park. Grizzly bears, wolves, and free-ranging herds of bison and elk live in this park.
Below you will find just some of the pictures we took while visiting Yellowstone. Click on a picture to bring up the full viewer to see larger pictures with captions.
Tips for visiting the park
First, get a National Park Pass. For $80 you can get unlimited access to any national park in the country as well as discounts on Corps of Engineer Parks and other places for a year for everyone in your vehicle. If you are 62 or older, $80 will buy you a Lifetime Senior Park Pass which is a steal.
The best time to arrive at the park is about sunrise. The lines to enter are shorter, wildlife is more active, the light is great for pictures, and the park is much less crowded. This is especially important as parking lots quickly fill up starting around 10 AM and if you have a large vehicle it can be difficult to find a parking place much less one large enough for a large pickup, etc. By noon (or even earlier), it's not uncommon for people to be parking along the streets in overflow parking. We arrived early and left the park usually by early afternoon.
If you want to see the entire park, I'd reserve 2 weeks (or more) if possible. We like taking our time and if we get up early one day we sleep in the next day so we don't get burned out spending so much time in the truck. There are other things to do around the park entrances including museums and other activities to fill in the time. We took 3 trips going through the south part of the park (the area near Old Faithful), another 2 trips going north and north east around Mammoth Hot Springs and 2 more trips to go east around Canyon Village and Yellowstone Lake.
Try not to only go to the largest and most well known attractions but do go to them early in the day before they get too crowded. Seek out lesser known places to visit like Firehole Canyon Drive, Firehole Lake Drive, Fountain Flat Drive to name a few as well as the numerous pullout areas to look at scenery and/or wildlife. Another tip is that although there are trails and boardwalks that go right beside most of the features and you should certainly take those, you often can't get the best view from there. For instance there is a trail that takes you .6 mile to get to the Grand Prismatic overlook. You really haven't seen it properly until you go up to the overlook and Grand Prismatic Spring is not to be missed! Old Faithfull is similar. While you can sit among the crowd in front of the Visitor center and see Old Faithful, you can get a much better view from the trails behind it and there are much fewer people there. Of course, you have to see Old Faithful but at the end of the day it wasn't even in our top 10 of favorite things to see.
Speed limits within the park are 45 MPH in most places and 25 MPH or slower in a few. This is mostly due to wildlife which will often pop out from trees and right out into the road. It's also because people tend to stop right in the middle of the road whenever they see something. In the course of a few days you will often see people passing others who are going the speed limit and often without enough space to safely pass. Whenever someone is riding your back, try to pull off at the next pullout so they can pass. The longer they sit back there the more desperate they get. Also watch for people coming head on who are not paying attention to their driving and end up halfway in your lane before they look back at the road.
Although the lodges have food, when we were there they were only serving pre-packaged sandwiches and such, presumably due to COVID. If you are staying out of the park we'd suggest you take your own food/snacks. It's a long way back out of the park and into town to get food.
Be bear aware and be sure each adult has bear spray. There is a saying on many of the bear information signs in the park – Every adult Every time! Even though you may think you don't need it because there are so many people around you may find yourself in a long stretch where no one is around. It's better to have it and not need it than need it and not have it. Between Grand Teton and Yellowstone we came across 7 bears. 6 were on heavily travelled roads and 1 was on the other side of a river. 5 Grizzly bears walked right by our truck only 5 or 6 feet away! Luckily for us they just kept going.
Travelling through the park with a large RV
In general, I think it's best to plan a route outside the park if possible. Inside the park the speed limits are slower, the roads tend to be narrower, often with no shoulders to pull over onto should it be necessary, and you have to deal with cars that may stop in the middle of the road to view wildlife or wildlife itself in the road. If you must use these roads, consider the following notes.
North Entrance – As you near the Mammoth Hot Springs area there are several narrow areas with some switchbacks. In Mammoth, there is lots of traffic and pedestrian traffic that would be challenging. Going north toward the north exit and Gardiner is curvy and narrow. Many RVs were traveling this area including a few big rigs but we would not go that way.
North East Entrance – This route follows Grand Loop Road east out of Mammoth connecting to US highway 212 (NE Entrance Rd) at the Roosevelt lodge. Grand Loop Rd. here is narrow and winding and was uncomfortable at times even with just the truck. US 212 is also narrow and has numerous hard core switchbacks the further east it goes. I would not go this way with an RV. See notes about the north entrance route as much of this would apply as well.
West Entrance – To the south entrance – This route is fine to go through the park to the south entrance although going early in the morning is suggested as this route goes through some of the most congested areas of the park including Old Faithful and the congestion starts getting bad by about 10:00 AM. In the Grand Teton National Park go east via US 26 (it does include a long 6% grade going that way but it's doable) or go south via 191. You do pass through Jackson, WY going that way and it can get quite congested and there is also a lot of pedestrian traffic. I do not recommend taking WY 22 (Teton Pass Highway) as it has a 5 mile plus section of 10% grades. A friend went that way once and says he won't do that again.
To the East Entrance – You should also be able to connect to US 14 and go east toward Cody, WY. We didn't drive that way so good planning to review grades, switchbacks, etc. would be wise.
Park Review – Yellowstone Park / West Gate KOA Holiday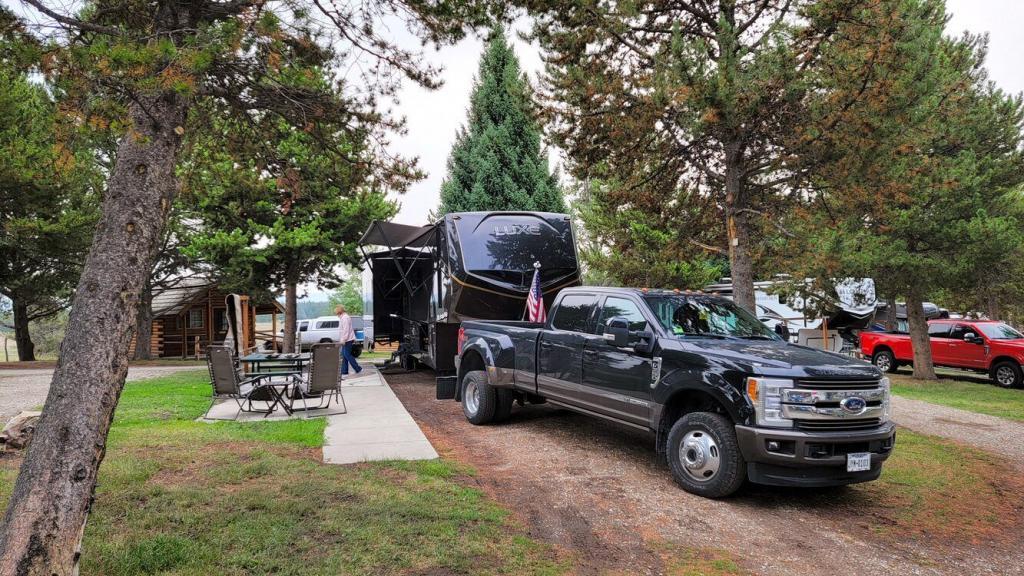 Rating: ⭐⭐⭐
Site Quality: Picnic tables and fire pits at each site, concrete porch and sidewalk, wooden swing, gravel pads, asphalt roads. (Deluxe sites)
Type: Commercial
Access: Easily accessible from US-20 west of the town of West Yellowstone.
Staff: Staff were mostly friendly and helpful but the often drove golf carts way too fast through the park due to congestion and lots of young kids playing in or near the roads. Visitors seemed to take their que from the staff and many also drove at least 20-25 MPH through the park. The speed limit was 10 MPH.
Amenities: Indoor swimming pool and spa (Closed in 2021 due to COVID). Cabins for non-campers. Dog park. Game room. On site food morning and evening via an outdoor grill, ice cream/espresso kiosk (although it never seemed to be open). Bike rental, playground, mini-golf and basketball hoop. Restrooms with showers. Propane available on site. Convenience store on site. Laundry facilities. Cable TV.
Cellular/Wi-Fi: Wi-Fi is available in the park although we didn't use it. Friends reported that it did not work at our sites but they could use it near the office. It was an open system, meaning no password to access it. AT&T was marginal and rarely worked. Verizon was good at about 34 Mbps.
Restaurants: The Buffalo Bar – Decent place for bar type food. Slippery Otter Pub – This was a bit better than the Buffalo Bar but also had bar food. Timberline Restaurant – good restaurant with a varied menu. Running Bear Pancake House – Good basic no frills breakfast spot. Very busy, expect a wait. Ernie Bakery Deli – Stopped by for lunch and the sandwiches were very good. Red Lotus – Surprisingly good Chinese Food (I'm picky). Yellowstone Park Lodges – Possibly due to COVID all the park restaurants seemed to be serving institutional food or prepackaged sandwiches. It was overpriced for what you got and not really very good.
Nearby parks: Yellowstone Grizzly RV Park – This park was highly rated and after driving through we could see why. The sites were gravel but they appeared to be well maintained and level. The park will be our first choice if we return to the area but book early! Buffalo Crossing RV Park – Nice small park right at the west entrance to Yellowstone and walking distance to West Yellowstone shops and restaurants. This is a close second to Grizzly but with few frills.
What we liked: Minimal road noise. Mountain views. Fox Den RV and Campground – Another nice no frills park in West Yellowstone.
What we didn't like: The deluxe sites include a concrete patio that is very tall. More than one set of campers had to work hard to get their stairs to operate correctly. Some added blocks under the wheels to lift their trailer high enough. Others like us, moved away from the patio so that our stairs were not over the patio. The issue there is that the sites are not level right to left and moving over caused the problem to be worse. Our tires were several inches off the ground on the left side to make us level. Trees near the sites created some major obstacles to get into and out of the sites. Even though the sites were supposed to be 77′ long, they were somewhat cramped since you had to work around the trees and utilities in order for slides to have room to extend.
Verdict: We would stay here again if we find ourselves in the area and other more preferable sites weren't available but the KOA is expensive and designed for older and smaller rigs. Even the KOA journey 1.5 miles further west might be a better choice.