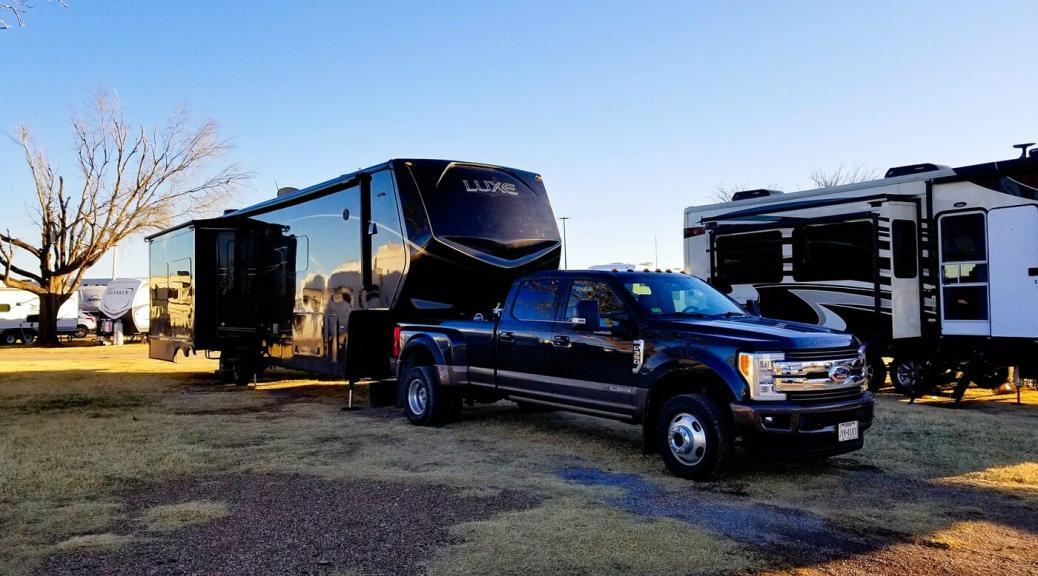 Rocking A RV Park, Vernon, TX
Rocking A RV Park, Vernon, TX
Park Review
Rating: ⭐⭐⭐+ (For an overnight stop)
Site Quality: Gravel roads and grass pads. Even though they had received quite a bit of rain the day before we arrived the pads were mostly dry and no major mud. There were a few muddy spots on the internal roads.
Type: Commercial
Access: Right off Highway 287 at College Dr. in Vernon Texas west of Wichita Falls. When coming from the West it is a bit difficult to turn left and go under the highway to circle back to the park because there was no traffic light at the intersection.
Staff: There is a husband/wife team who manage the park and they were both friendly and helpful. She checked us in and he escorted us to our site.
Amenities: Propane available on site. There is a playground and dog park for those who need these facilities. There is also a small store on site. In the summer a pool is available.
Cellular/WiFi: Both AT&T and Verizon were acceptable – for Verizon the signal level was only 2 bars but both upload and download speeds were in excess of 22 Mbps. WiFi was available at the park but we did not use it.
Restaurants: We only had an opportunity to eat out on a Sunday and due to that and the fact that many restaurants seemed to have changed their hours due to COVID, we only had an opportunity to stop at Fred's Corner Grill. This place looked like it had been a Dairy Queen at one point and it had a similar menu. We both had a burger and they were good basic burgers.
What we liked: Access to the park was right off Highway 287 so it was convenient to our route. There was also a Walmart right next door to the park which was convenient for supplies. There are some nearby activities including a museum as well as some things related to Roy Orbison who was born in Vernon.
What we didn't like: The park roads were somewhat muddy and could be a real mess if there was a lot of rain. The same situation could occur with the pads although they seem to be packed gravel with grass (or weeds) and they did not appear to have much of a mud problem.
Nearby Parks: We did not look into any other parks in the area this time although we did stay once before at Lake Arrowhead State Park in Wichita Falls about 70 miles further east.
Verdict: We would definitely stay here again for a night or a few if we are travelling through the area again.