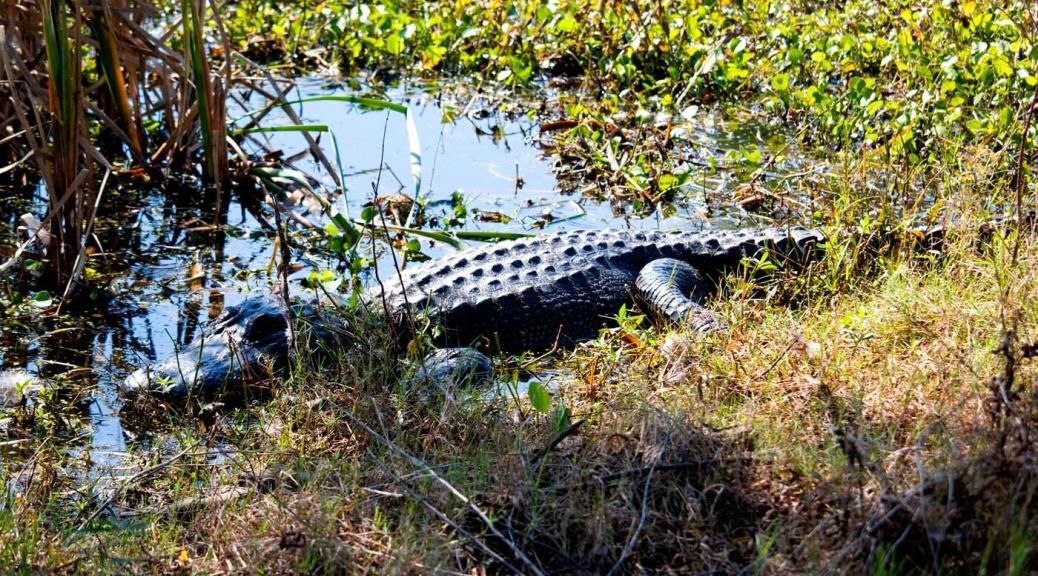 Brazos Bend State Park, Needville, TX
Brazos Bend State Park, Needville, TX
Wow, Brazos Bend State Park is just gorgeous. The park is very remote and so lush with massive oak, pecan and many other trees with Spanish moss hanging in them. Upon entering for our 2 week stay, we were surrounded with swamps, five lakes, many hiking trails leading all over the park and lots of wildlife including alligators! Yes, we saw over 30 alligators while hiking around the lakes. Thank goodness our campsite was well away from the lakes so we did not have to check for alligators constantly.
The best part of our stay here was enjoying good friends Tammie and Peter who came to camp with us for 4 days. We enjoyed hiking, picnicking, campfires, smores, and great conversation. Staying in a swamp bring the mosquitoes and holy cow did we have the mosquitoes! We went thru several cans of yard guard, many citronella candles, and OFF bug repellent but still had us all becoming human pin cushions. It was not at all hard leaving the mosquitoes when we left the park 3 days early to avoid Hurricane Delta. That's right, once again we were evacuating from a hurricane. A swamp with very tall trees surrounding us was not a good place to endure rain and high winds so we finally found an RV park 90 miles west, near Weimar, that had a site available and was well away from the strong winds.
We received a cute surprise in our mail this week. One of our grandsons, Ryan, sent us a letter including 'Flat Stanley'. He is a cut out paper boy sent to travel with us for 2 weeks, take pictures to chronicle our life and return him to our grandson for a class project. We were able to get several pictures near alligators and walking trails before we left the swamps. Next, 'Flat Stanley' will get to swim in the ocean with us!
Brazos Bend State Park was so lush and gorgeous so it is definitely on our "Good List". For now, our bug bites are healing nicely and we are ready for our next adventure to the Gulf coast.
Park Review
Rating: ⭐⭐⭐⭐
Site Quality: Asphalt pads and roads. Our site was long enough for our rig and truck with plenty of room for another vehicle or to park to the side of the trailer.
Type: State Park
Access: The park is southwest of Houston and there are multiple ways to get there. All of them end up using smaller country roads at some point before you reach the park. All are mostly straight and flat and are easily passable for even the largest of rigs.
Staff: All staff interactions (check-in, nature center, and at our site) were great. The staff is very friendly and helpful.
Amenities: There were Restrooms but no showers. We didn't use them although they appeared to be clean. Each site had a fire ring, grill and picnic table.
Cellular/WiFi: Verizon and AT&T were both very intermittent while we were there. Sometimes both worked ok but at other times we could not use any data.
Restaurants: Runway Cafe (Angleton) I was aware of this place since my flying days but had never made it there in an airplane. We had to go to Angleton to pick up our mail so we stopped by for a late lunch. The seafood here was very good, especially the shrimp and oysters. I prefer a cornmeal batter and this place used something else but it was still pretty good.
What we liked: The RV sites are spaced far apart and there are many large trees (We had to use our portable satellite dish). The sites are also very wide which is very nice but does present some challenges backing in since you don't have a guideline on one side. Numerous hiking trails with quite a few lakes offering many places to see alligators. On three different hikes we saw over 30 alligators in total – more than we saw in 6 weeks while we visited Florida.
What we didn't like: The park is in a swampy area south of Houston and there are tons of bugs including fire ants and mosquitos.
Nearby Parks: We did not investigate any nearby parks although there seem to be several commercial parks in the area.
Verdict: We would stay here again. Other than the bugs, it was a great park with lots of outdoor activities and plenty of space between the sites. REMEMBER to bring a lot of mosquito repellant!