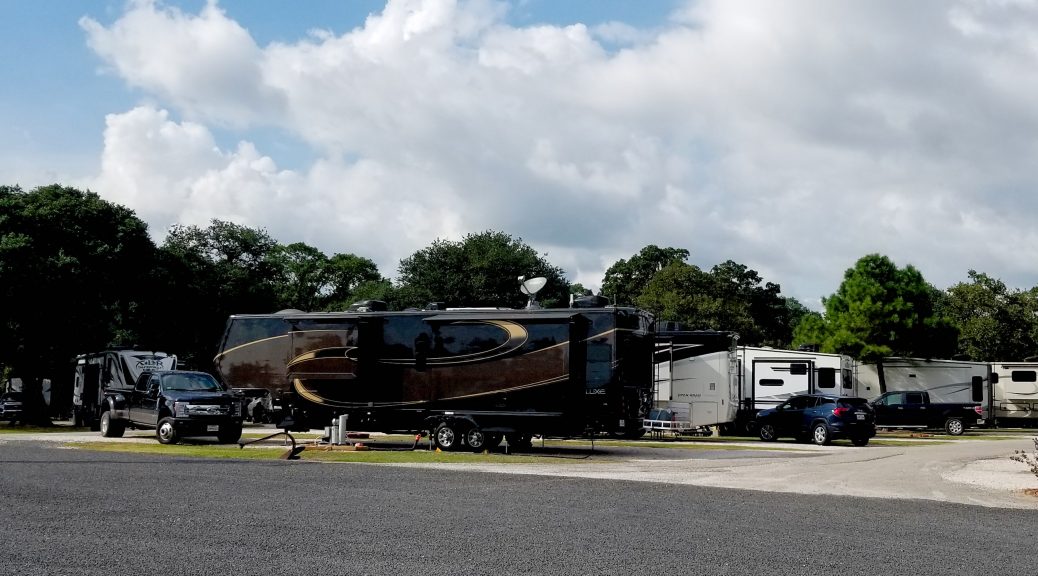 Whispering Oaks RV Park, Weimar, TX
Whispering Oaks RV Park, Weimar, TX
While staying at the Brazos Bend State Park hurricane Delta formed near Cuba. For the second time in two years (we had a close encounter with hurricane Dorian in Florida last year) we were facing a close call with a hurricane. The forecast looked like we should be ok as long as Delta followed the forecast but much movement west could have put us in a bad place with no where to go. Since Brazos Bend is already in the middle of a swamp and there were large (sometimes unhealthy) trees over our rig, we decided it would be best to move a bit further west.
As I write this posting, Delta is still about 3 hours away from landfall and everything has gone as forecast but we still had more piece of mind knowing we were about 90 miles further away. We only got some very minor wind gusts and so far no rain.
While out for a walk, we met our neighbors who had fled the Lake Charles area early the day before. This was the second time they had fled the area in six weeks as hurricane Laura had devastated the same area then. They told us about their barn and other structures being destroyed but luckily none of their animals were seriously injured. They were already looking at more than a year to recover from Laura. It's sad to think what they might go back to after Delta.
Park Review
Rating: ⭐⭐
Site Quality: Gravel pads and roads. Our site was barely long enough for our rig and truck although they advertised 85′ pull-thrus.
Type: Commercial
Access: Easy access from Interstate 10 between Weimar and Columbus at the County Road 219 (Hatterman Ln) exit.
Staff: All staff interactions were great. The staff was very friendly and helpful with places to see and restaurant recommendations in the area.
Amenities: There were Restrooms and showers as well as laundry facilities in the office although we didn't use them. Each site had a small fire ring and picnic table although the sites were pretty close together for a fire ring. They also have 50A sites with full hookups.
Cellular/WiFi: Verizon and AT&T were both good at about 15 Mbps. The park also had a pretty impressive looking WiFi setup and speeds were about 5 Mbps but we didn't try to use it.
Restaurants: Los Cabos Mexican Grill (Columbus) We went here at the recommendation of park staff and we weren't disappointed. They had decent tex-mex with huge portions at reasonable prices. The wait staff was also very attentive.
What we liked: Easy access from Interstate 10. Friendly staff and campers.
What we didn't like: Very close to Interstate 10 and on US-90 so there was a fair amount of road noise at times. There was also a busy train track about 1000′ away which added to the noise, particularly during the day. At night, there were not as many trains. Site length was not as advertised but we made it work.
Nearby Parks: We did not investigate any nearby parks although there seem to be several commercial parks in the area.
Verdict: We would stay here again for an overnight stop if in the area again.