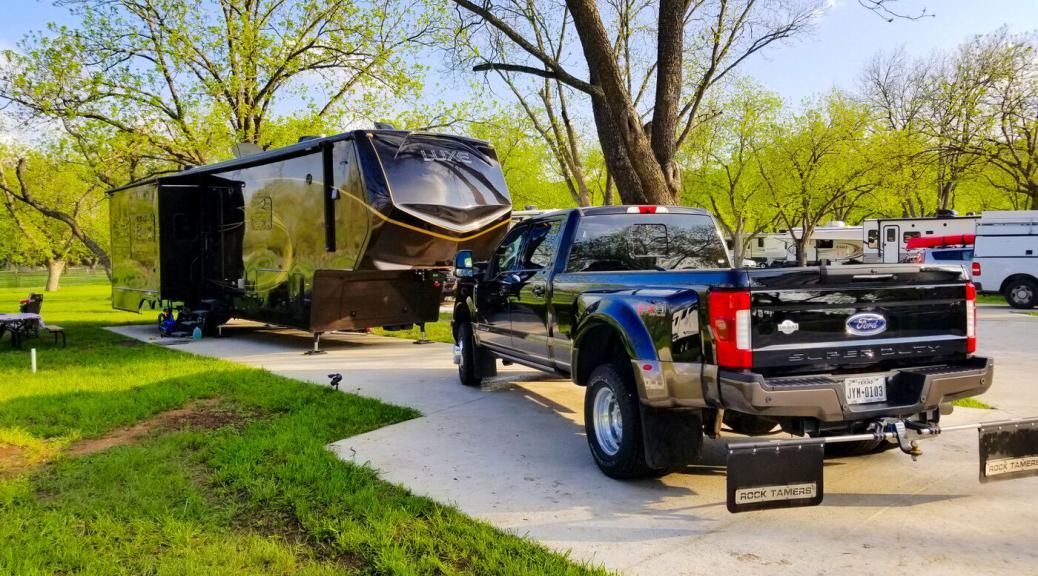 Johnson Creek RV Resort, Ingram TX
Johnson Creek RV Resort, Ingram TX
Yes, we are alive and well! The dreaded virus that has invaded our country has kept us sheltered-in-place for 6 months. Thank you to many friends and family who have reached out to check on us when we had not posted to this blog in quite a while.
We arrived at Johnson Creek RV Resort in mid-March for a planned one month stay before returning to the Austin area for our semi-annual doctor visits. We had been looking forward to getting there because of the beauty of the Texas Hill Country in the spring, opportunities for lots of activities and events, wineries, outdoor areas and a lot of good restaurants but soon realized everything was closing. Just before we arrived we had seen the first of empty store shelves due to the COVID-19 pandemic and we were starting to see some craziness around RV Parks and closures. We quickly assessed the situation and felt that we would be safer sheltering-in-place as a longer term resident. We found the area to be wonderful for a long stay. It had a good hospital along with a nearby Walmart so we updated our reservation extending our stay. We ultimately spent six months here, the longest we have stayed anywhere since we started this adventure.
Although we found the same empty store shelves here off and on and all of the activities in the area cancelled or closed we still found many things to do. The RV park is several miles from town and very peaceful as it is situated along Johnson Creek which joins the Guadalupe River in the heart of Ingram. There are quite a few miniature horses here and our site was backed up to their pasture (which also doubles as a working pecan farm) so we were able to watch their daily activities and learn a bit about their personalities. Some have very dominant personalities and they keep the other horses in line. Five of the females were expecting and eventually had their babies, with only 3 surviving. We have enjoyed watching them play and grow from the size of a large dog to the size of their mothers as their personalities also developed.
The hill country surrounding the park offered lots of beautiful scenery for us to explore and get some needed exercise. We did pretty well with that until the temperatures started reaching 100 degrees! The evenings were often nice just before sunset, especially if they were watering the pecan grove which helped lower the temperatures a few degrees. During August the Neowise comet was visible and we got a few decent pictures of it without a telescope or even a powerful telephoto lens.
We have enjoyed our shelter-in-place here in the hill country making lots of day trips, great visits with friends that came to camp with us, make needed updates and repairs on the trailer, made a quick much needed trip to see the grandkids, and made several new friends. We wish we would have taken more pictures with friends and outings and will have to return when the area is back to normal and bursting with all the fun festivals, markets, rodeos, county fairs, wineries, etc. etc. Jerry has really enjoyed the down time to write a lot of RV (home) automation software for our trailer (future posts coming on all his updates). However, we are cautiously hitting the road again!
Kerrville Area
Kerrville is a nice size Texas town – small enough to be friendly but large enough to have a variety of stores, parks and restaurants. Due to COVID-19, we often got take-out rather than eating-in most of the time although we had some opportunities to do both at times. Most of the pictures below are at the Ridge Marketplace where we went several times. In addition to having good food they also had a store as well as a nursery where you could purchase a variety of plants. It's a very nice place to go when friends came to visit! We wish we would have taken more pictures with all of them!
Ingram
Johnson Creek RV Park is between Mountain Home and Ingram on Johnson Highway. Ingram is home to Stonehenge II, a replica of the famous Stonehenge in the UK. Stonehenge II was built with concrete by two hill country artists originally on their private property but moved and expanded at the location of the Hill Country Arts Foundation in Ingram. There is also an outdoor Theater and a Visual Arts Center on site but they were closed due to COVID-19.
Kayaking on the Guadalupe
For Mother's Day, Anna wanted to get an inflatable kayak so we found one for a reasonable price and size that we could carry in the RV. The pictures below are from our maiden voyage on the Guadalupe river just west of Ingram. We spent a couple of hours that day paddling up and down the river and enjoying all the beautiful scenery and properties along the shore.
Fredericksburg / Luckenbach
We made several day trips to Fredericksburg, about an hour away from our park. The first time was with our good friends Tammie and Peter to pick blackberries. Even though they were already very picked over, we got enough for Anna to make a yummy blackberry cobbler! On another visit we made a reservation, met all the COVID-19 requirements, and spent the day at the Admiral Nimitz museum which is the National Museum of the Pacific War. The museum is packed with interesting facts about Admiral Nimitz and the time period and is a must see if you are ever in the area! From Fredericksburg, going to Luckenbach is just a short 20 minute drive away. We went there for a quick bite outside and to look around at all the memorabilia. There isn't really a lot there but it was fun to visit this famous Texas attraction. One hidden highlight was a wall with patches from law enforcement agencies from all over the country.
Blanco
We took another day trip to Blanco about an hour and a half away to go to the Hill Country Lavender Farm. During the season, you can go through their grounds and pick lavender right from the plants. They also have a small store on site where you can purchase other items made with lavender. After we left the farm we drove back through Blanco taking in the sights along the Blanco river and also the old county courthouse.
Comfort
We took a trip over to Comfort with friends Mary Kay and Chad who came to visit and camp with us for a few days. The Treue der Union Monument (Loyalty to the Union) there was dedicated on August 10, 1866 to commemorate the German-Texans who died at the 1862 Nueces massacre. Thirty-four were killed for refusing to sign loyalty oaths to the Confederacy. With the exception of those drowned in the Rio Grande, the remains of the deceased are buried at the site of the monument. The next stop was a downtown area with shops and restaurants. Chad and I relaxed in the shade while the women shopped. While waiting, a group of probably 20 Ferrari's showed up as well, out for a drive before stopping for lunch at a pizza place down the street.
Park Review
Rating: ⭐⭐⭐⭐
Site Quality: Concrete pads and roads. Our site was long enough for our rig with the truck parked in front of it. For the first five months, we were at #74 which had an extra wide driveway so another vehicle could park beside our truck if needed. Site #74 had lots of shade which was great in the Texas heat but it also prevented us from getting satellite from our rooftop dish. This forced us to buy a portable dish and tripod to get satellite. We had tried the park's cable but the signal quality was bad and the channels were minimal. During our stay, they updated the cable and we understand it was much better although we didn't try the updates. Not all sites had the extra parking area and we had to move to site #79 for the last month, which is one of the sites that didn't. It still had plenty of room for our truck and RV. The best sites are in the southern part of the park (more shade) and the prime sites are on the east side bordering the horse pasture.
Type: Commercial
Access: Just west of Ingram and Kerrville. The best way to get to the park while avoiding driving through town is to take FM 479 south from I 10 to Junction Highway then turn left (eastbound). The park is about 2.3 miles on the right.
Staff: The staff were excellent throughout our stay. They allowed us to extend our stay two different times, moving other reservations around so we could keep the same site for all but the final month. When a circuit breaker for our site and two adjacent ones tripped the maintenance guy came right out and reset it. Within 15 minutes, the owner showed up and he replaced the breaker so we wouldn't have any more problems.
Amenities: There were restrooms with showers and laundry facilities but we didn't use them. There was also the creek, a pool and playground as well as a community building although all gatherings, activities and rallies were cancelled due to COVID-19.
Cellular/WiFi: Verizon (12 Mbps) and AT&T (26 Mbps) were both good. They park had WiFi but we did not use it. The signal at our site was pretty weak.
Restaurants:
Bills BBQ (Ingram) – Very good basic BBQ joint.
Billy Gene's (Kerrville) – Good American food along the Guadalupe river.
Bridget's Basket (Hunt) – Farm to Market restaurant with good options. We ate here for breakfast twice and both times had good food although it is a bit pricey.
Broken Stone Pizza (Kerrville) – Good thin crust pizza along with salad options.
Buzzie's BBQ (Kerrville) – This place had a lot of fanfare but we found it to not be as good as Bills BBQ and quite a bit more expensive.
Cafe at the Ridge (Kerrville) – One of our favorite places in the area. Very good food in a wonderful setting. The outdoor tables are in a nice garden area. They also have a store and nursery (plants).
Camp Verde General Store (Camp Verde) – Historical fort and post office in a remote area south of Kerrville with a nice restaurant and store.
Cowboy Steakhouse (Kerrville) – Family run steakhouse with good appetizers, steaks and seafood.
Hunter House Cafe (Ingram) – Small restaurant associated with the Hunter House Inn. Good Texas diner food.
Isaac's Restaurant (Junction) – We came here at the suggestion of someone in the park. The food was just OK but we didn't find it to be anything special.
Liberty Kitchen (Ingram) – Good "gourmet" burgers.
Mamacita's (Kerrville) – Very good small mexican food chain. Can be a bit pricey but overall worth it if you can eat in the restaurant. We tried takeout but it didn't fare too well due to the distance from the park.
Pasta Bella (Fredericksburg) – Good italian restaurant.
Taqueria Jalisco (Ingram) – This place is a bit of a mixed bag. We really liked their beef fajitas and got them for takeout many times although they didn't have beef fajitas on their menu. Since they weren't on the menu we got slightly different things each time we ordered them. In the end their Guadalajara plate is the closest thing on the menu. We ate in the restaurant once and did not have a good experience – slow service although not at all busy.
The Hunt Store (Hunt) – We got hamburgers there, they were a bit overcooked but were good. This place had been favorably reviewed by one of the Texas magazines but I believe it changed owners just before we went there. Due to COVID, I think it may have changed again before we left.
The Lakehouse (Kerrville) – This was one of our favorite places for seafood (catfish and clams) while we were in the area. We ate in the restaurant once or twice and were happy but most times we got take out due to COVID.
What we liked: Lots of shade under the pecan trees. The owners of the park keep quite a few miniature horses on site which were fun to feed and watch. There was a deer feeder behind our row and we had numerous Axis deer to watch almost every night and sometimes during the day. Johnson Creek flows along the back side of the park and offered nice views, a cool place to swim or wade and also other places to see deer, ducks and to listen to frogs in the evening.
What we didn't like: The pecan trees dropped a lot of pecans, sticks and sap. The only good thing was that the sap washed off easily with just soap and water. Throughout the park were many pipeline workers staying long term. They will likely be in the area throughout 2020. From what other long term campers said, the owners were allowing a lot of the park rules to be ignored – putting 2 trailers in many sites, packing in overflow sites in the parking lots, but mostly not keeping sites picked up and clean. That wasn't a huge issue for us but in the last month when we had to move to another site the guy next to us had a very loud diesel truck. He had to leave anytime between 5:00 – 6:30 every morning and would often leave his loud truck idling for 5 minutes or more. Also, the exercise room was unusable with equipment that was not working and needed repair. We probably would have given the park 5 stars if not for these issues.
Nearby Parks: While we were in Ingram some friends, Chad and Mary Kay, came to visit for a weekend and they stayed at the nearby Buckhorn Lake Resort along I-10. We had considered staying at this park before and were curious about it. When we visited them there we found it was in many ways even prettier than Johnson Creek and it had more amenities including 2 pools, an adult only area and more options for get togethers. The best sites were in the adult only section and along the creek that runs through the park. The member area for permanent residents looked especially nice. There were some negatives however that might prevent us from staying there in the future. First, as expected, there was some minor road noise from the Interstate nearby although it wasn't too bad particularly from the adult section. Second, Verizon service was poor to non-existent. Even when it was working data typically seemed to be at 3G speeds.