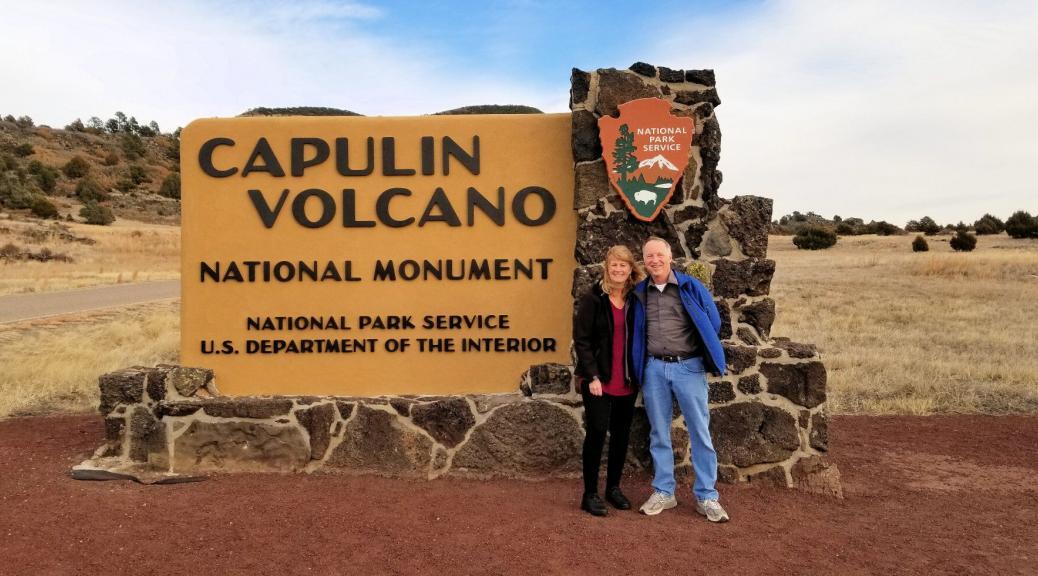 Capulin RV Park
Capulin RV Park
We stayed in Capulin RV Park for 2 weeks in December leaving the RV here while we drove to Colorado to spend a wonderful few days at Christmas with our kids and grandkids.
We arrived in Capulin a week before Christmas so we could experiment with how to operate in the extreme cold weather including finding ways to reduce our propane use so we wouldn't run out while we were away in Colorado. Many days here started out with single digit temperatures, negative degree wind chill and rarely got above freezing for a high. It was just miserably cold weather but it offered a good opportunity to figure out how our RV works in this kind of weather.
Our camp hosts, Mark and Michelle, were extremely nice and kept the park very clean. They went out of their way to make sure we had everything we needed and were comfortable during our stay. We would definitely camp here again because of their hospitality and willingness to watch over our 'home' while we were away. However, the 21 mile drive each way to Raton and back for gas, propane, groceries, etc. made it a bit more remote than we would normally choose (especially since the highway was closed several times for ice and snow storms). We were so glad to leave the area and get back to a bit warmer weather further south.
We only had 2 days of nice sunny weather during our stay. During one, we took a short walk around town (because the town is so tiny!) and visited the general store which held antiques of settlers in the area along with locally made pottery and jewelry. We spent the other one visiting the Capulin Volcano National Park. We had never climbed a volcano before so we were able to add something else to our 'never done before' list. It is a long dormant volcano and is responsible for all the lava formations surrounding the area and all the grey/black gravel in the rv park. From the rim, the views were absolutely stunning and you can supposedly see 5 states. Good thing we went when we did because the next day it was closed because of the Federal Government partial shutdown.
While we were there we had our truck repaired again. One visit to the Raton Ford service determined that 'yes, you do have leaks in the tire pressure sensors and the worst corrosion they had ever seen' so they had to order 2 new rims to be installed. Then, we returned to get the rims installed and it took us an hour to get to the service center because of the ice and snow on the highway (when we got to Raton we found out the road we had just traveled was actually closed at Raton going back to Capulin). Unfortunately, that was the day of a nationwide CenturyLink internet failure so we waited 6 hrs. for the dealership to figure out how to connect with Ford to get approval for our warranty work. It took a good deal of arm twisting to convince the service manager that there had to be a way. Finally, he drove across Raton pass to Trinidad so that he could send the necessary information to Ford via another dealer. So far so good with the new rims, until the corrosion builds again as they used the exact same parts that caused the original issues. Although we didn't enjoy waiting for so long to get it fixed, the reality was that the road going back to Capulin was closed that entire time. It only reopened just about the time our repairs were done.
Enjoy our pictures of the tiny town of Capulin and Happy New Year!
Rating: ⭐⭐
Location: Capulin, NM
Site Quality:  Gravel roads and pads. The gravel was somewhat difficult to walk around on and it was both muddy and snow covered for much of our stay. There were pull through sites along the back side of the park with back in sites at the front nearest the highway. 
Type:  Commercial
Access:  Easy access from highway 87.
Staff:  The owners Mark and Michelle were very hospitable while we were there.
Amenities:  Full hookups, showers with restrooms, laundry facilities. The shower/restroom facilities were great with private rooms and nice clean facilities.
Cellular/WiFi:  AT&T and Verizon 2-3 bars without amplification. Data rates were decent on both Verizon and AT&T. WiFi was available but we did not use it.
What we liked: Small well kept park. Family run. Sites were fairly spacious and we were often the only one in the park in December. We felt safe and secure there even leaving our rig for a few days to go to Colorado for Christmas.
What we didn't like: There isn't much to do in Capulin short of going to the nearby volcano. Although there is a store within walking distance, it has limited supplies. The nearest groceries, restaurants (with one exception) and propane is in Raton nearly 30 miles away. It can be quite cold and windy in that part of New Mexico during the winter.