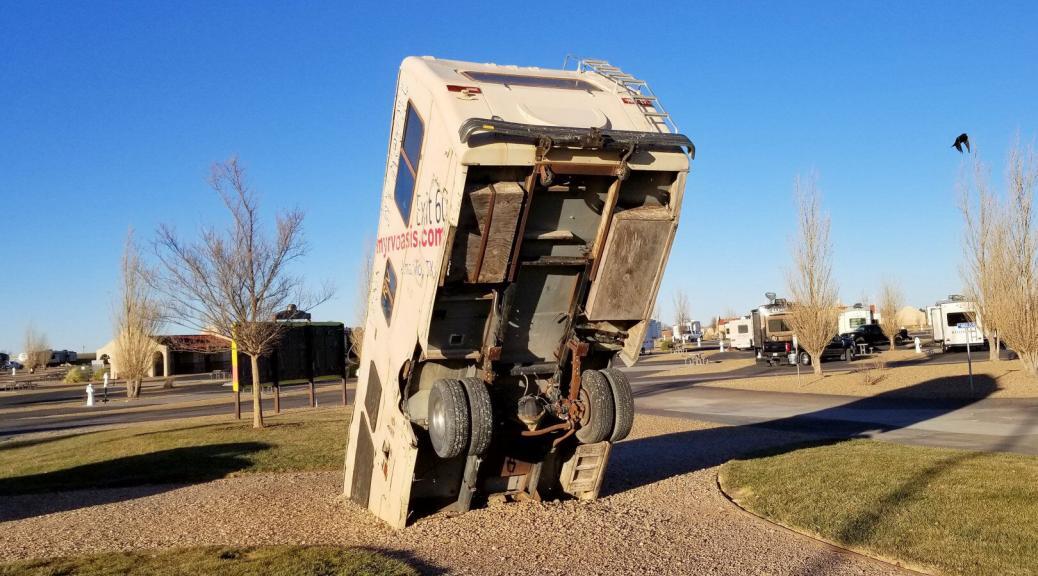 Oasis RV Resort
Oasis RV Resort
We stayed at Oasis RV Resort in Amarillo, Texas for a week in December as we made our trek west. There was a mall and some larger stores there so we could do some shopping for Christmas. This was a very nice park with lots of space, amenities and it was well maintained. There were no trees so staying here in the summer would be very hot but for this cold and windy time it was a good find.
The first day there we had to go to The Big Texan Steak Ranch! We had been there before when passing thru. It has a great variety of steaks and that was what we were hungry for. It advertises that if you can eat a 72 oz steak and all the sides in 1 hour then it is free. There is an elevated table set up with timers in the front of the restaurant for anyone who want to take the challenge. We did not even try! The whole ranch is a fun place to visit. There is a line of limousines with longhorns mounted on the front to shuttle people to and from the ranch. Inside is an over-the-top western decorated restaurant, a gift shop, western arcade and large desert counter.
One of the iconic stops in Amarillo is the Cadillac Ranch along I-40. There are no signs for it and it is very easy to drive right by as you are traveling along except for a line of 10 half buried older model cadillacs in the middle of a field. Originally created in 1974 as part of an interactive public art display it has been featured in movies, music videos, album covers, etc. People park along the side of the road, enter thru an unlocked pass thru in the fence, grab a can of spray paint and add another layer of graffiti. So that's what we did too!
As it was the Christmas season, we were excited to see the beautiful display of Christmas lights at Christmas in the Gardens in Amarillo Botanical Gardens. The night was cold but we enjoyed all the colorful displays throughout the different gardens. We have included quite a few pictures because it was so pretty. A great way to get in the Christmas spirit!
In the middle of our stay we had a strong cold front come thru. Although the temperature didn't drop dramatically, the winds were crazy. By 2 a.m. we were having gusts to over 60 MPH so we had to close all our slides, lower our DirecTV dish and hunker down inside for the rest of the day while we waited for the front to pass. Around 8 p.m. we were able to open our slides back up and enjoy moving around our trailer again!
Rating: ⭐⭐⭐
Location: Amarillo, Texas
Site Quality: Asphalt roads with concrete pads. There were mostly pull through spots although there were also back in spots around the edges of the park.
Type: Commercial
Access: Easy access from Interstate 40 from the Arnot road exit (exit 60). Go south on Arnot Rd. to the park. Some parts of Arnot Rd. near the Loves travel center are very bumpy.
Staff: All staff we met were friendly and helpful.
Amenities: Full hookups, dump station, LP gas on site, swimming pool, two spas (one adult only), exercise room, playground, several showers and restrooms each with laundry facilities. The shower/restroom facilities were great with private rooms and nice clean facilities. The laundry machines were small – similar to the ones we have in our rig. Free Cable TV with over 20 channels was available but we did not use it. On site store. Rec Hall furnished with a cozy sitting area, television, pool table, ping pong table and kids play area.
Cellular/WiFi: AT&T and Verizon 3-4 bars without amplification. Data rates were about 9 Mbps on both Verizon and AT&T. WiFi was available but we did not use it.
What we liked: Large well kept park. Sites were fairly spacious and there were many empty sites in December. This was interesting because many of the other parks in the area seemed to be pretty full. Weekly rates were very reasonable. Lots of stores and restaurants nearby.
What we didn't like: The park is pretty barren with only small trees and bushes. The park would be quite hot during the summer.