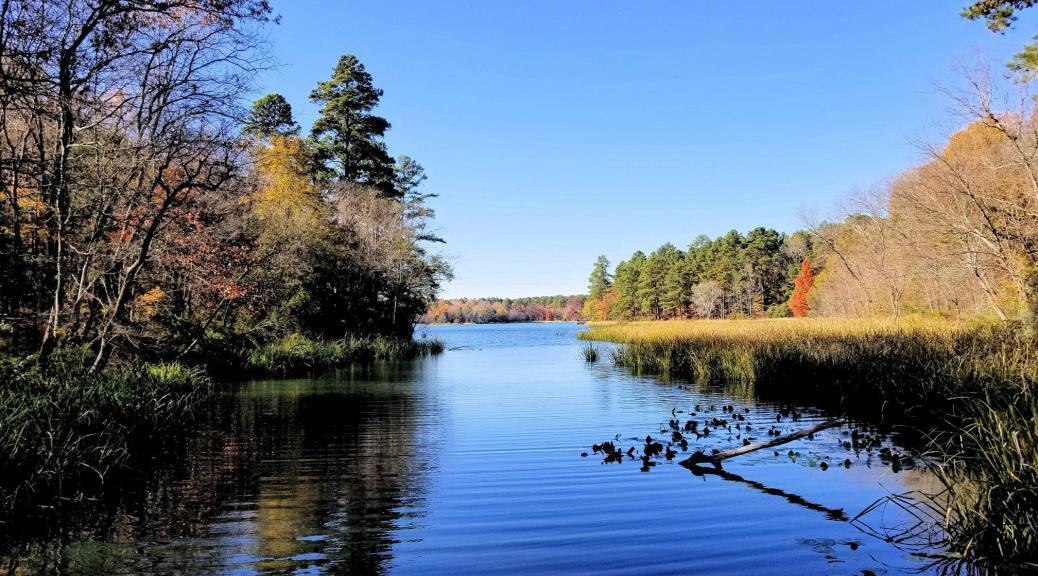 Tyler State Park
Tyler State Park
We loved our 5 night stay at Tyler State Park. Gorgeous fall colors with cool, clear days and chilly nights that were perfect for campfires. We arrived at the end of the weekend and stayed thru the week so the park was almost empty. Daily nature hikes and bike rides with lots of hills and trails made us glad to back to nature once again.
Several animal friends came by this visit but thankfully no snakes! Curious armadillos along the trails and extremely friendly raccoons, which got way to close while we were enjoying our campfires for Anna's taste .
We met a very nice couple that have volunteered in the park thru many seasons. They explained how to get signed up and the work requirements. Turns out state park volunteers receive free campsites with utilities included. We want to eventually sign up to be volunteers at different state parks and take advantage of the benefits after we have traveled for a while.
We had vacationed here more than 25 years ago and loved it. Fond memories of our stay with fishing, hiking and one of the first time tent camping with the boys when they were little.
We will definitely come back here and hopefully stay longer!
Rating: ⭐⭐⭐⭐1/2
Location: Tyler, Texas
Site Quality: Asphalt roads and pads. There were both pull thru and back in spots although all 50A sites are pull thru.
Type: State Park
Access: About 2 miles North of Interstate 20 with easy access to the park. Use caution within the park as the most direct route to the trailer campsites (area 1 and 2) requires crossing a bridge with a 12,500 pound tandem axle limit. To get to those areas you need to go all the way around the park (clockwise) if you are over the weight limit like we are. We were not told about this when entering the park.
Staff: All staff we met were friendly and helpful.
Amenities: Full hookups, lots of hiking and bike trails, swimming beach, paddle boats and kayaks, playground, bath house and restrooms. Small no wake lake within the park.
Cellular/WiFi: AT&T and Verizon 2 bars without amplification. Data rates were about 12 Mbps.
What we liked: We stayed in the fall and the fall color was beautiful. During the week the park was not very busy. Lots of trails available for hiking and biking.
What we didn't like: Some distant road noise from Interstate 20. Sites were small for a rig our size and well placed large rocks meant to keep people from driving on the grass made it very difficult to maneuver into and out of the site.