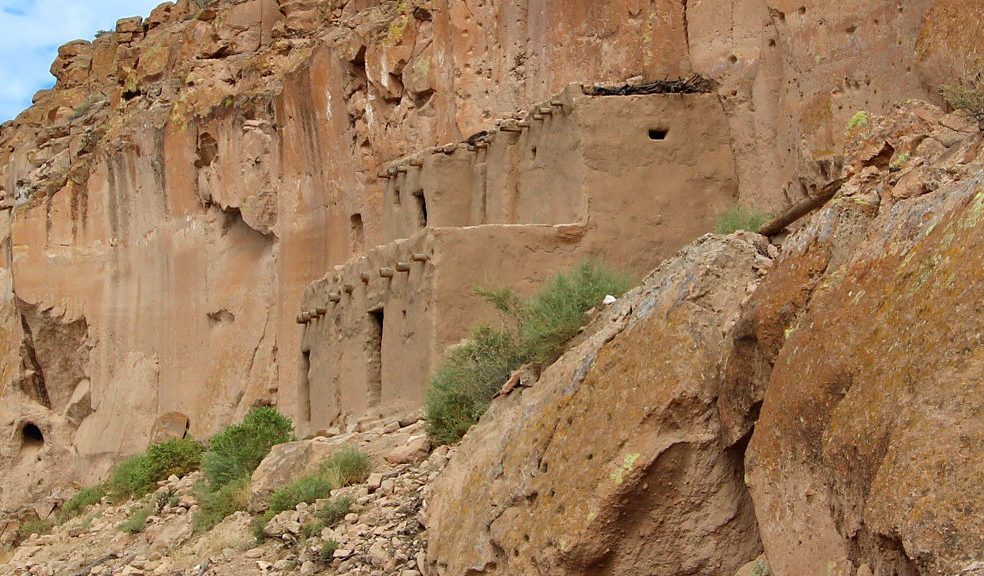 Puye Cliff Dwellings
Puye Cliff Dwellings
The Puye Cliff Dwellings were home to 1,500 Pueblo Indians who lived, farmed and hunted game there from the 900s to 1580 AD. Puye Cliffs' inhabitants then moved into the Rio Grande River valley due to drought. They became the ancestors of today's Santa Clara people, who now live at Santa Clara Pueblo, 10 miles east of Puye.
Puye Cliffs comprises two levels of cliff and cave dwellings cut into the cliff face, as well as dwellings on the mesa top. Over one mile long, the first level runs the length of the base of the mesa. The second level is about 2,100 feet long. Paths and stairways were cut in the face of the rock to connect the two levels and allow people to climb to the top of the mesa.

Representing early Pueblo architecture, cave dwellings on the mesa top were part of a single, multi-storied complex built around a large, central plaza. While the total number of rooms is unknown, the south part of the complex had 173 on the ground floor and multiple stories in various places, similar to modern-day Taos Pueblo.
While we heard that reservations would help ensure a tour during the busy summer months we were the only people for the 10AM tour. It was a great time to visit as the temperature was also great (mid 70's to mid 80's by the end of the tour) and we had a great time imagining how difficult it must have been for the Indians who lived in these dwellings. Up to 30 or 40 people lived in a single dwelling smaller than our RV, sleeping on the ground and sharing space with a small fire to keep warm in the winter.