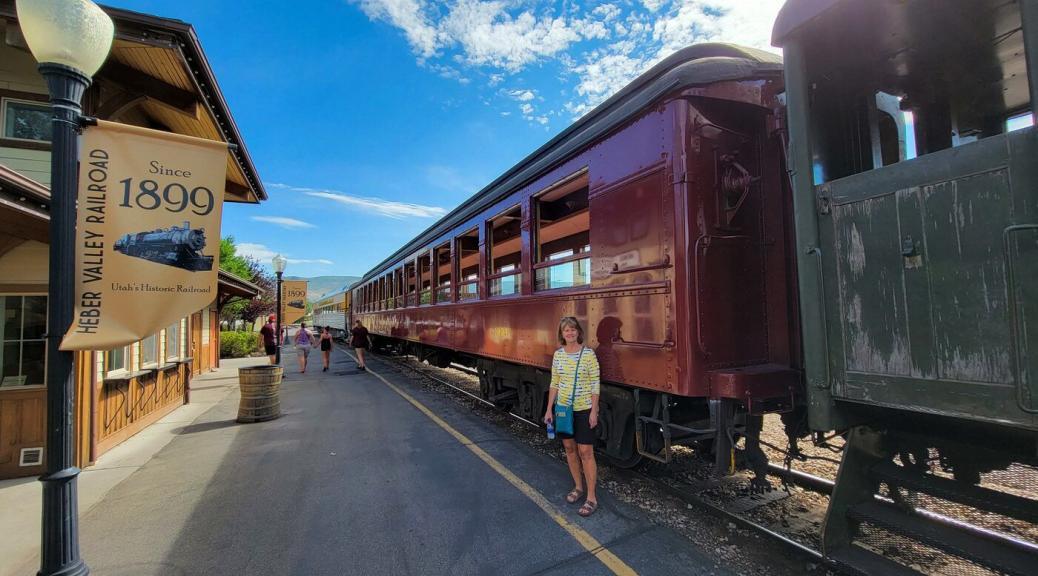 Heber City, UT
Heber City, UT
Although it was hot in Utah during 2021, this park is one of the nicest we have stayed at and would be great for an extended stay in the summer months assuming that temperatures were more normal for the area. The town itself caters to tourists but has not gotten quite as busy and as pricy as other nearby cities like Park City. In many ways it's still a small to medium size city with a lot of small town charm. During the summer they have a weekly food and craft market in their Main Street Park along with some good music. While we were there Tony Holiday a respected blues musician from Memphis performed free to the public. There are also plenty of restaurants and stores in the area including a Super Walmart.
Alpine Loop Scenic Backway
For a day trip we drove through the Alpine Loop Scenic Backway. Although this byway is called a loop, it is really a straight highway through the mountains from US highway 189 to Cedar Hills Utah north of Provo. This 20-mile drive winds through rugged alpine canyons of the Wasatch Range offering stupendous views of Mount Timpanogos and other glacier-carved peaks. The route follows Utah Hwy. 92 from Provo Canyon through Uinta National Forest and then through American Fork Canyon. Along the route, we also took a short detour over to Cascade Springs. This mountain spring is crisscrossed by a 1/4-mile boardwalk, leading out over clear natural pools and cascading terraces filled with fish and aquatic plants. Timpanogos Cave National Monument and Robert Redford's Sundance are also located along the route. Most of the route is through a National Forrest area and an entrance fee of $6 will be collected unless you have a valid National Park pass.
Heber Valley Artisan Cheese
We found that there was a small family dairy farm and creamery located in the quaint community of Midway just outside Heber City and decided we needed to take a trip there to buy some of their ice cream and cheese. We learned they also had daily tours of the dairy farm and we thought that would be interesting and might take us out of our comfort zone. Well, at least the smells of a farm will take you out of your comfort zone!
We learned that the Kohler family has run this farm for nearly 100 years. When they started out there were nearly 200 similar farms in the Heber Valley and now there are only 2 left. With the price of land in the valley skyrocketing, expanding is not an option so they invested in some of the first robotic milking machines in the western US. Being in high tech most of my career, I thought OK this is right up my alley! Of course there is a lot of technology behind a machine that can use a 3D camera to automatically place the teat cups, sanitize the teat before milking and even analyze the health of the cow every time they come to milk but that wasn't even the most interesting thing.
The cows come to the milking stations whenever they want to. There is no need for a person to guide them there or do anything unless the equipment detects something wrong. Then it will send a text to the person on call to go handle whatever situation they need to take care of whether it be medical care or artificial insemination of the cow. Cows are tracked by a tag attached to each animal so that the computer knows who they are. The computer tracks everything about each cow in real time and can provide a wealth of statistical information back to the dairy farmer. After a cow is milked it gives them a small treat to reinforce the behavior. Some cows get wise to that and try to re-enter the system for another treat but the computer recognizes that and releases the cow without giving her another treat. Who knew dairy farming had become so sophisticated and that the cows do a lot of the work.
Oh yeah, the ice cream and cheese curds were also yummy!
Memorial Hill
Memorial Hill is a small park on a hill near Heber Valley Artisan Cheese that is dedicated to those who have served in any United States military conflict while a citizen of Wasatch County Utah. The original project was completed about 1927. It was humbling to see how many of the locals participated in various wars many of them giving their lives for our country. From the top of the hill you can see the entire Heber Valley.
Provo Canyon Train Ride
Just before leaving the area, we took a train ride from Heber City, down Provo Canyon to a place called Vivian Park. Although the rail cars were from the steam engine days, we were pulled by a modern diesel locomotive. The trip passes Deer Creek reservoir and then runs alongside the Provo river until you reach Vivian park for a short stopover before returning back along the same route. The scenery was gorgeous even though the area has been subjected to sever drought for the last few years. The lake is visibly low including large areas that are completely dry that should be under the lake.
Park Review – Mountain Valley RV Resort
Rating: ⭐⭐⭐⭐⭐
Site Quality: Picnic tables at each site, concrete pads and asphalt roads. Well landscaped for a commercial RV park.
Type: Commercial
Access: Easy access off US-40 on the south side of Heber City.
Staff: We had minimal interaction but check-in was smooth and efficient and the staff was very friendly.
Amenities: Laundry, restrooms and showers. General Store onsite with RV supplies, and camping goods. Dog park as well as a playground for kids. On-Site Propane. Three pools including one for adults only with a hot tub. RV wash area.
Cellular/Wi-Fi: Wi-Fi is available in the park although we didn't use it. AT&T and Verizon were good.
Restaurants: Back 40 Ranch House Grill – A farm to table restaurant on the north side of Heber City offering everything from Burgers to fish to tacos. Definitely worth a visit in the area. Don Pedros Family Mexican – Decent mexican food although we didn't care much for the seafood enchiladas. OG Cafe – Although we didn't eat there we did stop by for coffee. What's unique about them is they offer 6 different sizes ranging from 8 oz. to 32 oz. and the coffee was great. My kind of place!
Nearby parks: We didn't investigate other parks nearby.
What we liked: Convenient access. Nearby Walmart and other stores and restaurants.
What we didn't like: Our site was a bit short for our rig and truck.
Verdict: Great place for a short or long term stay in the summer but book early.
We stayed on site M2 which was a bit tight for us because of trees beside the site that limited where we could park. When the truck was parked it was actually just barely in the road in front. Sites U1-U17 are longer and would be better but they are still in the family section. The section to the bottom and to the right of the map are the adult long term sections and would be ideal for a long term summer stay but you have to book early! Other areas would likely be to small for our 40′ Fifth Wheel and the truck.