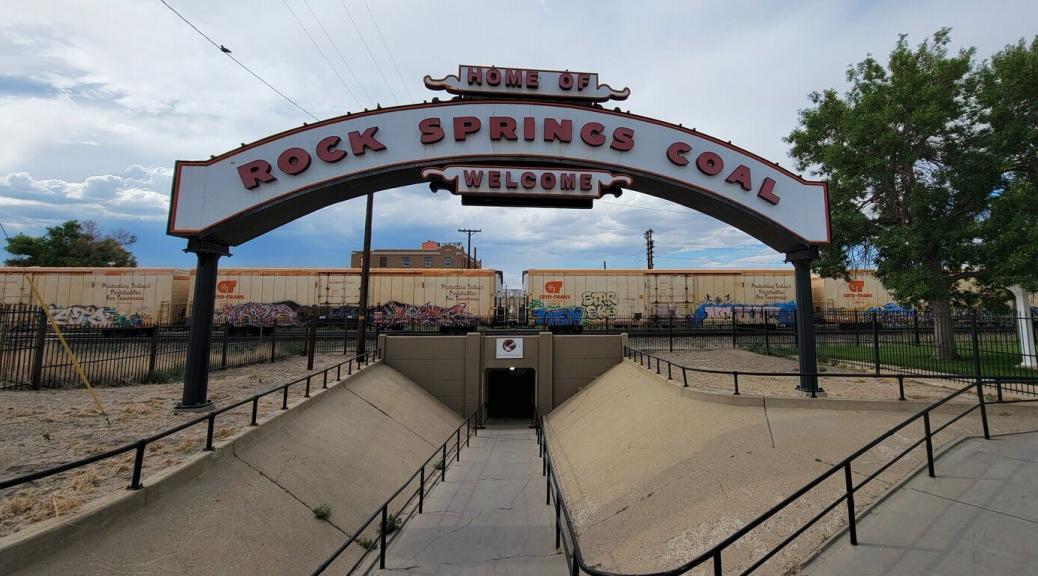 Rock Springs / Green River
Rock Springs / Green River
We stopped in the Rock Springs / Green River area for 5 nights after leaving Laramie, WY. Rock Springs in particular has a lot of restaurants and stores including some of the big name stores so it's a good stop for things like that. Despite the fact that Escapees was having their 2021 Escapade going on in the large Sweetwater Events Complex which has over 1200 full hookup RV spaces that area wasn't crowded. Although we are Escapees members, we booked the site here before we knew that the Escapade would be going on and we got there a day or two late. One of these days we'll make some of the big RV get togethers like Escapade but so far we just aren't big fans of large crowds. With so many full hookup sites, Rock Springs would have been a good place to try one out.
Of the two cities, Green River seemed like it might have been a place we should have spent more time in. It was a bit smaller and had less stores and restaurants but it felt a bit more homey. In addition to the towns and visiting museums and restaurants there is also a lot of geologic and historical sites to visit nearby.
Boar's Tusk
Boar's Tusk is the core of a long dormant volcanic eruption that rises 400′ above the valley floor. As the remainder of the volcano was reduced by erosion, the core was all that remained. The Lamporite material that makes up the feature dates back 2.5 million years. This feature is about 30 miles north of Rock Springs and about 17 miles out into the desert. A high-clearance vehicle is recommended for the dirt access road.
Immigrant Trails
Many of the trails used by immigrants during the late 1800's to migrate west pass through this area. The Oregon, California, Mormon and Cherokee trails all passed through the area, most following highway 28 north of Rock Springs. The Overland Stagecoach trail and the Pony Express route also passed through the area. Finally, the Union Pacific Rail route followed the path now used by Interstate 80 which we followed west toward Utah. The path of some of these trails can still be seen going across the desert.
Flaming Gorge
The Flaming Gorge reservoir is created by the Flaming Gorge dam and it extends about 90 miles up the Red Canyon toward the city of Green River. It was named by John Wesley Powell in 1869 after seeing the red sandstone cliff seen in the second picture below. The dam itself is about 502′ high and 1285′ long. The scenery along the lake is gorgeous and becomes more green and lush the further south you go. The trip starts from the north in Wyoming and ends up in Utah on the southern end by the dam.
Swett Ranch
The Swett ranch (on the southern end of the lake) was one of the last claims in the Homesteading Act of 1862. Here you can see what was necessary to make a living in the early 1900's in a remote and rugged part of the frontier west. This homestead, listed on the National Register of Historic Sites, was constructed by Oscar Swett in 1909 when he was just 16 years old, and contains two cabins, a five room house, a meat house, root cellar, sheds, granary and barn. Oscar worked this ranch with horse powered equipment even through the 40's, noting that "horses don't break down and require a mechanic." His 'modern' bathroom, a late addition, was not connected to the inside of the ranch house because Oscar felt that was not proper! Oscar and Emma Swett raised 9 children on the ranch and lived on the ranch until 1968 when it was sold to a land developer. Eventually the Forest Service purchased the site and it was opened to visitors.
Sheep Creek Scenic Byway
The Sheep Creek Geologic Loop road follows Sheep Creek into the mountains west of Flaming Gorge Reservoir and was a great diversion along the Flaming Gorge Scenic Loop. It forks from Hwy 44 about five miles south of the town of Manila and follows the visually dramatic Uinta Fault then loops back to Hwy 44. An interesting display of unique rock formations can be seen along the fault, including towering monoliths along with rock that has been fractured, jumbled, and discombobulated. A sizable herd of Rocky Mountain bighorn sheep live in the Sheep Creek area and animals can often be seen from the road. Deer and elk are common here, along with other kinds of wildlife although we only saw a few bighorn sheep.
Flyby
On our return north from visiting the Flaming Gorge we encountered something we had never seen before. Our dash camera captured the action as an airplane flew by us very close (it was much closer than it appears in the picture). At first we though it was trying to make an emergency landing in front of us but in the end, it appeared he was just out having fun.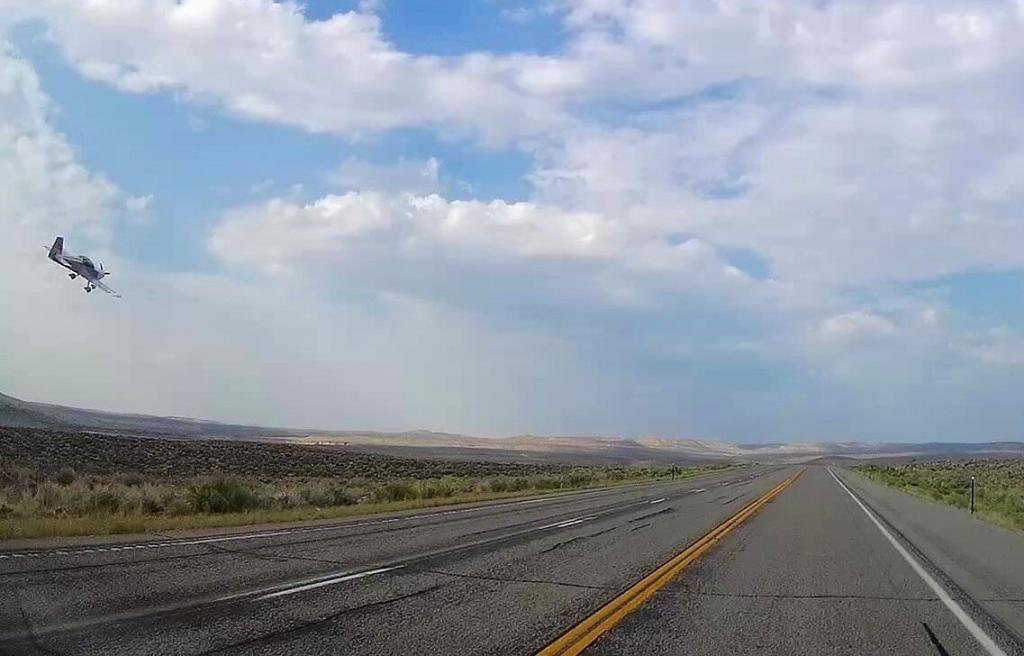 Park Review – Rock Springs / Green River KOA Journey
Rating: ⭐⭐
Site Quality: Picnic tables at each site, gravel pads.
Type: Commercial
Access: Easy access off I-80 (exit 99) on the west side of Rock Springs. The park is along the interstate but you have to take Foothill Blvd from exit 99 back to the east to get to the entrance.
Staff: We had minimal interaction but check-in was smooth and efficient and the staff was friendly. I filled one of our propane tanks and that also went smoothly.
Amenities: Laundry, restrooms and showers. General Store onsite with RV supplies, and camping goods. Dog park as well as a playground for kids. On-Site Propane.
Cellular/Wi-Fi: Wi-Fi is available in the park although we didn't use it. AT&T and Verizon were decent.
Restaurants: Casa Chavez Mexican Restaurant was decent Mexican but wasn't the TexMex we're used to. We had trout at the Red Canyon Lodge along the Flaming Gorge scenic byway and it was good although a bit expensive for what we got.
Nearby parks: We didn't investigate other parks nearby.
What we liked: Convenient access, right along the I-80. Even though there are major train tracks nearby there was minimal noise. There was some noise from the interstate however.
What we didn't like: They alternated the direction of RV's for each site resulting in two units sharing the same utility area (although there were separate connections, they weren't shared). This also resulted in two units sharing the same narrow area for picnic tables. This area was barely wider than a picnic table. All this gave them more sites but left us feeling extremely crowded. In front of the park is a large petroleum storage area.
Verdict: Good place for a night maybe a few if you're in the area and nothing else is available.