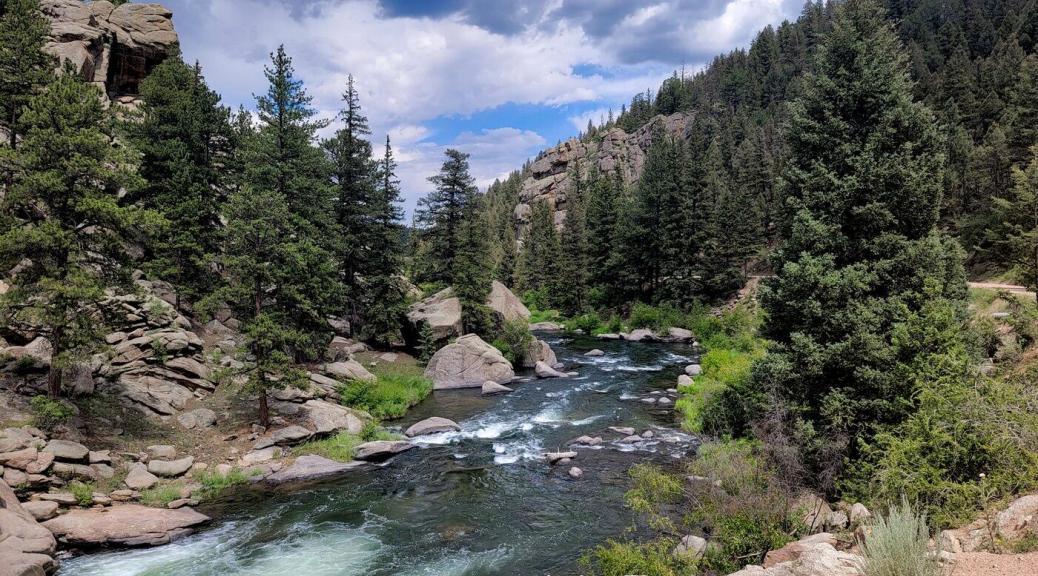 11 Mile Canyon, Lake George, CO
11 Mile Canyon, Lake George, CO
The Eleven Mile Canyon Recreation Area is located below the dam of the Eleven Mile Reservoir near Lake George, CO. While driving the narrow, dirt road that passes through the canyon, you might not realize you were driving on a piece of history. This particular road was once the Colorado Midland Railroad, long before the dam and reservoir were built. The Colorado Midland Railway, incorporated in 1883, was the first standard gauge railroad built over the Continental Divide in Colorado. It ran from Colorado Springs to Leadville and through the divide at Hagerman Pass to Glenwood Springs and Grand Junction.
Eleven Mile Canyon cuts through the plain holding the South Platte River in its rocky bottom. As the river is unleashed from the dam above, its twists and crashes against huge boulders lining the canyon floor. A canopy of large trees provides a screen of shade that floats across the canyon with the moving sun. Eleven Mile Canyon is an unexpected paradise. Activities here include camping, climbing, picnicking, hiking, fishing and swimming to name just a few.
Camping — 4 campgrounds are located within the park: Cove Campground, Riverside Campground, Spillway Campground, and Springer Gulch Campground. Reservations are required. Dispersed camping is not permitted anywhere in the park.
Climbing — Experienced climbers can select from trad and sports routes that include moderate to hardman. Low-angle domes are found on select routes.
Picnicking — There are 4 specified picnic areas within the park: Eleven Mile, Idlewild, Messenger Gulch, and O'Brien Gulch. These areas are maintained by the park and offer family-friendly recreation.
Hiking — You can spend the day hiking the Hard Rock Interpretive Trail or Overlook Trail. Both trails are on the shorter side and accessible to people of all ages and skill levels. Those looking for something more challenging can explore a range of other trails within the area.
Fishing — A popular fishing destination, the Canyon holds rainbow, brown, cutthroat, kokanee and pike. Fly fishing is also popular here. You can throw your line out from the shore, or enjoy some quiet time on your boat
The Eleven Mile Canyon Recreational Area is located off of County Road 96 in Lake George, off of US Highway 24. After getting off on County Road 96, travel 2 miles until you see the fork in the road. Veer right, and it will lead you into the canyon.