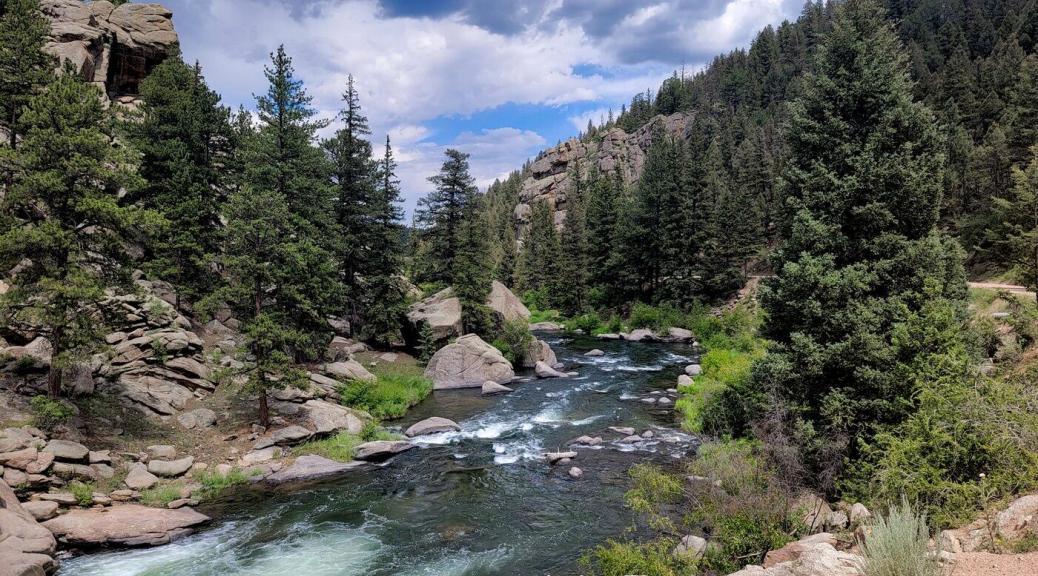 11 Mile Canyon, Lake George, CO
The Eleven Mile Canyon Recreation Area is located below the dam of the Eleven Mile Reservoir near Lake George, CO. While driving the narrow, dirt road that passes through the canyon, you might not realize you were driving on a piece of history. This particular road was once the Colorado Midland Railroad, long before the dam and reservoir were built. The Colorado Midland Railway, incorporated in 1883, was the first standard gauge railroad built over the Continental Divide in Colorado. It ran from Colorado Springs to Leadville and through the divide at Hagerman Pass to Glenwood Springs and Grand Junction.
Eleven Mile Canyon cuts through the plain holding the South Platte River in its rocky bottom. As the river is unleashed from the dam above, its twists and crashes against huge boulders lining the canyon floor. A canopy of large trees provides a screen of shade that floats across the canyon with the moving sun. Eleven Mile Canyon is an unexpected paradise. Activities here include camping, climbing, picnicking, hiking, fishing and swimming to name just a few.
…