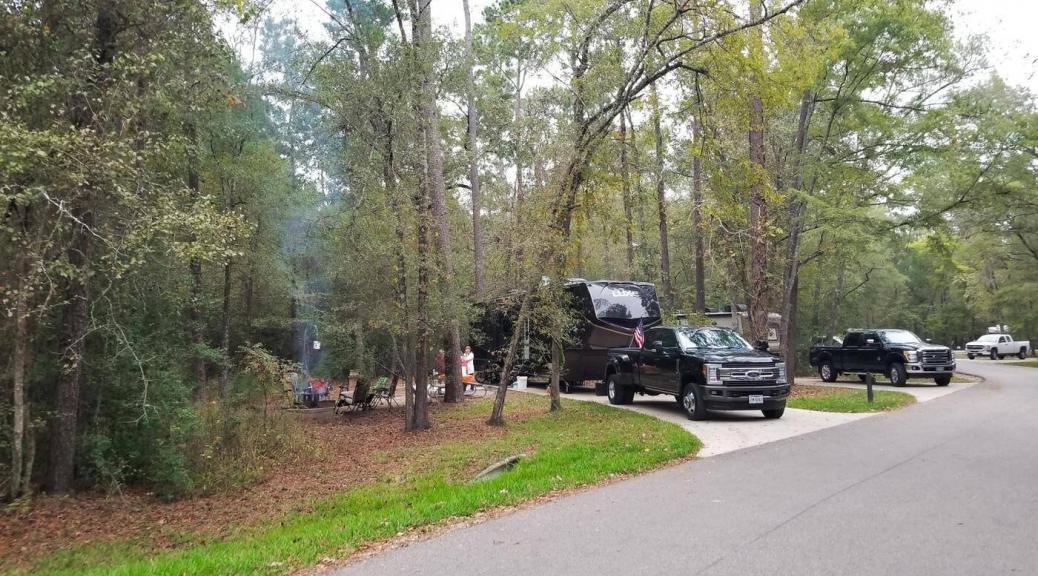 Lake Livingston State Park, Livingston, TX
Lake Livingston State Park, Livingston, TX
As many of you know, Livingston Texas is where we officially live. We travel here to take care of business at the tax assessor's office as well as to vote. Exercising our privilege to vote, in person, was the reason for this trip. When here previously we have stayed several times at Escapees Lands End and we have stayed at the nearby Onalaska KOA. Both are nice parks and have several good points for staying there but we wanted to try something different this time and we weren't disappointed. Lake Livingston State Park is one of the nicest state parks we have stayed in while in Texas.
Other than going into town to vote, get our mail, fill one of our propane tanks, and hike a few trails we spent most of our time visiting with family and friends. My sister Jan and her husband Chris were staying on a nearby site (they also officially live in Livingston while full time RVing) as well as friends Tammie and Peter who live nearby in the Houston area come for the week as well. Friends from Round Rock, Chad and Mary Kay also joined us late in the week for a few days. Each of us contributed to each evening meal and we ate VERY well. It was great spending time with everyone and enjoying evening campfires. We also had a great visit with friends Steve and Martha who drove in for a few hours.
The park is very nice however longer sites are very limited so book early! We stayed in site 25 in the Yaupon loop which is the longest site in the park at 74 feet. That site is our preferred one as we got satellite from our rooftop antenna and we also had a large area on our door side for larger groups to hang out. The next door site is a bit close, particularly their picnic table but in this case they were friends Tammie and Peter so that worked out well.
If site 25 is not available, site 34 should work at 69 feet particularly if we could hang over the back a few feet. Sites 8 or 14 might work at 64 feet each assuming we can hang over the back of the site far enough (8-10′). If in site 14 we probably couldn't use the fire ring if we extended in the back as the fire ring is right behind the pad. All of these are also in the Yaupon loop.
11/6/2020: Although we have a few more new places we plan to camp this year, they will all be one night stops. Longer term spots are places we are returning to to visit family and we have already blogged about. We will post reviews of the one night stops but will likely turn off the email notifications that get sent out since I think the park reviews are mostly interesting to us. This means you probably won't hear much more from our blog until 2021. We hope that COVID-19 will allow for a more normal travel situation but right now that isn't looking to positive either.
Park Review
Rating: ⭐⭐⭐⭐1/2
Site Quality: Asphalt pads and roads. Our site (25 in Yaupon loop) was long enough for our rig and truck but it was the longest site in the park. There are only 3 other sites potentially long enough for us but only if we can hang over the back of the site. Each site had a picnic table, lantern hook and fire pit.
Type: State Park
Access: Easy access from US highway 59 to the east or US highway 190 to the north. There are several two lane country roads to get to the park but they were all fine for our rig.
Staff: The staff was very friendly at check in but that was our only interaction with them. We did speak to a park police officer one night and the next morning after someone tried to steal bicycles from my sisters site. He was nice enough to take a report although there was likely little he could do.
Amenities: There were Restrooms with showers but we did not use them. There were also numerous trails throughout the park.
Cellular/WiFi: Verizon and AT&T were both good.
Restaurants: We didn't eat out while staying in the park.
What we liked: We were sad we couldn't fit into a site along the lake shore where we could have seen the sunsets but after being there those sites got a lot of cold wind. Our loop didn't have much wind due to the trees. From site 25 we got satellite reception from our roof mounted dish. Many other sites would likely not have had coverage. All sites we could fit are full hookup.
What we didn't like: The front gate is not secured at night and we did have an attempted theft incident while in the park.
Nearby Parks:
Wolf Creek Park – Recommended by Kay and Darrell is on the West side of the lake and run by the Trinity River Authority. Closed November 30th to March 1'st and reservations can only be made 60 days in advance. We are told they have longer sites than the state park.
Rock'n E RV Park – Has good reviews but not on the lake, commercial
Verdict: We would stay here again although there are only about four sites we could potentially fit into. Of those site 25 in the Yaupon loop is best.