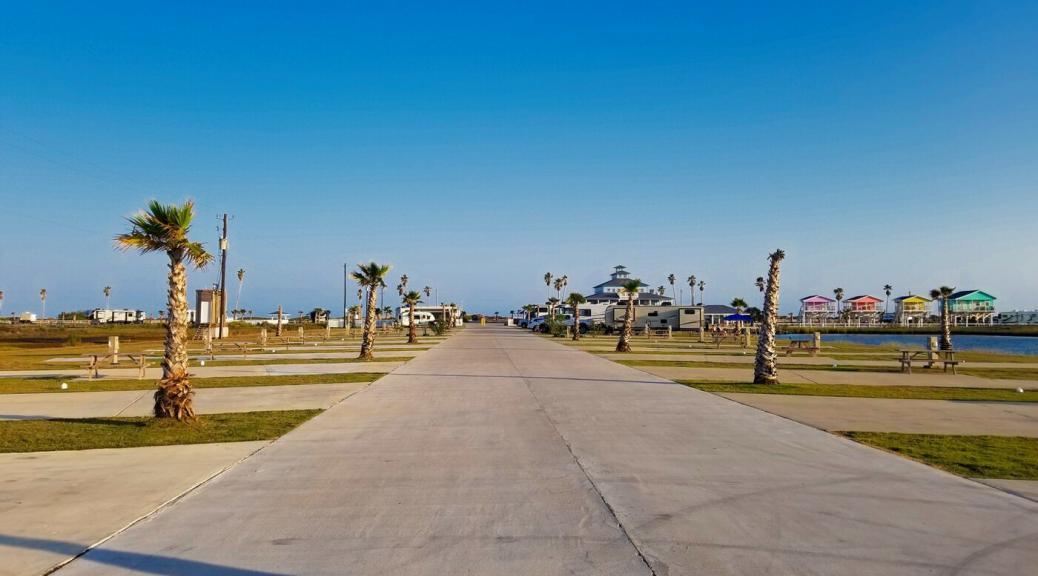 Blue Water RV Resort, Freeport, TX
Blue Water RV Resort, Freeport, TX
The Blue Water Resort is on a barrier island (also known as Follets Island) between Freeport Texas and Galveston Texas. This area is very close to where explorer Cabeza de Vaca was believed to have come ashore in Texas in November 1528. Not unlike other coastal areas we have visited, the area has been the victim of several hurricanes including three this year that caused some destruction and erosion of the beach. Beaches in this part of Texas are known to be less inviting than other areas of the gulf including Florida, Alabama and even south Texas but they were less inviting this year because of the storms. Unlike other coastal areas we saw some unexpected things here including cactus growing in and near the beach areas, cattle grazing in fields on the barrier island, and rattlesnakes. Although we didn't personally see any of the rattlers, two were spotted in the park while we were there. We were glad we didn't run into any.
We spent several evenings walking along the beach collecting small shells and looking for other treasures but we didn't find much more than some nice shells that Anna put into one of her flower vases. Neither of us felt the desire to go swimming since the water was still pretty churned up from Hurricane Delta and there was a lot of debris including the remains of some piers and beach huts that had been on the beach. These were often underwater during high tide and seemed to be pretty dangerous. Although COVID-19 was still a threat, we did manage to take in a few nearby places that were at least partially open.
We spent a day in Galveston driving around a bit and seeing how the city had changed since we were last there. Most things seemed very familiar although I think the Pleasure Pier was new. We also found the marina where my dad had bought a 26 foot wooden cabin cruiser almost 50 years ago! We were amazed it was still there and looked largely the same. After that we spent some time walking around the Strand District (this was the original port area from when the city was formed in the 1800's) as well as the Post Office District. There are tons of old churches and other buildings including well (and some not so well) maintained historic Victorian homes. There are also numerous shops and restaurants in the area as well as several museums although many were closed or limited the day we were there. Next time we are in the area we'll have to take in the Tall Ship Elissa (a three masted ship common during the heyday of the port) as well as the Ocean Star a retired oil rig from the gulf.
While on a day trip to Walmart for groceries we stopped by the Sea Center in Lake Jackson. They have several large aquariums there along with other exhibits showing various marine life that can be found in the area. Outside they also have a small lake that even had a rather large alligator in it. They have a fish hatchery there as well and they normally give tours but that was closed due to COVID-19.
Our final excursion was over to Space Center Houston which is about an hour away from the park. We remembered being there almost 30 years ago with our sons and having to walk around in the Texas summer heat. On this trip it was a bit cooler and they now have tram service around the facility so you no longer need to walk it. Unfortunately, much of the facility was shut down to visitors (in fact most employees are working from home) due to COVID-19. We got to see the Saturn V exhibit and on the day we visited they opened up the astronaut training facility for tours. It was exciting seeing both the history of our space program as well as some of the newer projects including the Boeing Starliner which our son Patrick has worked with.
Park Review
Rating: ⭐⭐⭐⭐
Site Quality: Concrete pads and roads. Our site was long enough for our rig and truck. The sites were also double wide at the road so the truck (or a toad) could be parked to the side of the RV.
Type: Commercial
Access: Easy access from the Lake Jackson / Freeport area via 288 to 332 and then left on the Bluewater highway. From Galveston you should also be able to get to the park but you have to cross the San Luis Pass bridge and pay the toll. The toll both says vehicles must be less than 10′ wide which any RV would be, but it would be a very tight fit at the booth (~3″ clearance on each side at the tires). We avoided doing that with the RV as it was tight going through it with just the truck.
Staff: The staff was very friendly and helpful. We were guided to our site.
Amenities: There were Restrooms and showers as well as laundry facilities in the office although we didn't use them. Each site had a picnic table. There was no fire ring and campfires are not allowed. They also have 50A sites with full hookups. The park is arranged in a straight line out into the marsh area away from the gulf. You can choose from the wetland side or the canal side when you book a site. The wetland sites were not very full with campers as most preferred the canal side. The wetland side would have sunrise views and more shade on the right side of the RV while the canal side had good sunset views and direct access to the canal.
Cellular/WiFi: Verizon and AT&T were both good at about 10 Mbps. The park also had WiFi but we didn't try to use it.
Restaurants:
Nate's West End Seafood & Steaks – Basic steak and seafood restaurant along the gulf toward Galveston. We thought the food was ok but for the price we thought it should have been better.
Swamp Shack (Lake Jackson) – This is a cajun restaurant conveniently near Walmart, Lowes and Home Depot in Lake Jackson. Although I tend to like seafood fried in cornmeal and this had a different batter, it was really good. This is definitely a place to try in the area if you like cajun!
Little Daddy's Gumbo Bar (Galveston) – Anna had Little Daddy's House Special (Blackened Catfish topped with crawfish etouffee which she thought was very good. I had a large bowl of seafood gumbo which I thought was ok but nothing remarkable. We've had much better gumbo in Louisiana and in fact, we make better gumbo. I'd probably try another place next time we are in the area.
What we liked: Full hookups and concrete pads and roads. Restaurant on site. Access to the beach across the road.
What we didn't like: No trees for shade although there were some palm trees that had been damaged by the hurricanes that passed nearby during the year. The sewer connection was a bit far forward so make sure you have plenty of hose available. The beaches were pretty rough. some of this was likely due to recent storms but in general I think the area near Galveston is not nearly as nice as some of the the other beaches we have stayed on.
Nearby Parks:
Beachfront RV Resort – This was another park we considered but after seeing it we were glad we passed it by. Most of the sites as well as the roads are all dirt and gravel. When we arrived in the area, the park was quite a muddy mess after hurricane Delta passed nearby. There was also a lot of stuff (a house, restaurant and a golf cart rental) all on a relatively small property.
The Breeze Hotel and RV Park – Small park with full hookups. 3 pull-thru sites are 85′ long while the rest of the sites are only 55′. The roads and sites are all concrete. This park looked interesting and could work for us if we could get one of the 85′ sites.
*Galveston Island RV Resort – Very nice looking park with lots of amenities including a Lazy River swimming pool. Concrete pads and roads. Reasonable prices and wide sites so the truck could be parked to the side of the RV. This would be our second choice for a park on the Galveston side of the toll bridge as it is further from Galveston and away from other activities like stores and restaurants.
Jamaica Beach RV Park – All pull-thru sites with concrete pads and roads. Lazy river, 2 pools and 2 hot tubs. Lots of other amenities. Unfortunately, this park has very narrow roads and spacing of sites it tight. Although we did see some big rigs in the park, the sites really aren't long enough for us. For us, we would skip this park.
*Stella Mare RV Resort – This is another amenity rich park closer in to Galveston with concrete pads and roads. Someone along our travels recommended this park as a winter destination. It has wide sites and they should be long enough for our rig. This would be a good choice as a place to winter. Just outside Galveston, there are plenty of stores including a Walmart, many restaurants and other businesses nearby and close to the sea wall.
Verdict: We would stay here again although the places above (*) have a lot more amenities for about the same price and might be a better choice particularly as a longer term winter destination.