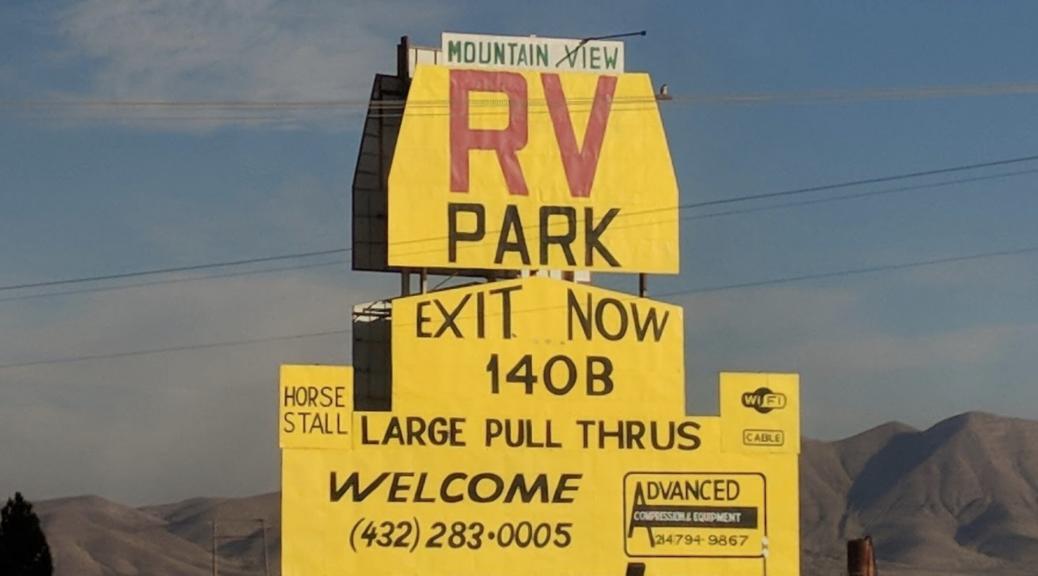 Mountain View RV Park, Van Horn, TX
Mountain View RV Park, Van Horn, TX
Rating: ⭐⭐⭐
Site Quality: Gravel pads and roads. Our site was long enough for our rig and truck.
Type: Commercial
Access: Easy access from Interstate 10 about 2 hours east of El Paso.
Staff: The manager we checked in with was very friendly and helpful.
Amenities: There were Restrooms with showers and laundry facilities but we didn't use them. Ice and filtered water machine on site.
Cellular/WiFi: Verizon and AT&T were very good. The park had WiFi but we did not use it.
Restaurants: At the recommendation of the park hosts we went to RJ's Grill in town. Having been hailed as the best place in town to eat we were a bit disappointed. The food was acceptable but nothing special. There is a restaurant at the El Capitan Hotel that looked pretty good but it was pricey for a 1-star hotel. The hotel is historic within the town and looked better than 1-star to us but we decided not to spend the extra money to eat there.
What we liked: Ease of access along I-10. Full hookups during the winter. Nice views of the nearby mountains. Large park with some permanent residents and quite a few empty sites so it was easy to get in. We were given a range of sites and told we could pick whichever one we liked best.
What we didn't like: The park is gravel and it rained most of the time we were there. Water puddled during the rain but it did not become muddy. The owner said they hadn't had rain until then in months and it does tend to become dusty without rain. There is a train track nearby but noise was minimal and they didn't seem to blow their horn going through town. There isn't much to do in town – maybe a museum or two. This was a good place distance wise for us to stop overnight and we were able to get the trailer's yearly inspection done at Virdell Tire and Tow in town. Typical for small towns, the guy dropped the job he was doing and quickly checked the trailer and had us on the way.
Verdict: We weren't sure what to expect before we arrived. The park looked decent on their web site but we've seen many of those that just aren't what the pictures portrayed. Mountain View was an exception. The park was clean and well laid out. Although gravel, it did not turn to mud in the rain. We were pleasantly surprised and would stay here again when passing through.