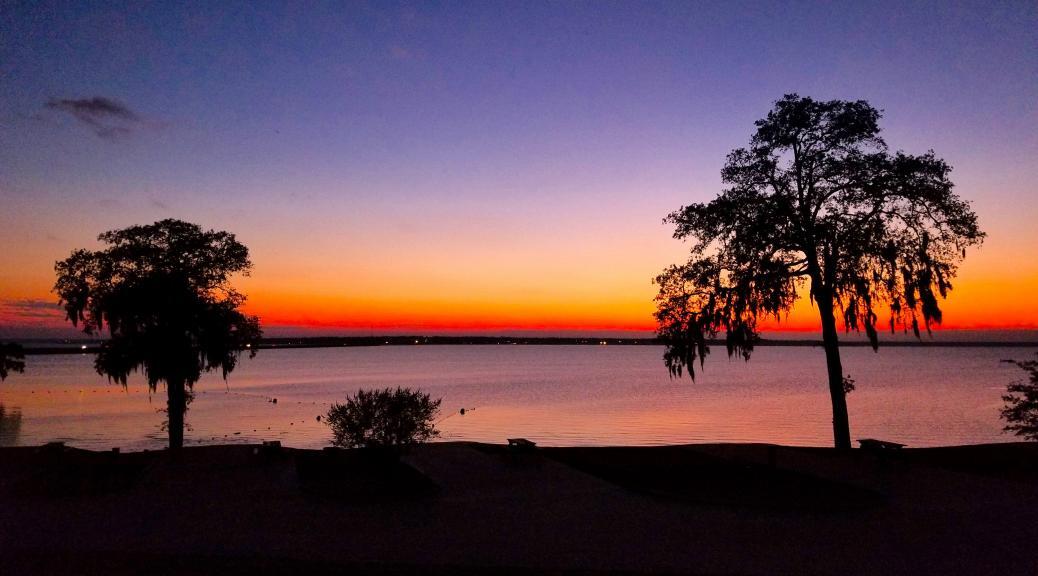 Lake Livingston / Onalaska KOA, Onalaska TX
Lake Livingston / Onalaska KOA, Onalaska TX
We stayed at the Lake Livingston / Onalaska KOA in late October of 2019 as we were heading back to the Round Rock Area from our tour of the Southeast. The first part of the stay we met up with good friends, Tammie and Peter, for three days with their new RV. The first two of those days, the weather didn't cooperate. We woke up on the third to a gorgeous day. The sky was clear and it was warm enough to be comfortable but cool enough at night to have a campfire while sitting outside and watching the World Series game 5, Houston Astros beat the Washington Nationals. It was a great four days with them relaxing, catching up, and making new memories. Peter is a great cook and made dinner twice! So glad we can look forward to camping with them in the future.
The rest of the week we spent time taking care of several business items in our home town of Livingston. We bought new tires for the truck at Discount Tire and hopefully after their work we'll have leak free valve stems from now on. We've had Ford look at them 6 times and they never could fix the problem. Only time will tell. We also had to take the truck in to the Ford dealer to take care of a recall – Ford's second attempt at correcting a problem with the engine block heater. We early voted for the November election and then went to the Tax office to check into the weights on the truck registration. They seemed to be lower than we expected but they assured us it was ok. There wasn't much time to do anything else and then it was time to move on down the road.
Rating: ⭐⭐⭐⭐
Site Quality: Asphalt roads and concrete pads. Long enough for our rig and truck since you could park the truck beside the rig. Sites are fairly wide and have nice patios along with a picnic table and fire pit.
Type: Commercial Park
Access: About 15 miles West of Livingston on US-190 in Onalaska, TX right on Lake Livingston.
Staff: Staff interaction was good. We found out that the park had just been sold to new owners so it will be interesting to see how the park fares going forward. There are some areas that need updating.
Amenities: Swim beach, Swimming pool and spa, clubhouse, pavillion, marina, playground, laundry. Free cable TV and WiFi. They had onsite propane but couldn't sell it during our visit because the new owner needed to get a license.
Cellular/WiFi: Verizon and AT&T were both good. They had WiFi but we did not use it.
What we liked: Easy access, nice clean park in most cases. Good access to stores and restaurants nearby (mostly in Livingston). Very nice views of the lake and sunsets from many sites.
What we didn't like: Quite a few long term residents in the Tall Timbers area and in some cases rules seemed to be a bit lax with some clutter, run down trailers and modified trailers. Lots of fire ants after rain. We did not use them but heard that the rest rooms were in need of updates and repair.
Verdict: We would stay here again, especially if we could get sites 87-90.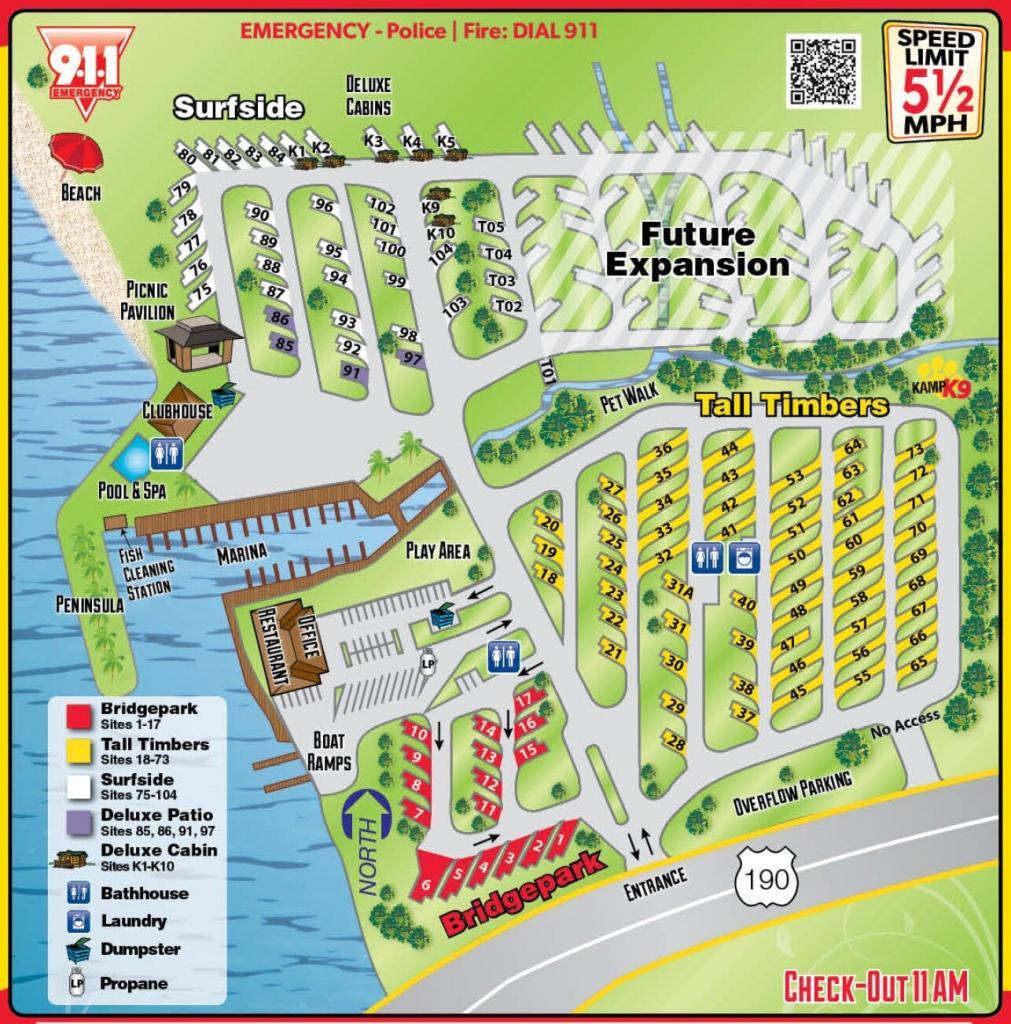 Bridgepark: Sites other than 1-6 might be ok, particularly 7-10 if they are long enough. Sites 1-6 are right on US-190 and there is a fair amount of road noise.
Tall Timbers: Could be ok, particularly sites 18-27 if long enough. There are a lot of longer term residents here and some sites were cluttered and some rigs older or modified (for example window AC units).
Surfside: These are our preferred sites. Sites 75-79 are made for motorhomes to pull in so their windshield faces the lake and have the utilities on the wrong side for a fifth wheel. Sites 80-84 are likely too short for big rigs although 1 or 2 might be long enough. Sites 87-90 are preferred and have great views of the lake. Sites 92-96 would likely be pretty good as well. Sites 85, 86 and 91 are deluxe patio sites and cost extra for very little improvement. Other sites in this area are too far from the lake for a good view.