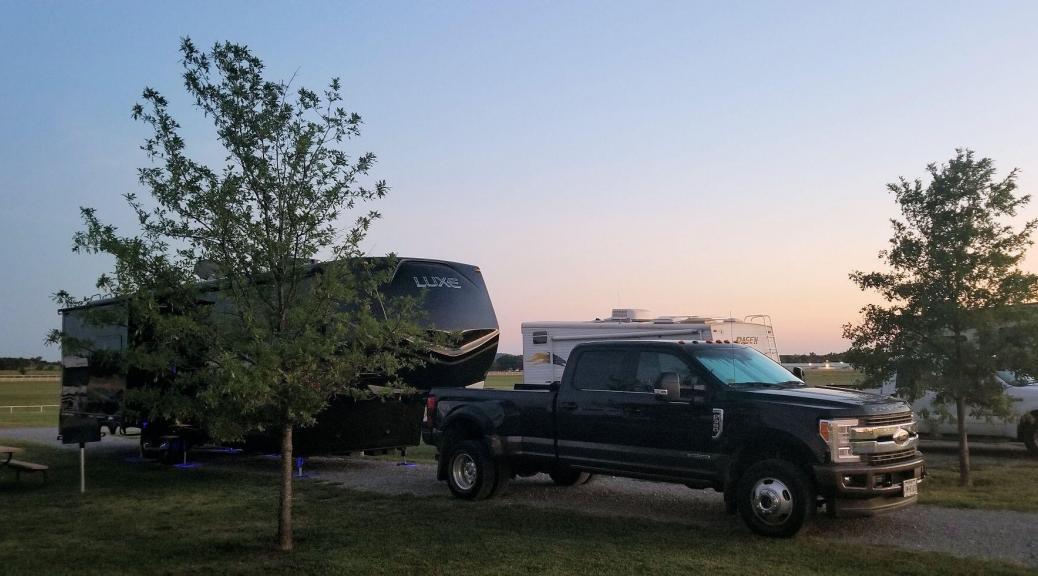 Tulsa NE / Will Rogers Downs KOA – Claremore
Tulsa NE / Will Rogers Downs KOA – Claremore
Rating:


Location: Claremore, Oklahoma
Site Quality: Gravel roads throughout the park with gravel pull thru and back in spots. In addition some spots were just grass.
Type: Commercial
Access: About 3 miles off Interstate 44 (Turner Turnpike) off highway 20 East of Claremore with good access for big rigs.
Staff: Friendly and helpful.
Amenities: Laundry facilities along with showers and restrooms.
Cellular/WiFi: AT&T and Verizon 4 bars and decent speeds (7.78 Mbps Verizon / 7.69 Mbps AT&T). WiFi was available but we did not use it.
What we liked: Quiet, peaceful atmosphere. Felt safe. Site (#37) was more than large enough for a 41′ RV and the truck. The Cherokee Casino is adjacent to the RV park. This could be good or bad but they did have a cheap restaurant with decent food.
What we didn't like: Will Rogers Downs is adjacent to the park although the season did not start for another week when we stayed there (August 30, 2018). Again, this could be both good and bad depending on your preference. Some sites backed up to the track so you could watch the races from your RV.
We stayed here for one night on the way from Oklahoma City to Springfield Missouri while visiting relatives. While this park might not be a good choice for a long term stay, it was perfectly reasonable for shorter stays. This would be a great place to stay again if we are passing through on the same route.