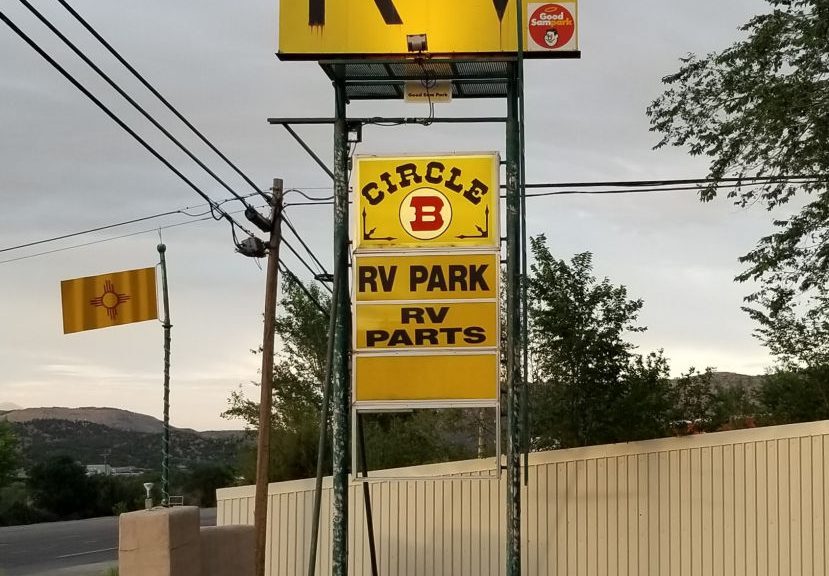 Circle B RV Park
Circle B RV Park
Rating:  


Location:  Ruidoso Downs, New Mexico
Site Quality:  Gravel pull thru spots with picnic tables. Quite a few trees that can lead to some tight situations with a big rig.
Type:  Mix of longer term residents and short term. Long term seem to be mostly the eastern side with short term on the west.
Access:  Just off highway 70 with easy access for big rigs.
Staff:  Could be more friendly (seemed to improve once they got to know us) but were helpful.
Amenities:  Showers and restrooms (both close from 10PM to 7AM), picnic tables at each site. There was a community room with bi-weekly card games. This room could also be reserved for personal activities.
Cellular/WiFi:  AT&T and Verizon 4 bars. WiFi was strong with speed about 1.7 Mbits which seems typical for many parks.
What we liked:  Quiet, peaceful atmosphere. Felt safe and secure. Spacious, gravel pull-thru sites.
What we didn't like:  Views of the surrounding mountains were somewhat limited. Our view to the East was of a storage area. Our porch side was opposite to the mountains.
We spent just over two weeks here enjoying the area and the cooler temperatures. Although we did have a few 90 degree days, it was comfortable until 1:00 or so and again by about 5:00. Night time temperatures were in the low to mid 60's which was really nice. We took a couple of trips to Cloudcroft where it was about 65 in the middle of the day.
This was the first time for us to tow in mountainous terrain and the truck did well. We did have to reduce our speed, sometimes to about 50 in order to keep the transmission temperature in a range that I was comfortable with – although we never got into the redline area or even the caution area. I have found that I was likely being a bit more conservative than I needed to be but we want the truck to last for a long time.
You can find out about places we visited while staying at Circle B by clicking here.