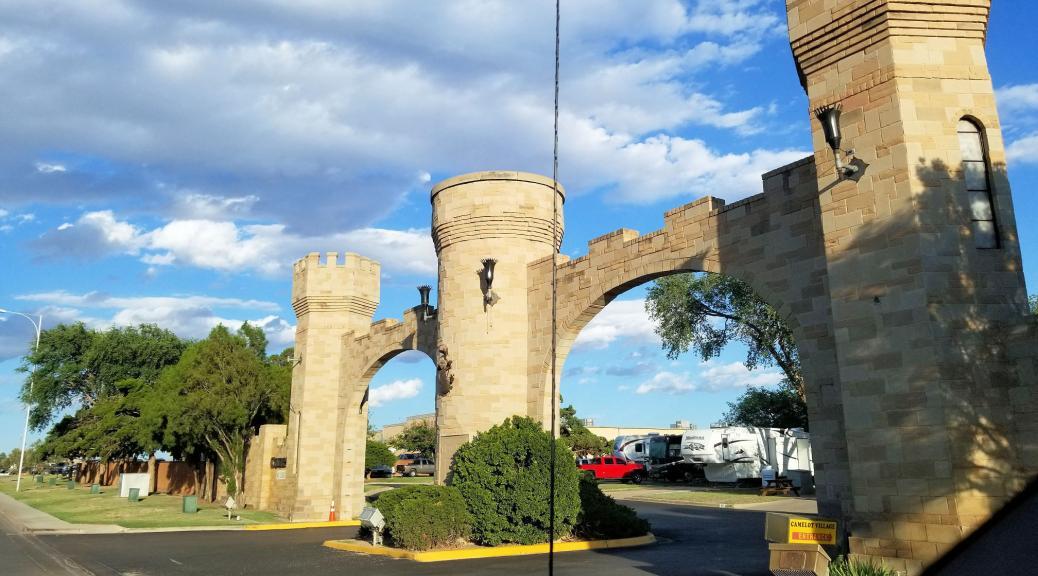 Camelot Village RV Park
Camelot Village RV Park
Rating:  


Location:  Lubbock, Texas
Site Quality:  Large pull thru spots with picnic tables.
Type:  Mostly long term residents with 6 spots for overnighters.
Access:  Just off loop 289 at 34th St. Easy access for big rigs. The turn into the park could be difficult depending on traffic as you have to get over 3 lanes right after the turn westbound on 34th St.
Staff:  Friendly and helpful.
Amenities:  Showers and restrooms, swimming pool, picnic tables at each site. Most long term residents have a storage shed at each site. Mail service for long term residents.
Cellular/WiFi:  AT&T and Verizon 4 bars. No WiFi.
What we liked:  Quiet, peaceful atmosphere. Felt safe and secure (although note comment below). Spacious, pull-thru sites. Concrete pads and driveways.
What we didn't like:  Our car alarm went off at 2AM on the first night. We suspect this was likely kids looking for something although nothing was taken and no damage was done to the truck. There are no trees in the short term area so it stayed really hot – not ideal for west Texas in the summer.
We stayed here for three nights so that we could drop some things off at our daughter's storage place. There are several things to do in and around Lubbock but we had seen most of them having been here before so we really didn't venture out much. Lubbock is experiencing significant growth and we ate out at several of our favorite restaurants (Aspen Creek Grill and Twisted Root) as well as trying Cantina Laredo which we actually liked quite a bit. This is good for a night or two when you are just passing through.