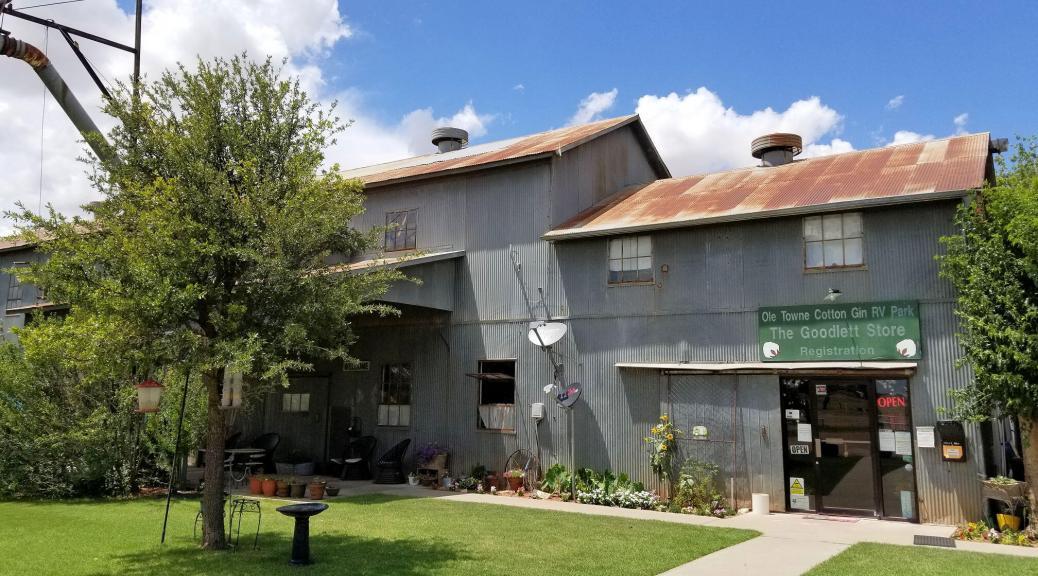 Ole Towne Cotton Gin RV Park
Ole Towne Cotton Gin RV Park
Rating:  


Location:  Goodlett, Texas
Site Quality:  Nice pull thru spots with crushed granite pads.
Type:  Mostly short term overnight stays.
Access:  Just off highway 287, 21 miles East of Childress. Easy access for big rigs.
Staff:  Very friendly and hospitable staff, particularly the owner. Online reservations.
Amenities:  Showers and restrooms, swimming pool, picnic tables at most sites. Mini store on site. Cotton Gin with some equipment to look at, now used as a common area which was great for Anna to use while I took my class A driving test in Childress. Covered outdoor seating areas also available.
Cellular/WiFi:  Good Verizon and AT&T (4 bars without booster). WiFi was available but we did not use it.
What we liked:  Friendly staff. Easy pull-thru sites. Cotton Gin and common areas.
What we didn't like:  Some road noise from hwy 287 and train tracks across the highway.
We stayed here for three days in June 2018 so that I could do the driving test to get my class A license. Class A is needed because the gross combined weight of our truck and trailer exceeds 26000 pounds. We weighed the day before my test and the combination of the truck and fifth wheel weighed in at 31500 pounds! Although a commercial license is not needed to drive an RV, the tests are given by the same troopers who test commercial (CDL) drivers. It can be difficult to get one of these scheduled as there are only certain places that can do them and slots can be booked up for weeks to months.
Ole Towne Cotton Gin was a great place for a short stopover but there is not a lot to do in the area plus it is HOT there in the summer. We did drive to Vernon about 35 miles East one day to get some welding done on our hitch platform (for the generator and a bicycle) and on the way back we went through the ghost town of Medicine Mound named for the four small dolomite hills West of the town called Medicine Mounds. They were named by the Comanche Indians, who maintained that the mounds are the dwelling place of powerful, benevolent spirits, which can cure ills, assure successful hunts, and protect in battle. In an annual ritual the Comanche came to Medicine Mound with cedar incense taken from nearby Cedar Mound.
12/2018 Update – We stayed here again in December 2018 for three nights on our way through the area going West. We had planned a two night stay but came a day early to avoid driving in a winter storm that was to arrive on the day we planned to arrive. In reality, we got a lot of cold rain but I think the roads were ok.