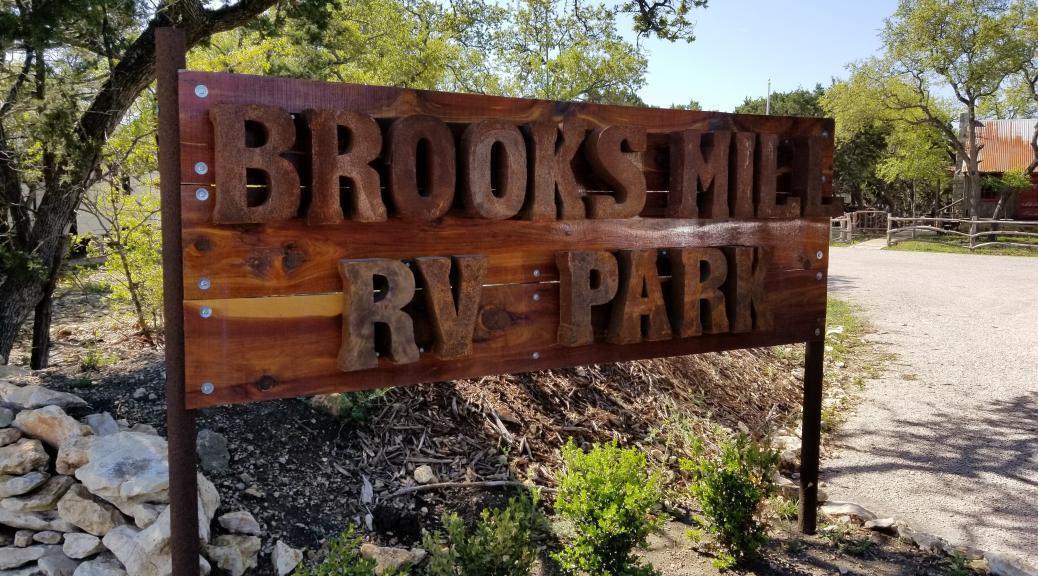 Brooks Mill RV Park
Brooks Mill RV Park
Rating:  


Location:  Bertram, Texas
Site Quality:  Tight, narrow spaces, large trees. Level gravel sites.
Type:  Almost all long term (maybe 1 short term site)
Access:  Easy access off of highway 29 then on the Brooks Mill road. Once in the park there is a single loop with some tight spots due to trees.
Staff:  The staff here was fantastic and took good care of us throughout our stay.
Amenities:  Laundry room, Common area with tables and fire rings was being built (early 2018).
Cellular/WiFi:  AT&T and Verizon was Ok. WiFi seemed slow and we never used it.
What we liked:  Mail and package service for longer term visitors. Lots of trees.
What we didn't like:  Our site was narrow and there was a trailer close by on our awning side so there was no place there for chairs. We did have some space under trees on the other side however. The largest issues involved noise –  we were less than 100′ from a train track (2-8 per day) as well as being beside a busy highway. No picnic tables at site. Not gated (although we felt secure).

This was the first place we stayed in the Austin area after returning from Indiana with ur new RV. This is a beautiful park and the owners are extremely helpful. Unfortunately, we underestimated the difficulty of getting a unit as large as ours (about 41 feet plus a 22 foot long truck) into a spot here. The sites are all back in and many are not angled to the road to enable easy access. It took about an hour to get us into our spot and there were times I was convinced we could not fit. After trimming a few limbs and moving a large rock at the beginning of the driveway we were finally able to get in with a few inches to spare. We enjoyed our stay and the few people we met while here were friendly but we eventually decided we needed to move a bit closer to Round Rock while we were selling our house as we were making several trips in every week.
Bertram is a nice small texas town. There were several restaurants in the city but unfortunately we didn't ever try any of them. It seemed like every time we needed or wanted to eat out we were near our house in Round Rock. We did ave to opportunity to go to a movie at the Globe Theater a 1935 Art-Deco theatre located in Bertram, Texas featuring Live Music, Classic Movies, and other Special Events. The movies typically are older favorites and the experience brings back memories of The Plaza Theater in Carrollton that we went to when growing up. Another highlight is the food trailer from C'est Si Bon who provide cajun dishes as well as hot dogs and hamburgers before the show.