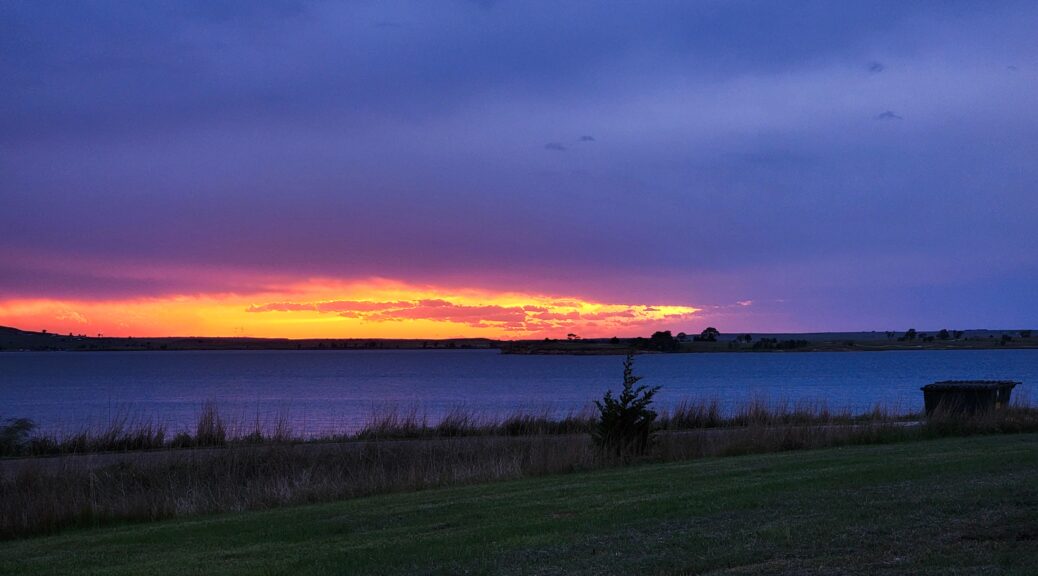 Park Review – Wilson State Park
We stayed one night in this park on the way east toward Missouri. Located in the heart of the Smoky Hills, Wilson State Park is considered by many to be the most beautiful in the state. Wilson Reservoir features a rugged shoreline punctuated by scenic cliffs and rocky outcrops.
Wilson Reservoir offers excellent white bass and striped bass angling. The Cedar Trail in the Otoe area is a one-mile loop with a concrete surface and is great for a leisurely, low-stress walk. The 24.5-mile long Switchgrass Bike Trail is popular with mountain bikers to pursue this challenging activity.
Wilson Wildlife Area is located on the upper end of 9,000 acre Wilson Reservoir. The 8,069-acre public hunting area is made up of 5,000 acres of rugged rolling hills of native prairie, approximately 2,000 acres of cropland, and 1,000 acres of riparian timber along the Saline River, Cedar Creek, Turkey Creek, and Elm Creek. The area has a waterfowl refuge that was established in 1996.
Rating: ⭐⭐⭐
Location: Wilson, KS
Site Quality / Amenities: Asphalt roads and gravel sites. There were a few small trees to sit under that that provided a small amount of shade. Restrooms and showers were provided although we did not use them. 50A electrical service with full hookups.
Type: State Park
Access: Easy access about 5 miles north of I-70, and west of K-232.
Staff: We had minimal interaction with the staff but when we did they were efficient and professional.
Cellular/Wi-Fi: AT&T was reported as marginal but Verizon speeds were great.
Restaurants: We did not eat out while here.
Nearby parks: We didn't look at any other parks in the area.
What we liked: Unlike much of the state, this area included many rolling hills.
What we didn't like: The site we were in was not very level. No shade over the site.
Verdict: This is a nice park with lake views and rolling hills and is a good option for a few days when travelling through the area. We'd stay here again.